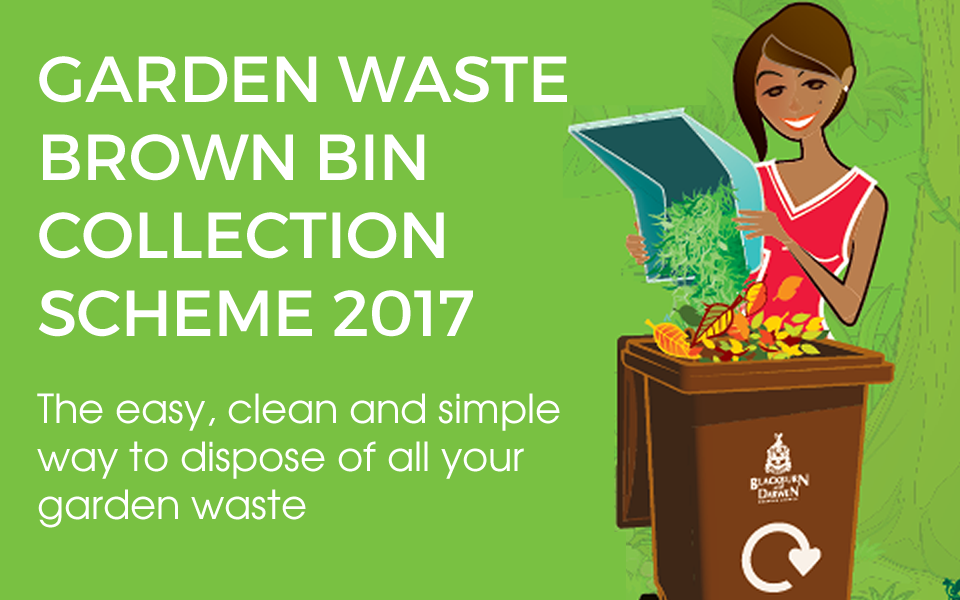 Published December 9, 2016 at 14:37
Blackburn with Darwen Council is introducing changes to its garden waste collection scheme.
A small subscription fee will be charged to provide this optional service to those who want garden waste collecting due to increasing costs and a reduction in Central Government funding.
For those that sign-up to the new garden waste scheme before 1st February, 2017, residents will receive a £5 discount and pay an annual subscription of just £20 (the normal price is £25).
The income generated by the subscription charges will help to keep this service running in the borough.
Leaflets explaining the new scheme have been sent out to residents along with the Christmas bin collection dates and a 2017 bin collection calendar.
Residents will also be told about the introduction of a new free recycling collection service for textiles and small electrical items.
Cllr. Jim Smith, Executive Member for Environment, said:
By introducing a charge for collecting garden waste we will be able to continue delivering this service for those that want it.

Councils don't have to provide a service for collecting garden waste, but we know this is a service many people value – and at a time when all services are being cut back or stopped, the only way to keep the service going is to make a small charge for it.

This will also allow those who have not had a brown bin to join the new collection scheme as it's now being opened up to the whole of the borough.

Householders will have the choice of opting in or out of the service – they may prefer to compost their garden waste at home or dispose of it themselves at the borough's household waste centres.

For people with small gardens or yards there is the opportunity to share bins if they wish to do that.
Anybody can use the scheme from residents who have a yard with potted plants to those who have a large garden to maintain.
What service will residents get?
If you haven't already got a brown bin a large garden waste bin will be delivered to you
Your garden waste will be collected every two weeks running from March to November.
What can you put in your garden waste bin?
Grass cuttings
Plants and flowers
Straw and hey
Leaves
Branches and twigs
Weeds
Hedge clippings
Rabbit bedding
The Council can't empty garden waste bins that contain:
Household rubbish
Plastic bags
Logs or heavy branches
Soil, sods and rubble
Kitchen food waste
Plant pots
Cardboard and paper
It's important that residents do not put garden waste in their grey recycling bins as this contaminates the rest of the bin's contents. This then can't be recycled and your recycling bin will not get emptied.
Find out how to sign up for scheme on the Council website.
Further information