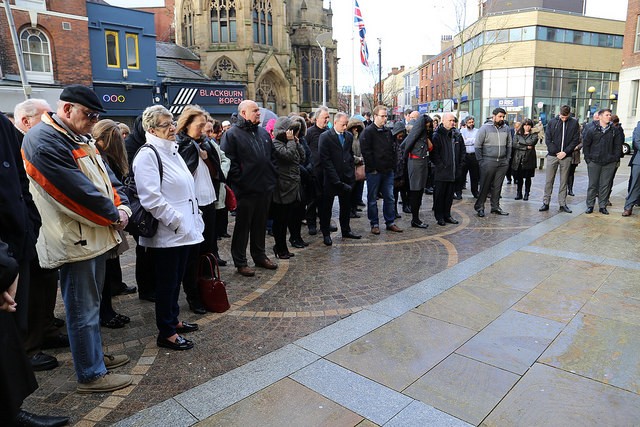 Published Monday 16 November 2015 at 16:02
A vigil to honour those killed and wounded in recent terror attacks across the world will take place tomorrow (November 17)
Councillor Mohammed Khan, leader of Blackburn with Darwen Council, will join members of the faith community to mourn the dead and show solidarity with those affected.
People are asked to gather for the vigil from 5pm with speeches starting at 5.15pm on Tuesday (November 17) outside Blackburn Town Hall. Everyone is welcome to come and pay their respects.
Councillor Khan led a minute silence outside Blackburn Town Hall on Monday. A silence was also held outside Darwen Town Hall.
Flags outside the town halls are being flown at half-mast and a book of condolence has been opened up in Blackburn Town Hall reception.
Councillor Khan said: Our sympathies and our thoughts are with those who lost loved ones and our prayers are with those who have been injured or caught up in these horrific and senseless crimes.

It is right as a borough and as a community we come together and pay our respects to everyone caught up in a number of atrocities across the world

These were disgusting acts of cowardice.

The only way we can defeat those who wish to cause division, to cause harm, to inflict terror and spread their poisonous ideas is by everyone in the community standing united against them."