Published Friday 20 March 2015 at 16:29
Double Olympic Gold medallist Rebecca Adlington OBE praised the new Blackburn Sports and Leisure Centre during the official opening ceremony today, saying she hoped it inspired future athletes.
The 25-year-old free style swimming champion opened the new state-of-the-art sports and leisure complex during a special VIP ceremony on Friday morning.
Rebecca, who retired from competitive swimming  last year, unveiled a commemorative plaque at the new £13.5m centre during the event which was attended by a host of councillors and Council staff, College Governors, staff and students.
Speakers included Sir Bill Taylor from Blackburn College, Blackburn with Darwen Council leader Kate Hollern, and Rt Hon MP Jack Straw.
The new Blackburn Sports and Leisure Centre in Feilden Street has been built as a result of a partnership between Blackburn with Darwen Council and Blackburn College.
After the ceremony, Rebecca enjoyed a tour of the first class facilities before taking part in a Q & A session with students from the College and representatives from local sports clubs and organisations. Students from St. Bede's, QEGs, Witton Park Academy, Blackburn Central High School, Walton-le-Dale (Preston) and Rhyddings School (Accrington) also attended.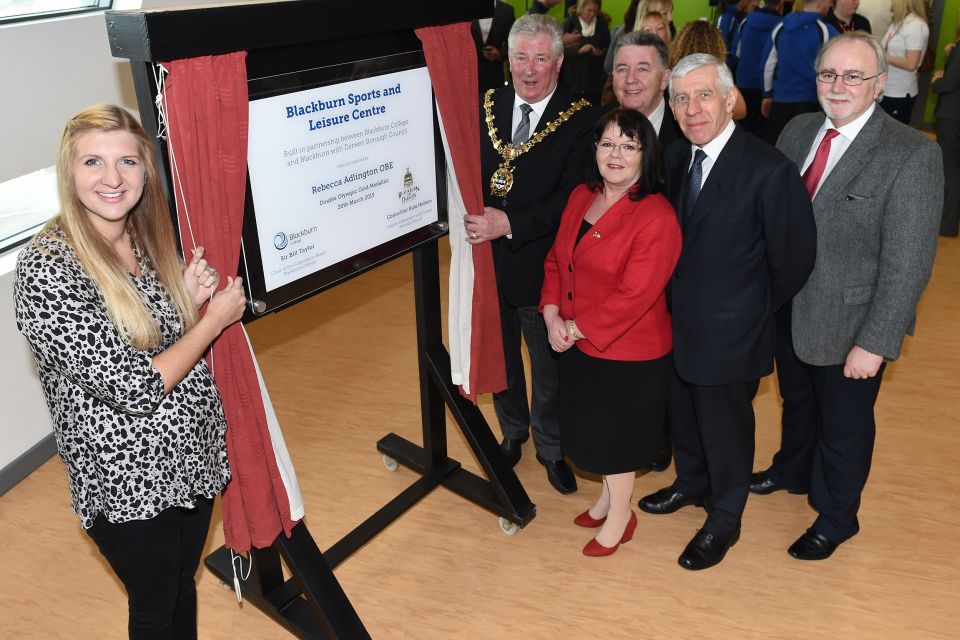 During her visit, Rebecca was shown the two sports halls, an 80-station fitness gym, aerobics and separate spinning studios, a 25 metre swimming pool, training pool and water fun zone, and a sports science performance and testing laboratory.
She said:
I fully appreciate how incredible facilities like these are. Without facilities like these, I would never have won any Olympic medals. Hopefully this will inspire many athletes – whether that be swimmers or other sportsmen and women – to develop their skills using these facilities and the students who attend here.

Sport is such an important part of my life. It taught me how to be part of a team, discipline, dedication and I got to meet some incredible people along the way. I am retired now but I still live a very healthy lifestyle so I'm delighted to be invited to open the centre.
The Rt Hon MP Jack Straw, who was on his last official engagement in the town, said:
I came to Blackburn 41 years ago and was struck by the spirit of the town. There has always been that spirit of co-operation between the public and private bodies who work together for the benefit of the town.

There are very few areas in the country where two large organisations such as the Council and the College could work together for something that neither could have done alone. It is as a result of that spirit and imagination that we have such a world class facility as this for both the College and the Council.
Councillor Kate Hollern said:
I am delighted that between the Council and the College, we have produced such world class facilities which contributes to both our priorities – giving students the best education possible and helping to improve the health and well being of our residents.
Sir Bill Taylor from the College added:
I would like to salute the Council and the College for their courage and creativity in creating such a world class facility. It is not just about a shared set of sports halls, gym and pool – it is about shared aspirations too.
John Wilson, Managing Director of Eric Wright Construction added:
We are thrilled to have been involved in this project which has delivered some excellent community facilities and will bring real benefits to the people of Blackburn.
Alistair Mollon, Assistant Principal for Sixth Form and Sport at Blackburn College:
This new centre provides students and staff with world class facilities at the heart of our campus and our town. It is also a fantastic collaboration between Blackburn College and Blackburn with Darwen Council, which has forged strong links between local communities and schools which are massively enhanced by everything this sporting facility gives us.
Listen to Rebecca talk about the new centre, and the facilities it has on offer:
[soundcloud]https://soundcloud.com/theshuttle/olympian-gives-new-13m-centre-gold-seal-of-approval[/soundcloud]