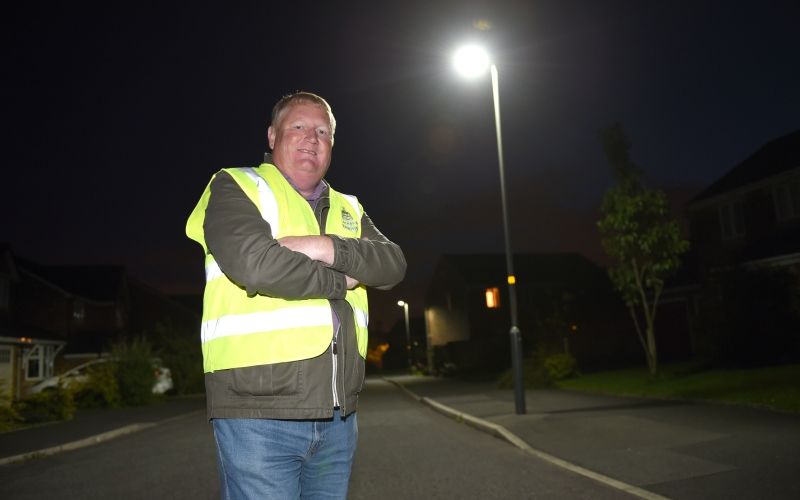 Published Monday 1 December 2014 at 14:35
The next phase of Blackburn with Darwen Council's programme of installing L.E.D lanterns in the borough is underway.
The new lanterns, which are being installed as part of the Council's invest to save programme, represents part of a £10.5m investment in highways in the borough.
Modern and cutting edge, these new L.E.D light fittings are guaranteed for 20 years, they use half the energy and need minimal maintenance.
It is hoped then that this investment will help reduce highways spending by 50 per cent in energy bills whilst cutting the borough's carbon emissions and limiting lantern failures.
The lights have already been installed in eight wards in the borough including Fernhurst and Audley.
The next phase, which should be completed in March, will include Livesey with Pleasington, Mill Hill, Queen's Park, Earcroft and Beardwood with Lammack.
Councillor Jim Smith, Executive Member for Environment, said:
The programme is going very well and I am pleased to say we have had many very positive comments. There have been a small number of residents who have expressed concerns but I believe this programme will improve visibility of both our pavements and roads.

"It will ultimately save the Council money needed to meet the budget challenge and which can also be reinvested elsewhere. Investing in our highways now will, in the long term, reduce the cost to run and maintain our street lights but also help cut our carbon emissions.
Residents comments include:
I feel that they're much better.
I like them much better
They're fab, much brighter although I suspect the thieves won't like them! Well done BWD.
Miles better
It's easier to sleep now our hallway isn't lit up orange all night
Far better light emitted from these than the orange of the old days, very bright and can see a long way
For more information please see the frequently asked questions leaflet attached here