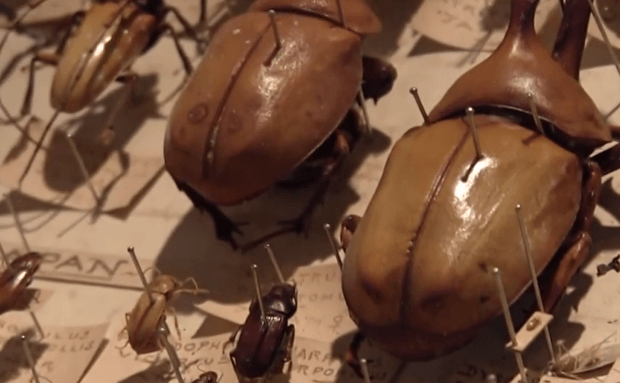 Published Thursday 15 May 2014 at 12:14
'Beetle-mania' comes to Blackburn this weekend as the Festival of Wonders celebrates the Bowdler's Beetle Collection.
This year is the 100 year anniversary of the famous beetle collection given to the museum in 1914 by local businessman Arthur Bowdler.
As part of the Festival of Wonders taking place across Pennine Lancashire, the entire beetle collection will be on display for the first time alongside a whole host of events.
On Saturday (May 17) visitors to the town centre should look out for and follow the 'trail of Bowdler's Beetles' to the activities taking place.
The 'bug themed' day starts with 'Little Bugs Cinema' at the Blackburn is Open pop up 'Cinema' (63 King William Street) where the animated film 'Antz' will be shown from 12-5pm repeated throughout the day. Entry is free but places limited.
Next door in the pop up arts centre, Beatles tribute act, The Walrus will be providing the musical accompaniment for a free bugs workshop from midday until 8pm. Visitors will be able to make LED prototype bugs or create crazy critters using paper mache and wet felt and enjoy refreshments from a pop up café.
REBOUND on Town Hall Street, the second hand book shop run by charity, Bootstrap, will also feature a special display of books on bugs, beetles and all things insect.
And at Blackburn Museum and Art Gallery there is a special evening opening (5-7pm, FREE) packed with bug and beetle activities.
'Big Bug' handling sessions will take place where children can create their own beetle inspired creatures, and Bowdler's collection of beetles will take centre stage with more of the collection being on display than ever before.
Funded by Heritage Lottery Fund, Festival of Wonders is part of the national Museums at Night celebrations. It sees events across 20 venues across the region including museums, galleries, libraries, mills, a country park, arts centre and even a mini cinema.
Many events are free but some do require advance booking and some require admission. Full details of dates, times and booking requirements are available on www.artsmap.org.uk.
Festival of Wonders is Pennine Lancashire's Museums at Night campaign where museums, galleries and libraries across the UK and Europe open up late and put on special events to encourage new people to visit.
It is supported by Blackburn Is Open, a scheme to support the creative industries in Blackburn and build a creative community in the heart of the town.
For more information visit www.blackburnisopen.co.uk.