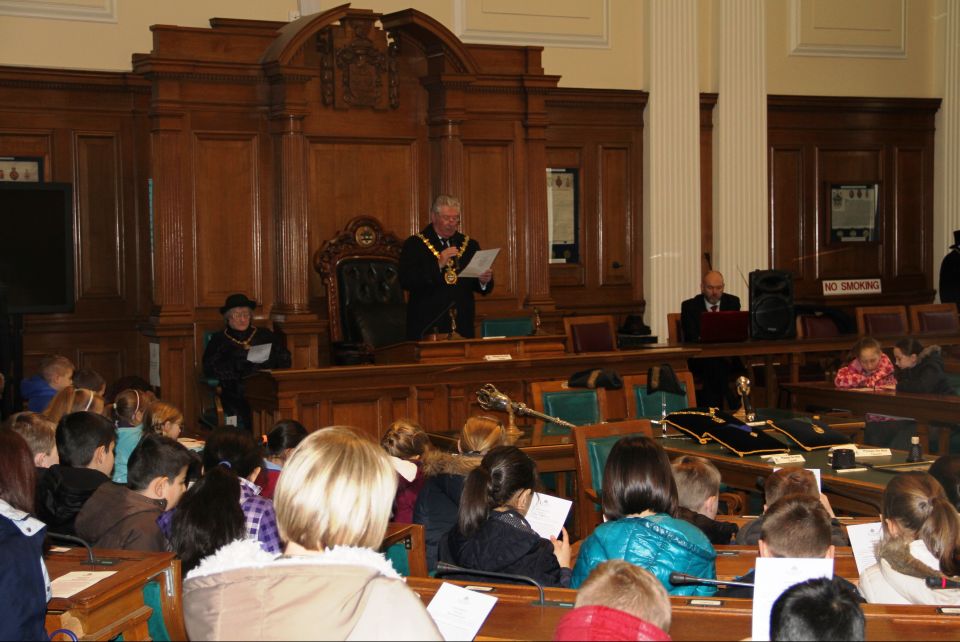 Published Wednesday 11 March 2015 at 14:04
Over 60 schoolchildren were joined by officers, elected members and residents in marking Commonwealth Day on Monday, March 9.
Wet and windy weather did not dampen spirits as Blackburn with Darwen took part in 'Fly a Flag for the Commonwealth', with Cllr Alan Cottam, Mayor of Blackburn with Darwen and Chief Executive Harry Catherall helped by school pupils in raising the Commonwealth Flag at 10am, in Town Hall Square.
Afterwards, a short ceremony led by the Mayor of Blackburn with Darwen took place in the Council Chamber in Blackburn Town Hall, with all present reading the commonwealth affirmation, after which both the Commonwealth Anthem and the National Anthem were played.
Prior to the event, several Primary Schools, including Meadowhead Junior School, designed their own flags which were displayed for the Mayor and Mayoress in the Blackburn is Open shop prior to the event.
Cllr Alan Cottam, Mayor of Blackburn with Darwen said:
It was great that so many, especially young people, gathered together to celebrate Commonwealth Day and mark the values of friendship and tolerance which it stands for.

It was great to see the flags that the children had designed which really showed their enthusiasm to get involved in the day, and learn about why 'Flying a Flag for the Commonwealth' is an important thing to do.
You can find more pictures from the event on the Council Flickr page here.