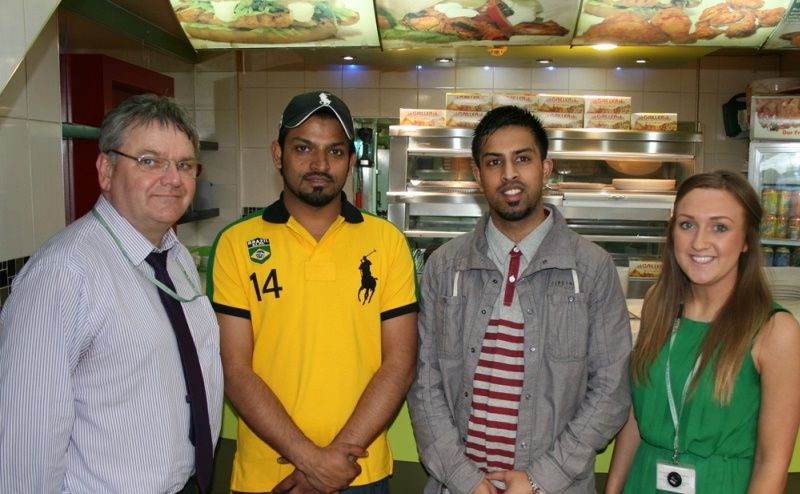 Published Wednesday 18 June 2014 at 13:43
Restaurants, takeaways and food shops and stalls across Blackburn are helping customers to make healthier choices with a new scheme.
Recipe 4 Health is Blackburn with Darwen Council's Environmental Health team working in partnership with Public Health and the healthy living team. They are working with food businesses to try and improve the amount of healthier choices on the menu.
Blakeys at King George's Hall, Griller in Randal Street, Mai and Kebabish are all offering lighter and healthier options on their menus and have received the Recipe 4 Health award.
Officers are working with businesses to help and advise about healthy options, offering free menu analysis and advice on allergies labelling, whilst helping them to add healthier dishes to their menus, reducing harmful fat content, salt and sugars.
The award is free to businesses and available on three levels – Bronze, Silver and Gold – linked to the Government's Food Hygiene Rating Scheme, The aim is not to force people to eat healthier options, but to make it easier to find healthy options when eating out for those who want them.
Councillor Jim Smith, the Council's Executive Member for Environment, said:
"The Recipe 4 Health campaign is a great way of promoting healthier eating at takeaways and cafes across the whole borough and I want to congratulate everyone who has received the award. We hope that people in Blackburn and Darwen embrace the scheme."
Councillor Mohammed Khan, Executive Member for Health and Adult Social Care, said:
"These restaurants and takeaways should be commended for boosting their healthier options. I hope this helps people choose healthy options when eating out."
Any businesses wanting to gain the award should contact the Public Protection Service on (01254) 267688 or email: publicprotection@blackburn.gov.uk.