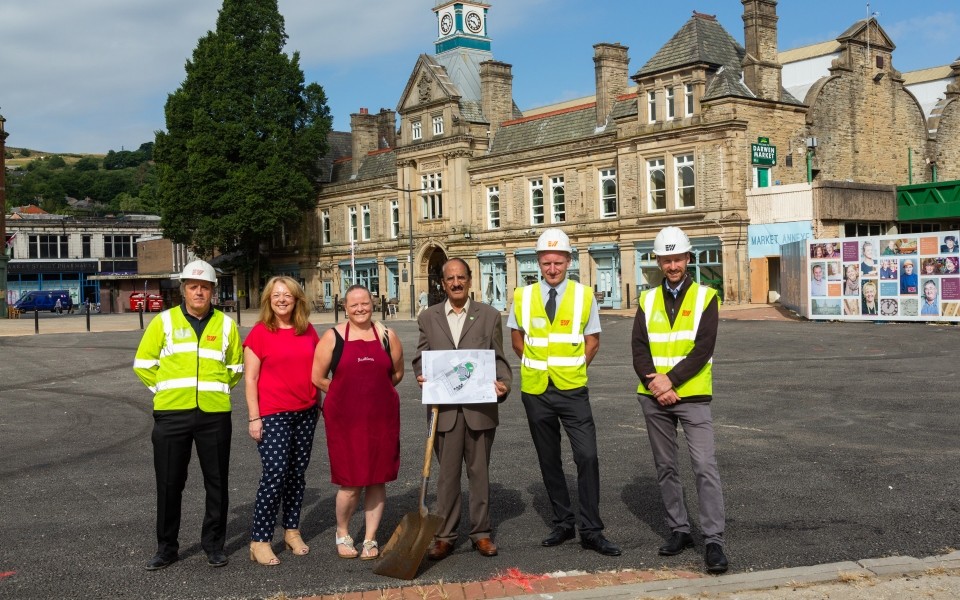 Published Wednesday 11 July 2018 at 17:33
Work is set to start next week on an ambitious £1.3 million scheme to develop a new public space for events and entertainment in the heart of Darwen town centre.
It was announced today (July 11) that Eric Wright Civil Engineering will work with Blackburn with Darwen Council and public artist Liam Hopkins to create the new  public space.
Eric Wright has delivered a number of successful public realm projects in recent years such as the Cathedral Quarter in Blackburn which was a partnership with the council.
Councillor Mohammed Khan, Leader of Blackbirn with Darwen Council, said:
Darwen Market Square is going to be transformed for the community to use and will open the space up as central location for large scale events.

The space has been planned out to help attract visitors to shop and spend time in the town centre whilst enjoying their surroundings.
The new space will have a green area with seating for relaxing and meeting friends as well as some refurbished units with the potential for additional shops.
Councillor Phil Riley, Executive Member for Regeneration, added:
We welcome this opportunity to work with Eric Wright on our flagship project for Darwen. This is the next step on our journey to creating a fantastic public space that will be enjoyed by the people of Darwen for many years to come.
Within the space will be a number of pieces of public art designed and created by artist Liam Hopkins. A piece of public art will be created as a focal point within a circular paved area, with additional pieces including a metal gate in front of Darwen Market loading bay and metal window designs within the units under Railway Road.
The renowned artist has worked with more than 200 people who live or work in Darwen to gain an insight in to Darwen's history and local stories which will inform the design of the work.
Diane Bourne, Managing Director of Eric Wright Civil Engineering added:
We're especially pleased that we will be working on a project that will support the local community by creating an attractive space to enhance the retail and leisure offering in the centre of Darwen.
The work due to be completed in early 2019. Further information about the project can be found at online.