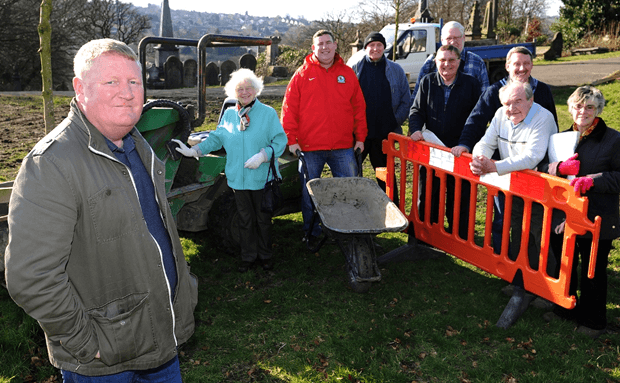 Published Monday 17 March 2014 at 16:31
Work is ongoing at Blackburn Old Cemetery, as part of a project to make the historical site a safer and more attractive location.
Friends of Blackburn Old Cemetery worked with the Greenspace Development Team at Blackburn with Darwen Borough Council to secure money to carry out the work, under s106 funding.
Actions agreed under s106 money include resetting stone steps within the cemetery, new benches, topping up graves and new information and notice boards.
Brent Stevenson has also generously supported the project, including in the design and construction of the central memorial garden, a granite bench, and safety checks on all upright grave stones.
Robin Duxbury, Chair of Friends of Blackburn Old Cemetery said: "Since the formation of the friends group 18 months ago, we have forged a successful working partnership with Blackburn with Darwen Council, at both a management and local level."
Cllr Jim Smith, Executive Member for Environment said: "It is fantastic to see the work that Friends of Blackburn Old Cemetery do, in making sure that such an important, historic location is maintained. You can really see the difference that has been made over the last 18 months and we look forward to continuing working with the friends group going forward."
If you are interested in getting involved with Friends of Blackburn Old Cemetery, visit the facebook group, or ring the Green Spaces Team at Blackburn with Darwen Council on 01254 692203