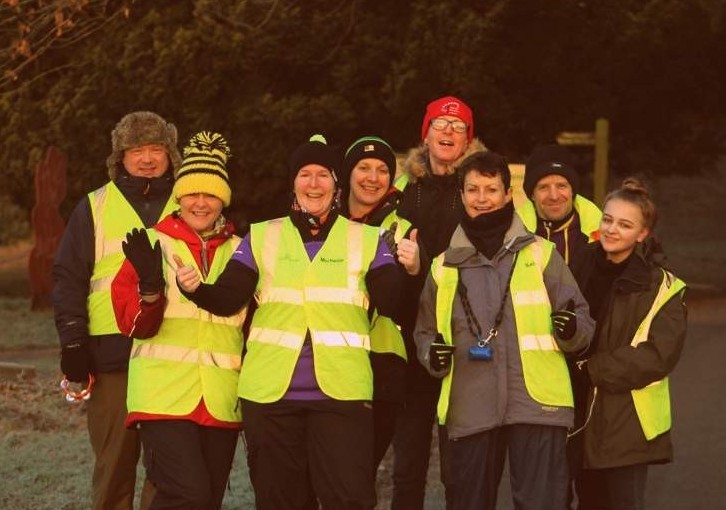 Published Thursday 21 January 2016 at 10:54
Michelle Searby's latest despatch about the ever increasing popular running event:
So this week we were on tender hooks as to whether or not we could hold our event as lots of runs were cancelling the night before due to the frosts that hit the UK.
No one likes a parkrun cancellation but safety has to come first. I agreed to inspect the course first thing in the morning before making a decision.
My husband Bryan and I arrived at Witton at 7AM. It was minus 3 degrees, however, there was no wind, so it didn't feel too bad. It has felt colder when it was raining.
The car park was like Blackburn Ice Arena and my heart sank, I carried on through the locked gate and the path leading up to Myerscough College was equally as icy.
When I turned behind the Pavilion Cafe, the tarmac wasn't at all bad, which pleased me as this is the start of our run.  We drove further on and found a huge puddle which had frozen, so we set about sprinkling rock salt on it and drove in the car back and forth until it stared to melt.
Then we had the climb up the hill, there were some slippery parts, however, our runners could always use the grass to avoid this, so I wasn't too concerned. The hill we also treated with salt and then we drove back down and we walked and jogged the course. Some parts we did several times!
Sean and Sally soon arrived with more supplies of salt and we sprinkled that on the court yard of Myerscough College, the woodland areas we use were perfect, even better than all the previous weeks, the mud had frozen, so there were no slip hazards.
I posted on our Facebook page (facebook.com/wittonparkrun) that the event would go ahead and also on Twitter (twitter.com/wittonparkrun). People were awaiting our news so I wanted to let people know as soon as possible.
We then walked the course again, this time to put out arrow signage and run tape.  My Fitbit said I had done 10000 steps by 8.45am.
Lots of people arrived and joined us for the new runner briefing, which takes place at 8.50am by the finish line.  The whole field of runners were then addressed with a description of the route and our safety announcements.
102 people, including myself set off and finished.  It was good to be a runner for a change as I get to see what all the runners see. Our marshals really are the cream of the crop, they stand in sub freezing temperatures for over an hour and cheer, clap and encourage all the participants on.  We really do have a great little event going in Witton Park and I am super proud to put my name to it.
We love newcomers, whether to walk, jog, run or even get involved.  Please use either Facebook or Twitter or email me wittonoffice@parkrun.com