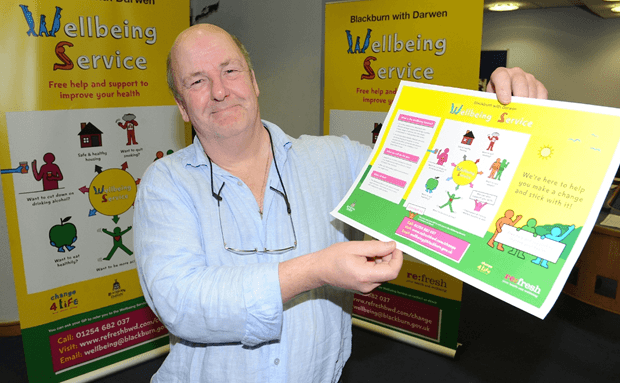 Published Thursday 17 April 2014 at 15:50
A new service offering help and support to improve the health of the people of Blackburn with Darwen is now available.
Blackburn with Darwen Council's new Wellbeing Service launched last week and brings together a wide range of services that currently support health and wellbeing and makes them accessible via a single contact point.
One Blackburn resident has already received this kind of help for people accessing the new Wellbeing service can expect to receive and seen his health transformed.
David Coverley, 59 was referred to the Council's exercise team – HealthWISE after his GP suggested he needed to improve his diet and exercise to help reduce his blood pressure and weight as both were too high.
HealthWISE is available for people who have any health or medical problems and would benefit from improving their lifestyle via exercise and healthy eating. This service is one of many of the kind people can be signposted to via the Wellbeing Service.
Says David: "I was put in touch with the team and said I needed to get fitter, lose some weight because I had a lot of swelling on my ankles and legs and was generally not in a good shape. So they devised a programme specifically for me."
David started attending three two hour sessions per week at Waves Water Fun Centre and also Darwen Leisure Centre. He did aqua walking in the swimming pool, gym sessions and circuit training. He also received advice on changing his diet.
He added: "I lost 10-12kilos in 12 weeks. They also put together a diet plan for me and I went from eating potatoes to rice and chicken instead of fatty meats. That helped me to lose more weight. They're really encouraging but know what your capabilities are and adapt to your needs. It's all tailored to the individual and that's great."
David felt such benefits from the help he got, after his referral finished he signed up for membership and goes to the gym independently now himself, keeping up the same training regime. He even now helps others who are being referred into the team.
He says: "I help them set up their circuit sessions and try and give my advice to new people. For some it's quite an intimidating experience – especially if they haven't done a lot of exercise but I'm an example of what can be achieved and I'm happy to help."
As well as help with exercise, the Wellbeing Service also provides advice, guidance or practical support for things like stopping smoking, drinking less. But it's not just about healthy lifestyle services; the new service includes support for issues such as housing, employment and money because these problems can affect emotional and physical health just as much.
Whatever the health or wellbeing-based concern, the Wellbeing Service will be there to put local residents in touch with the best people to meet their needs.
Residents can contact staff direct at: (01254) 682037, www.refreshbwd.com/change or wellbeing@blackburn.gov.uk and GPs can also refer people in to the service.
To access the help available, people just need to be over 16 and live, work or have a GP in Blackburn with Darwen.