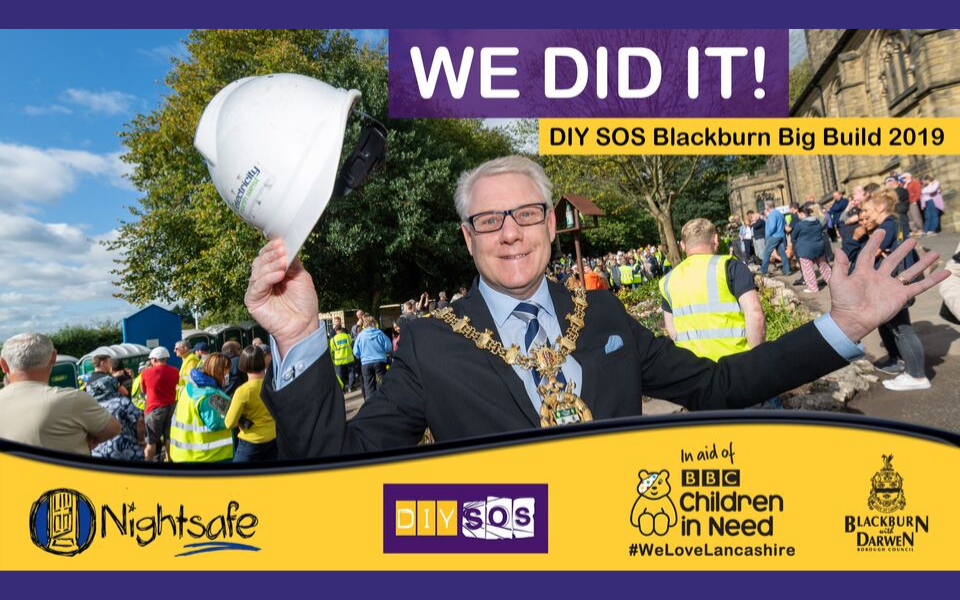 Published Wednesday 18 September 2019 at 16:09
Nick Knowles and his DIY SOS team of building experts ­along with hundreds of volunteers, including many Council staff have helped to transform an old church hall into luxury accommodation for Blackburn-based charity Nightsafe.
St Silas Church Hall was poignantly and somewhat ironically built in 1834 to provide refuge for young people of that time.
The renovation work began on Tuesday, September 3, and was due to be finished last Thursday but, following a few setbacks, the big reveal date had to be pushed back to yesterday when staff and volunteers from Nightsafe finally got to see the result of all the hard work.
Blackburn with Darwen Council Leader Cllr Mohammed Khan was invited to attend the unveiling with Chief Executive Denise Park and Mayor Cllr Jim Shorrock.
The Council has also today used its digital screens to celebrate with a 'We Did It' message.
Cllr Khan said:
The Council were really keen to support this truly worthy initiative. Our staff provided support right across from the Council's building team, highways staff, planning support and communications assistance as well as a number of general volunteers.

The original purpose of this building has come full circle to once again provide refuge for young people who need it and that's truly amazing.

The community response was unbelievable, over 300 volunteers turned up to help get this build over the line. There were people there that had never volunteered before, volunteering for the first time and saying how proud it had made them feel.

This has shown Blackburn at its very best, communities coming together to make something incredible happen that will change the lives of hundreds of young people for many years to come.
CEO of Nightsafe Jan Larkin emotionally came out to a cheering crowd of volunteers and said:
We're so grateful to all the volunteers, the Council, Children in Need and the DIY SOS team.

This means everything to us. We've waited two weeks while all the wonderful people have been volunteering their time. We are desperately in need of accommodation for 16 to 18-year-olds, and this building will make such a difference to those people's lives.

It means somewhere safe for them and also just as importantly the support they need to help them learn basic life skills to progress successfully in life.

The accommodation will be in use and open from October 1, and we already have young people ready to move in. It's going to be fantastic.
BBC presenter Nick Knowles offered a huge thank you to all the volunteers for making the special project happen; the programme will be aired on BBC as part of Children in Need in November.
He added:
This is one of the most challenging projects we've ever worked on so it's a joyful thing to see this come to life. It's not the BBC DIY SOS team that have done this, it's the volunteers who have turned this around and we are so thankful for that. You're very special people for making this happen. It's going to make such a huge difference to young people in Blackburn and surrounding areas.
Callum Walsh, who was supported by Nightsafe when he was homeless at 15, spent two weeks volunteering and even went 36 hours without sleep to get the plastering finished!
He said:
What Nightsafe did for me, I can't thank them enough, I don't want to be in the limelight, I just want to give back to the people who have helped me turn my life around. I got told to go home after 36 hours on the job and get some sleep so I came back at night times when most people went home to get the plastering finished. I wanted to do this because without Nightsafe I probably wouldn't be here today.
Students from Blackburn Central High School produced a special piece of artwork for the renovation, and tradesmen and women from up and down the country lent their skills to help transform the old church hall into six self-contained pods for 16-18 year olds.
Rev Sheelagh Aston from St Silas' added:
It is great that BWD Council have been involved in this along with many other organizations in the area to support Nightsafe.

It shows the strength of Blackburn being a place of diversity and shows how the project has brought people of all faith or no faiths together for one common good cause. There were Muslim volunteers, members from St Silas, local Roman Catholic churches as well as an abundance of residents. Both churches, along with the Al-Ashir Education Centre, provided space in their grounds for DIY SOS to store materials and for the teams to park.

The coming together of communities from different walks of life for the common good is something we should absolutely celebrate.