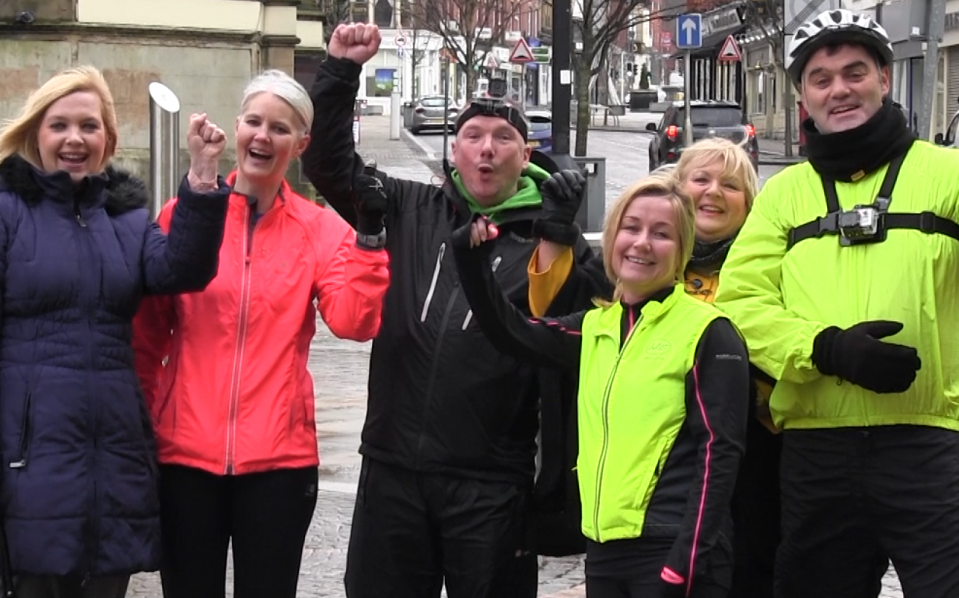 Published Thursday 23 April 2015 at 8:59
The first ever "Wacky Races" style challenge has taken place in Blackburn and Darwen – in a bid to get more people to think about different ways of travel.
Blackburn with Darwen Council's sustainable transport project, CONNECT, was behind the initiative.
It saw staff "racing" to work using several modes of transport – similar to a sketch from the slapstick comedy cartoon series.
Staff from the Council and Capita turned into Dastardly and Muttley for the morning by taking part in two "races" to get to work by either walking, running, cycling, car sharing or by taking the bus or train.
Competitors – sticking to the legal speed limits and the highway codes of course – set off from Darwen Town Hall and Witton Park at 8am on different days to "race" back to Blackburn Town Hall. The aim was to test which form of transport was the quickest and cheapest and report back on the time, financial and environmental impact savings.
A quirky short Youtube video has been created with participants wearing GoPro cameras to capture their journeys and results. It can be viewed here:
https://www.youtube.com/watch?v=zrPH6j97tPU
The cyclist, Capita's Alan Niemeyer was clear winner, followed impressively by the runners Council officers Andrea Sturgess and Gina Smith. The car driven by the Council's Cheryl Sandford came third place followed by the bus travelled by Capita's Melanie Taylor and not far behind was the walker Simon Harrison from the charity Living Streets.
James Syson, the Council's Transport Strategy Team Leader, said:
"The idea was a fun way to encourage people in our borough to try different ways of getting around. Using a car isn't the only option and can often be slower, and more expensive than other more sustainable alternatives.

"By simply walking to work, or even to the bus stop or train station gives you regular physical activity, which is associated with a greater sense of wellbeing and lower rates of depression and anxiety across all age groups. Participating in as little as 10 minutes of activity can make you feel better and increase your mood."
The events mark the start of Walk to Work week that takes place from May 11-17. As part of the week, a walk to work day on May 15 which will be hosted from Witton Park, is being held. Staff are invited to park their cars for free, setting off at 8.15am and walk into the town centre to work.
This will be followed by a Workplace Commuter Challenge, which is a fun, free-to-enter National Cycle Challenge, running from June 8-28. The competition is open to everyone, so you can encourage your friends and family to take part and win prizes along the way. All journeys that you have cycled count. To win prizes register at www.lovetoride.net/lancashire
The Challenge is a great way for people to log the journeys that they make actively, allowing them to keep track of stats on calories burnt, money saved, and carbon emissions reduced.
The Council's Connect project aims to improve cycling, walking and public transport links in the borough, reducing the dominance of cars in our towns.
For more information visit www.bwdconnect.org.uk