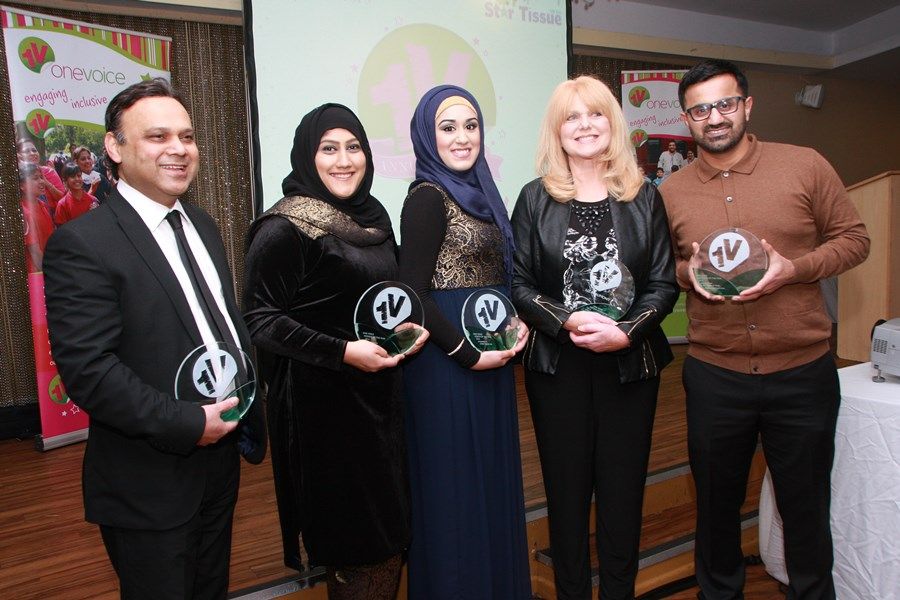 Published Tuesday 24 February 2015 at 11:46
Volunteers and community workers were honoured at the 1V Community Champion Awards. The awards were held in association with the One Voice Annual Dinner on Saturday, February 21 at Maida Restaurant Blackburn. The event was sponsored by hpa Solicitors, Star Tissue UK, H&S Interiors and the Baiter Sehat project.
The 1V Community Awards saw some of the best work in the community celebrated with five awards presented on the evening. The dinner also included a keynote speech from Dominic Harrison, Director of Public Health in Blackburn and Darwen, in which he spoke about how health concerns internationally affected Blackburn and Darwen.
The other major announcement on the evening was the change in Chairmanship of One Voice, with Abrar Hussain taking over from Khalid Saifullah.
Chairman of One Voice, Khalid Saifullah spoke about leadership before announcing his resignation.
The event included a talk by Nisbah Hussain, group leader for 1V Scouts who spoke about greater parental involvement in children's activities.
Women's refuge Humraaz and WEGs (West End Girls) delivered a powerful presentation on the subject of Forced Marriage.
All the nominees for the 1V Community Champion Awards were chosen by the members of One Voice and the community at large. The highly contested Youth of the Year Award went to Aqilah Mohamed who said:
I'm so happy to have received this award. I genuinely am surprised.
The Institute of the Year was won by Abu Hanifah Foundation Football Club for their immense contribution to grassroots football. Group Leader, Dr Khalid Masters said:
We are elated and privileged to have won the category which was full of worthy finalists.
Dr Pervez Muzaffar got the nod for Man of the Year. He said:
I'm really proud to have been involved in an organisation that has achieved so much in very little time.
The much coveted Woman of the Year award went to Zahida Ismail for her work with organisation Children of Jannah. Zahida said:
I am shocked and proud. I'm lost for words. Thank you to everyone. This award will make a big difference to other bereaved parents in the community.
The awards culminated in the Outstanding Achievement Award which was given to Liz Beaumont, a head teacher who has served the Blackburn community for over 40 years. She said:
I regard myself as fortunate and privileged to have been here in Blackburn over a period of tremendous change, to have been involved in a community that has succeeded in overcoming many barriers.

Being a part of their achievements is thrilling. To now receive an award for what has been so fascinating and fun, is a huge honour.
Zaffer Khan, Head of Communications for One Voice, said:
It was an emotional and inspirational evening. We have been overwhelmed with the feedback that we have received. We would like to congratulate the winners and the nominees in 1V Community Awards.
The event was hosted by 18-year-old student Sayeda Binte Ali and 17 year-old student, Aysha Khan.