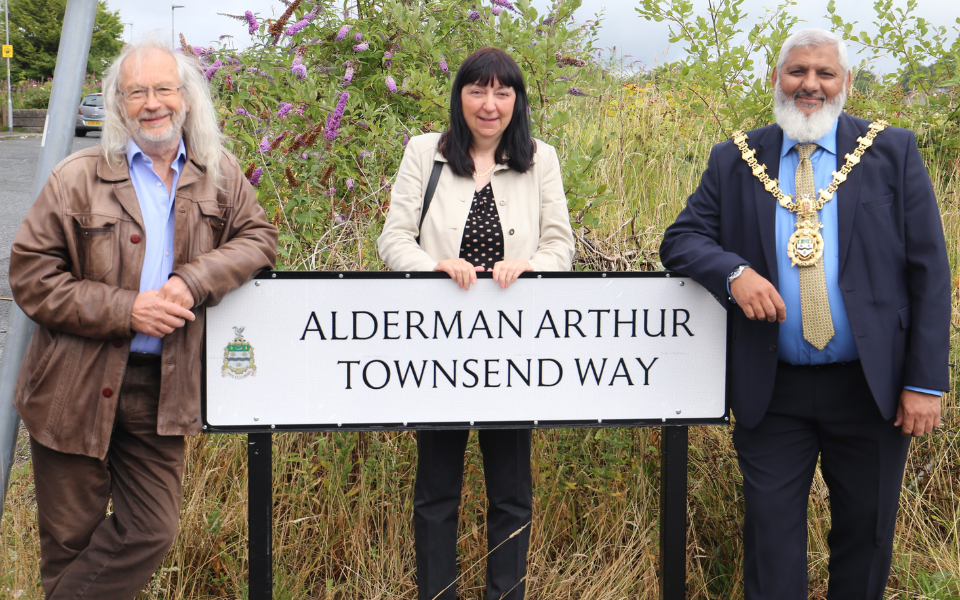 Published Thursday 28 July 2022 at 19:43
A historical local figure has been commemorated with a street-naming, unveiled this week by a proud family member, Leader of the Council and Blackburn with Darwen Mayor.
Arthur Townsend was born in 1874 and passed away in 1957 at the age of 83. Now, 65 years later, his name is firmly etched in our boroughs history with the unveiling of Alderman Arthur Townsend Way.
The moment was attended by Arthur's great, great niece, Andrea Townsend, Leader of the Council Cllr Phil Riley, and Blackburn with Darwen Mayor Cllr Suleman Khonat.
Andrea said:
I am thrilled that my great, great uncle's dedication to his various roles and devoted service to Blackburn and its people has been publicly honoured by way of a street sign. I am incredibly proud of him. He gave tirelessly and selflessly. He was a true pioneer.
So, what led to a street being named after a former weaver turned Alderman, who began working in Blackburn's cotton mills at the age of ten?
Arthur was described by his peers as someone who was completely devoted to his hometown and one of the "best read men in Blackburn".
Post WW1 saw a cotton-trade slump and mass unemployment set in across many industrial towns – Blackburn included. In times of uncertainty like this, people look for leaders – and Arthur was there ready to take the stage.
He became incredibly active in local politics and was a key member of the Labour Party and Ministry of Labour. During a period where over 30,000 people were unemployed in the town, it's reported that Arthur spent most of his time, over a period of five years, taking up the cases of fellow weavers with the Labour Exchange authorities, 'acting as their lawyer'.
He also played a prominent role in educational affairs and was a governor of local secondary schools and a proud member of the Education Committee.
His work as Chairman of the Health Committee meant that he had involvement with the Blackburn Royal Infirmary and the East Lancashire Workpeople's Hospital Fund.
These contributions led to Arthur being commemorated in a ceremony for his dedicated service to the Labour Party in 1942. And in 1954 he received the Civic Medal from the Mayor for outstanding and meritorious service to the town.
Alderman G.B. Eddie stated shortly after the event in 1954:
I know of no man who has given so much to his day and generation and who himself has had so little in return.
Cllr Phil Riley, Leader of Blackburn with Darwen Council, said on the street-naming:
I am delighted to be celebrating the significant achievements of Arthur and the great contributions he made to this town. It is incredibly important to remember our past community heroes and, of course, the history of our borough's weaving heritage, which lay the foundations of what we are able to build on today.
Alderman Arthur Townsend Way can be found in Blackburn, just by Campbell Street, and will fittingly soon be home to a new development as part of Roe Lee Mill.
Hopefully, the naming of this street has been a step forward in giving a return to one of Blackburn's finest community heroes.
Andrea Townsend added:
I would like to thank all involved from Blackburn with Darwen Council and Blackburn Central Library (Community History) for their keen interest and involvement.
A graveside service of remembrance and blessing for Alderman Townsend will be held at St Peter's Churchyard, Salesbury at 11.30am on Sunday 31st July, 2022. All are welcome to attend. People are also invited to attend the morning worship in the church at 10.30am should they so wish.
If you would like to learn more about Alderman Townsend, you can do so by visiting www.cottontown.org and reading the article published by his great, great niece.