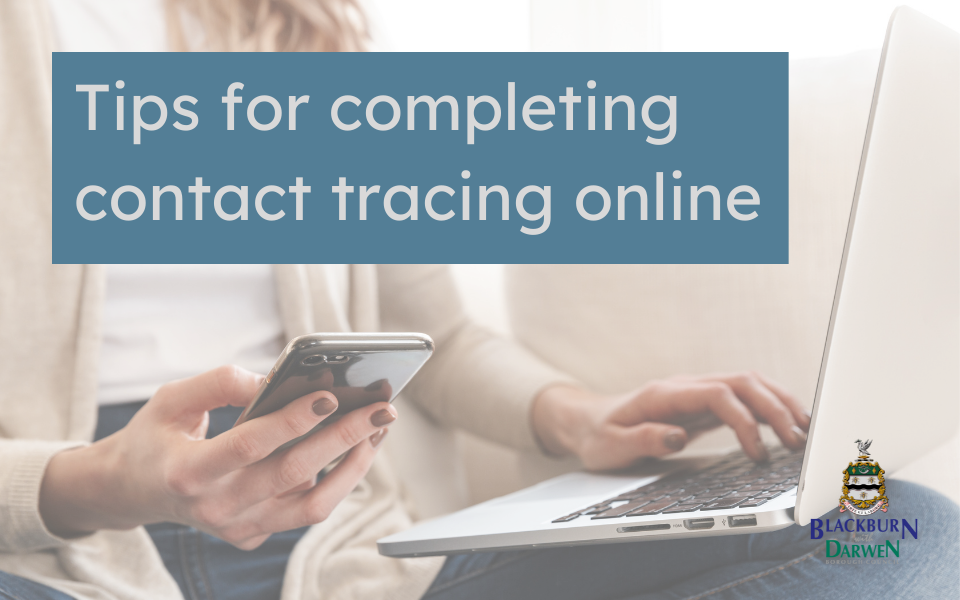 Published Tuesday 21 December 2021 at 8:53
Anyone who tests positive for Covid is asked to provide details of their recent contacts.
As Omicron cases rise across the UK, we're advising Blackburn with Darwen residents who become infected to complete their contact tracing online as soon as they can after getting a positive result.
Doing it online means that you are in control and can choose a time that suits you to complete your contact tracing – and you're less likely to receive Test & Trace phone calls at potentially inconvenient times.
The online link you need will be individual to you, linking with the 8-character account ID allocated to your positive result through CTAS, the national Contact Tracing & Advice System. This will be sent to you by text or email shortly after you receive notification of your positive test result.
Here's our advice on how to compete the contact tracing online form:
Before you start, gather together all the information you'll need:

Your name, date of birth and postcode
The details of the people you live with
All the places you've been to in the last two weeks, such as a workplace or school
And the names and contact details of any people you were in close contact with before your symptoms started (if you know these details).

Allocate around 30 minutes when you won't be interrupted and can complete the form in one go – settle down with a brew perhaps!
From Monday 20 December, you will have 8 hours after testing positive to complete the online contact tracing form, before Test & Trace operators telephone you – please note that the 'clock stops' daily at 8pm until 8am the next day. This means that if you receive your CTAS account ID and contact tracing link at 6pm on a Tuesday, you would have until 2pm on the Wednesday to complete the online contact tracing form before receiving a phone call.
If the positive Covid case is under 18 years, a parent or carer must answer the contact tracing questions over the phone, with the young person.
Of course, anyone who doesn't have internet access can still complete the contact tracing process over the telephone – they will be called shortly after receiving their positive test result.
For more information about the contact tracing process, visit the Coronavirus section of Council website: www.blackburn.gov.uk/coronavirus/test-trace-self-isolate.