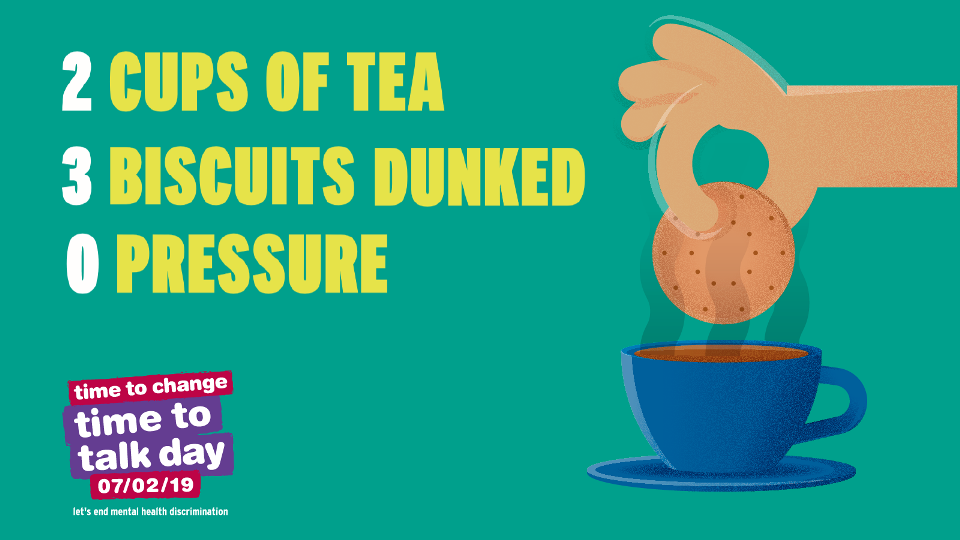 Published Wednesday 6 February 2019 at 15:22
Thursday 7th February is Time to Talk Day – a day when everyone is encouraged to have a conversation about mental health.
Blackburn with Darwen Council will be joining thousands of other groups, schools and members of the public across the country, who will all be having conversations about mental health.
Too many people with mental health problems feel isolated, worthless and ashamed. But having conversations about mental health can break down barriers, improve relationships, aid recovery and take the stigma out of something that affects us all.
1 in 4 of us will experience a mental health problem in any given year, but many of us are too afraid to talk about it. Starting a conversation about mental health might seem daunting but simply sending a text, checking in on a friend or sharing something on social media can break the ice.
Since its launch in 2014, Time to Talk Day has sparked millions of conversations in schools, homes, workplaces, in the media and online, and attracted support from celebrities such as Freddie Flintoff, Stephen Fry and Frankie Bridge.
Mental health and suicide prevention are key priorities for Blackburn with Darwen Council, who launched its Suicide Prevention Strategy in conjunction with a wide-range of partners in 2016.
The local authority has also recently joined forces with the Zero Suicide Alliance – a national collective of organisations aiming to eradicate suicide in the UK by initially raising awareness of a free online suicide prevention training programme.
A major new suicide prevention campaign is also in the planning stages and due to be launched in Blackburn with Darwen this year.
Councillor Brian Taylor, Mental Health Champion and Executive Member for Health and Adult Social Care at Blackburn with Darwen Council, said:
So many people's lives are affected by mental health issues.  Talking openly about the problems people face can make a big difference.  Improving mental health is a key priority for the Council and I hope as many people as possible will take part in Time to Talk Day.
Find out more about Time to Talk Day.
Learn more about the Zero Suicide Alliance.