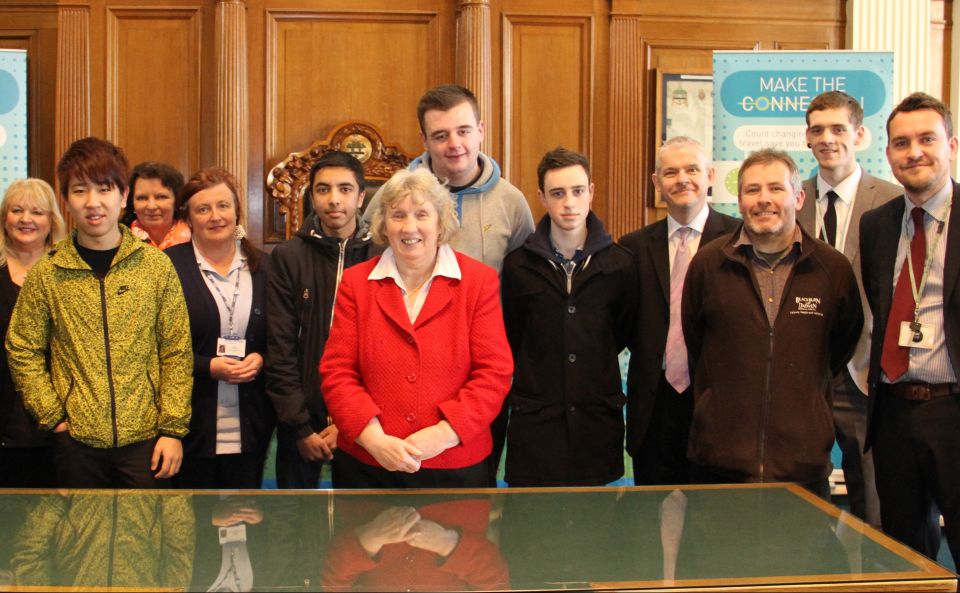 Published Friday 23 January 2015 at 12:14
Commuters and students have been looking into alternative ways to travel to work and college to help cut congestion on the borough's roads and reduce their carbon footprint.
They used the Council's My Personal Travel Planner to work out routes to help them walk, cycle and use public transport to travel in and out of the borough.
The Council's Connect Project, a sustainable transport scheme, launched a competition last year to encourage more people to sign-up for personalised travel plans. Over 900 people were entered into a free prize draw after using the online planner to map their journeys and give them different travel options.
Lesley Heighway, 54, who works for the NHS at the Innovation Centre in Blackburn, said: "I need a car for work because I have to get to do my patient visits – I have on occasion walked and used the bus. I have a dog and I am a member of a walking group.
"Sometimes I use the train because it saves on parking and is a more cost effective way to travel especially if you get a duo ticket. It's a nicer way to get about rather than being sat in the car mumbling to yourself and getting annoyed about the traffic. You met people when travelling on public transport and get talking to different people and have an interesting conversation. You arrive at your destination in a happier mood."
Nick Burton, 48, a health and fitness officer based at Witton Park catches the train from Clitheroe to Blackburn.
He said: "I used the travel planner and it worked for me giving me different options and routes that I hadn't considered before. If I can do it other people can – there's no excuse not to use the train or bus."
Linda Worden, 58, a catering assistant at Witton Park, commutes from Chorley to Blackburn and enjoys parking the car and taking a short stroll into work. She won a month's bus pass from Transdev.
She said: "My husband is a pensioner so we have booked to travel on the bus at the weekend and I'm going to have a trip to Manchester with my sister. I think it's a brilliant way to get more people to look at different ways of travelling."
Nathan Floyd, 18 who is studying Public Services at Blackburn College, said: "The journey planner was easy to use and gives you more efficient ways to travel. I normally walk – I didn't know about what buses were available until I used the planner. I get the number 2 bus from Higher Croft which saves me 15 minutes on my travelling time."
Mohammed Omarji, 17, studies business and law at Blackburn College. He said: "I had never used the bus previously. After using the planner I now use it all time – it takes five minutes instead of a half an hour walk which gives me more time to study and go to the library. Other people should use the planner it's easy."
Shahreen Husain 27 was volunteering at the Royal Blackburn Hospital in the Medical Assessment Unit, when she entered the competition.
She said: "I used the planner to work out the route to and from work. I catch the number 14 bus and catch later buses near to my house. The journey planner is a good idea; I'd recommend it to other people.
Craig Henderson, who works for East Lancashire Hospitals Trust, said: "I am delighted to have won this prize (it's the first thing I have ever won). I intend to make good use of it with journeys to work and the odd shopping trip which I have planned to Skipton & Manchester.
"The intention of entering was not to win the prize but for the great information that I received on a greener way to travel to work. I often cycle but with the pass I won I can now explore the bus system too."
Councillor Maureen Bateson, Executive Member for Regeneration, said: "Those people who are using sustainable methods of transport are ambassadors for us.
"It's important for us bus users to get more people to think about using sustainable transport. I went to a business recently that employed over 60 people – only one employee was using public transport and that's part of the problem.
"One bus would take all those people and keep all those additional cars off the roads. I've never driven and I have brought up three children and managed to survive without a car so it can be done.
"I know cost is a factor for people and using public transport is cheaper than running a car. More employers should look at subsiding the cost of transport – it matters for everybody; old and young there is an alternative to using a car."
Richard Jackson, Transdev Development Director, "As the area's principle bus operator with brands such as Lancashire Way, Hyndburn Connect and Lancashire United, Transdev  are very pleased to support Blackburn Connect in its aims of looking at more sustainable solutions to people's every day transport needs."
The winners were:
| | | |
| --- | --- | --- |
| Name | Organisation | Prize |
| Alan Wong | College | Bike Voucher |
| Nick Burton | Council | Bike Voucher |
| Jonathan Ranson | College | Bike Voucher |
| Mohammed Omarji | College | Bike Voucher |
| Nathan Floyd | College | £150 Mall Voucher |
| Shahreen Hussain | Hospital | £100 Mall Voucher |
| Linda Worden | Library Health Day | £99 Bus Pass |
| Craig Henderson | Hospital | £99 Bus Pass |
| Lesley Heighway | University | £50 Mall Voucher |
For more information on sustainable transport and journey planning using sustainable transport, visit http://bwdconnect.org.uk/