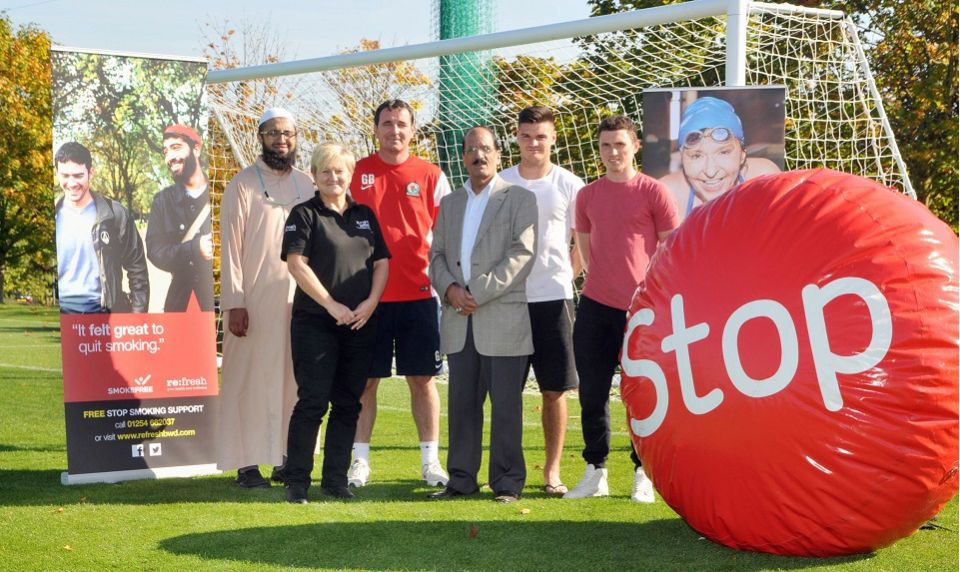 Published Friday 21 November 2014 at 13:09
660 smokers in Blackburn with Darwen stubbed out their cigarettes during October for Stoptober, the 28-day stop smoking challenge.
They joined over 250,000 people around the country swapping their fags for gags in the comedy-themed campaign which was the nation's biggest mass quit attempt.
Those who successfully took part in Stoptober and didn't smoke for 28 days are now five times more likely to remain smoke free.
Figures reveal that 110 more smokers in Blackburn with Darwen took up the challenge compared to the 2013 campaign – a 20% rise.
Blackburn Rovers and Blackburn with Darwen Council teamed up this year to support the Public Health England campaign locally in a bid to help local people quit.
Local smokers are still encouraged to get in touch with the Blackburn with Darwen stop smoking service, as research shows you are four times more likely to quit with this extra support than stopping on your own.
Councillor Mohammed Khan, Executive Member for Health and Adult Social Care, said:
"I would like to congratulate everyone who took up the Stoptober Challenge – quitting smoking isn't easy but it is one of the most significant health improvements a person can make. This success in terms of numbers shows Stoptober has clearly provided people in Blackburn with Darwen with a focus to quit smoking for good and I think their efforts should be applauded."
For further information contact the Blackburn with Darwen Stop Smoking Service on (01254) 587999 or email: quitsmoking@blackburn.gov.uk T: @BwDStopSmoking or search BwD Stop Smoking on Facebook.