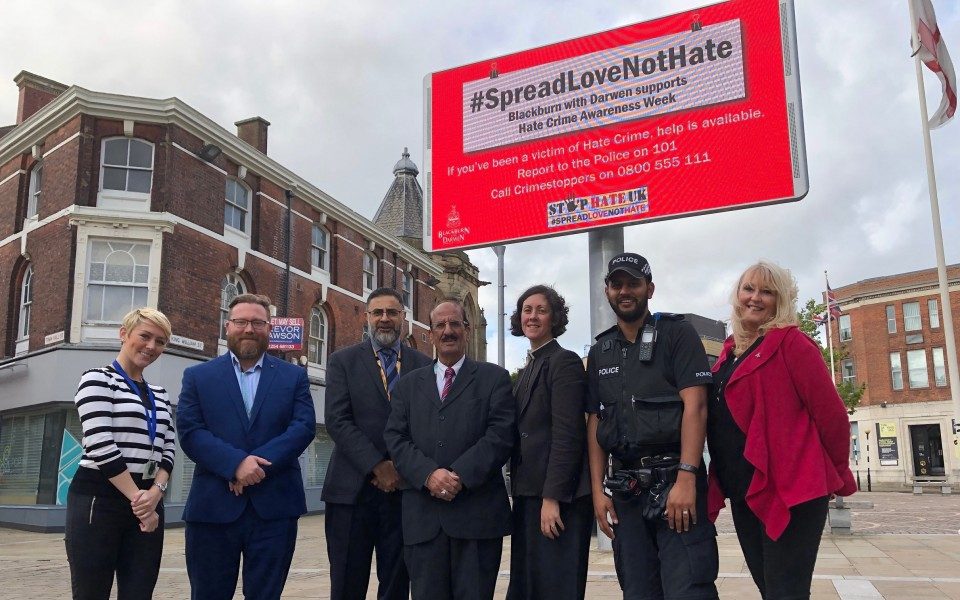 Published Tuesday 8 October 2019 at 15:33
Blackburn with Darwen Borough Council is helping to Spread Love Not Hate during Hate Crime Awareness Week with a number of activities for local people to get involved in.
The week runs from 12 to 19 October, with this year's theme as 'Spread Love Not Hate'. Hate Crime Awareness Week encourages local councils to work with their partners to tackle hate crime locally and show support to victims.
Hate crime is any crime targeted at a person because of prejudice towards their disability, race or ethnicity, religion or belief, sexual orientation, or gender identity.
The 'Take a SEAT' event on Thursday 17 October will offer support to anyone who has been a victim of hate crime in Blackburn with Darwen. It takes place between 1pm and 3.30pm in Wesley Hall on Feilden Street in Blackburn.
The event aims to tackle the isolation that a perpetrator of hate crime tries to instil in their victim. Professional support and community and voluntary groups will be at the Take a SEAT event to offer hate crime victims ways to feel Supported and Empowered, and to encourage them to Achieve and Try something new.
Organisations who'll be present at the Take a SEAT event include Humraaz, Blackburn Youth Zone, Blackburn Rovers Community Trust, Care Network Hub, Renaissance, Victim Services, Brook, and BwD Adult Learning.
Everyone in Blackburn with Darwen is welcome at the event. Visitors will be invited to share messages of support for hate crime victims on a Tree of Hope. Following the event, the Tree of Hope will be moved to Blackburn Cathedral, ready for the International Day of Hope and Remembrance on Sunday 20 October – visitors and worshippers at the Cathedral will also have the opportunity to share messages on the Tree.
Councillor Mohammed Khan, Leader of the Council, said:
As a Council, we reject hatred in all its forms. No one should suffer discrimination or persecution because of their disability, race, religion, sexual orientation or gender.

We know that hate crimes can make victims feel isolated and alone. I'm pleased that a number of local agencies are joining with the Council to offer support to anyone who has experienced hate crime at the event in Wesley Hall on 17 October.

Hate Crime Awareness Week activities in Blackburn with Darwen aim to bring people together, to stand with those affected by hate crime, and help those who need our ongoing support.
Also between 12 and 19 October, Hate Crime Amnesty boxes will be appearing across the borough, to give victims a way to anonymously disclose experiences of hate. The boxes will be positioned in locations including Blackburn Cathedral, Blackburn College, Blackburn Old Town Hall, and Darwen Town Hall.
During the week, social media users will also be able to use specially designed Hate Crime Awareness Week frames on their photographs to help share the #SpreadLoveNotHate message. Look out for the frames on Facebook from 11 October.
Blackburn with Darwen Borough Council adopted a Hate Crime Motion in July 2016, and updated it at last week's Council Forum meeting to include all types of hate crime. During Hate Crime Awareness Week, staff at Blackburn with Darwen Borough Council have the opportunity to attend training courses to help them recognise hate crime and offer support to victims.
There's more information on the national Hate Crime Awareness Week campaign at www.nationalhcaw.uk.