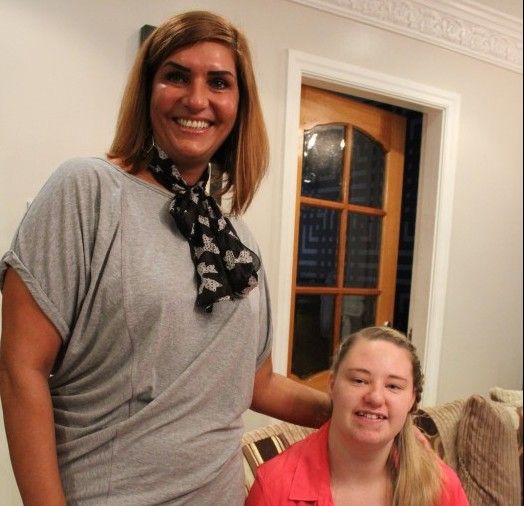 Published Friday 23 October 2015 at 15:18
A Blackburn woman has told how her family has been transformed through Blackburn with Darwen Councils Shared Lives programme
Rachel Ryan offers support to Faye, who has learning difficulties, as a Shared Lives carer, a scheme which provides vulnerable adults the chance to live with families or individuals who can offer support and encouragement so that they can live as independently as possible.
Rachel was a foster carer for 10 years, and also worked with teenagers in care, but wanted to move into caring for adults. She heard about the Shared Lives scheme a few years ago and last year went for an assessment and was accepted. She was introduced to Faye, (19), and have now been part of the Shared Lives scheme since September 2014.
Rachel also lives with her son who is 18, and said that Faye fit in with the family straight away.
Rachel said:
I think Shared Lives is fantastic, it has worked for me and Faye, she is a real part of our family. It certainly doesn't feel like a job at all, it is just our family life now.

The scheme is an amazing thing and I wish more people knew about it. Shared Lives gives people the chance to live as a family and be part of that day to day. I can't praise the scheme enough."
Shared Lives offers people involved in the scheme a chance to enjoy a stable and fulfilling home and social life, making it easier to enjoy activities within their communities.
Cllr Mustafa Desai, Executive Member for Health and Adult Social Care at Blackburn with Darwen Council, said:
It is fantastic that we have people like Rachel in the borough who are so passionate about the Shared Lives scheme. It is wonderful that she and her son and Faye have formed a great family unit and I think this is a scheme that everyone benefits from.

Becoming a Shared Lives carer and welcoming someone into your home can make a real difference to the service user's life. I would encourage anyone interested in the scheme to get in touch by calling 01254 585899."