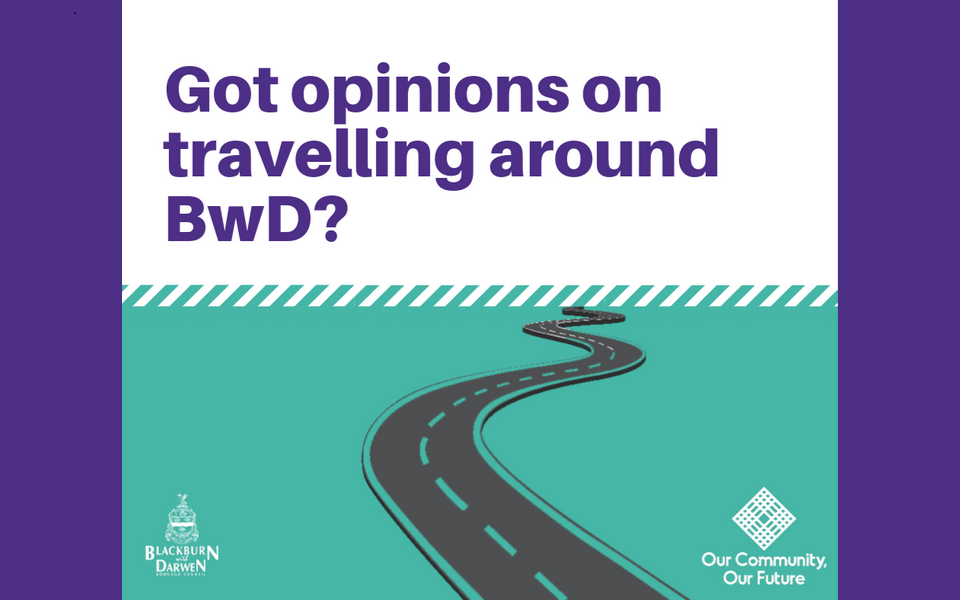 Published Tuesday 15 October 2019 at 14:44
Local people are being asked for their views on getting around in Blackburn with Darwen in a borough-wide transport survey – and have the chance to win one of five £50 The Mall shopping vouchers for taking part.
If you've got opinions on how easy or difficult it is to travel to places in the borough, Blackburn with Darwen Borough Council wants to hear from you.
The survey – which takes around 10 minutes to complete – is designed to gather information on how people travel to the people and places they need to in their everyday life, and get their opinions on any difficulties they face.
Councillor Phil Riley, Executive Member for Growth & Development, said:
The Blackburn with Darwen transport survey gives local people the perfect opportunity to tell us about any issues they face getting to the places they need to go – whether that's to get to work or training, to attend appointments, or to visit friends and family and enjoy their leisure time.

What people tell us will help the Council to develop proposals around innovative transport solutions that help to meet local needs. By connecting people better to places of work and leisure, we can support the work of our social integration programme to bring people from different backgrounds together in Blackburn with Darwen.
Transport is one of the four priorities in the government-funded Our Community, Our Future social integration programme. As part of this work, the Council is keen to consider how transport options in Blackburn with Darwen can better link people to places of employment, leisure and shared community spaces.
Councillor Mohammed Khan, Leader of the Council and Chair of the Our Community, Our Future Board, added:
We know that there are parts of the borough where some residents find it difficult to get to the places they need to go via public and community transport. This can prevent people from venturing out of their immediate neighbourhoods, and that can have an impact on how integrated our local community is.

Where people live shouldn't be a barrier to them getting involved in all that Blackburn with Darwen has to offer. Getting transport connections right for the future will help us to create the right conditions for people from different backgrounds to come together, connecting people who would perhaps never meet otherwise. Better transport links can support the work we're doing in other priorities of the Our Community, Our Future strategy, to help people to mix with others in the workplace, through volunteering opportunities, and socially.
The Blackburn with Darwen transport survey is available online now. Local people can use it to give their views until Friday 22 November.
The Council is also taking to the streets to get the views of bus and train passengers. Look out for Council staff helping people to complete the survey online at Blackburn bus and train stations, at Darwen Circus bus station and Darwen train station.
Community groups right across the borough will also be consulted, to ensure the Council gathers the views of their users too.
Councillor Phil Riley added:
While we're not in a position to solve all transport issues local people may experience, we will be in position to develop our knowledge and understanding of any problems and the areas that are affected.

This work through the Our Community, Our Future programme allows us to explore innovative transport solutions to the issues that residents tell us they face, and gives us a platform to pilot new approaches working with local transport providers.
The draw for winners of the £50 The Mall shopping vouchers will take place on in the week commencing 25 November and winners will be notified by 29 November.