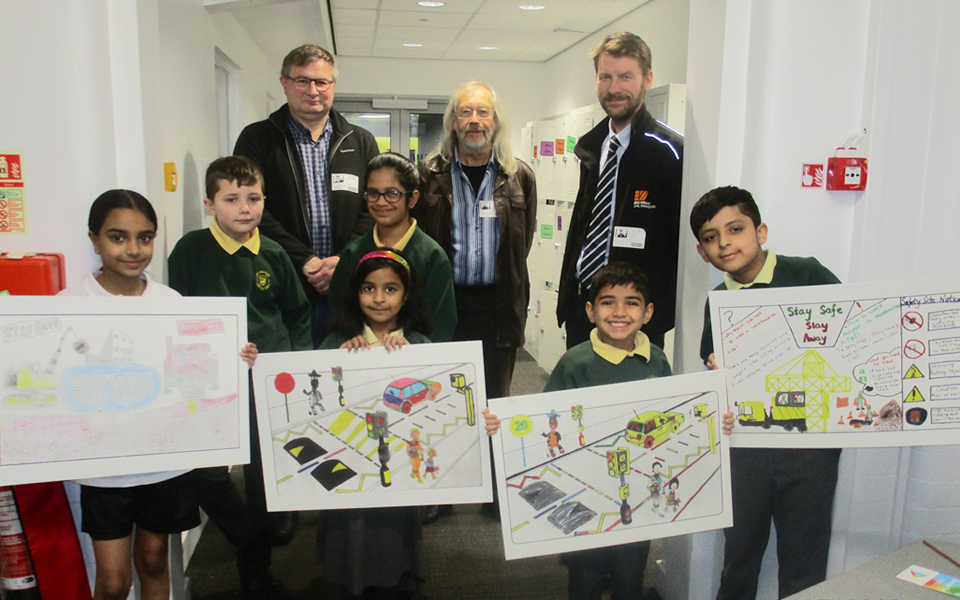 Published Wednesday 5 February 2020 at 11:27
Children at Roe Lee Park Primary School helped get the safety message out for a regeneration scheme thanks to a poster competition.
The posters give information about safety during construction and are designed to be shown around the Growth Development 3 Scheme (GD3) in North Blackburn. They will be turned into signs and installed on lamposts near the school on Emerald Avenue.
The GD3 scheme includes:
Brownhill roundabout: Works include intelligent traffic signal equipment and resurfacing
Pleckgate Road / Ramsgreave Drive (Knowles Arms): Junction improvement including new traffic signal equipment and resurfacing
Whalley Old Road / Whitebirk Drive: Capacity upgrade and new traffic signal equipment
Emerald Avenue junction / Brownhill Drive: Signals renewal/upgrade and cycleway detection
Blackburn with Darwen Council and Eric Wright Civil Engineering are working in partnership on the scheme and have been working closely with Roe Lee Park Primary School on health and safety around the ongoing works.
Staff working on the North Blackburn scheme have been into the school and have run Health and Safety talks about site safety, and the civil engineering trade. A competition was run with the school with children creating drawings and posters.
Work at these sites also include sustainable transport improvements for walking and cycling, highways signage, street lighting, drainage, surfacing, lining and soft and hard landscaping.
Smart, intelligent signals will reduce congestion and queuing time for users of the highway.
Councillor Phil Riley, Executive Member for Growth and Development, said:
The posters created by the children were all fantastic and it is a shame we couldn't pick all of them. They give some great and very helpful information about site safety and taking care of yourself around construction works, so should be very useful for people in the area."
Mark Geldard, head teacher at Roe Lee Park Primary School, said:
We would like to thank Eric Wright Group for working with the pupils at Roe Lee Park Primary School and helping to raise awareness of the dangers around roadworks and construction areas.

They organised a poster competition and the winners were thrilled to see them made into signs which will be displayed in school and will also be used near construction areas in Blackburn with Darwen."
Greg Brett, senior project manager with Eric Wright Civil Engineering, said:
Working on the Blackburn North site, we were delighted to link in with Roe Lee Park Primary School on the poster competition. As a local contractor, linking into local community groups and in particular schools, is part of our social value offer when securing any project. We are delighted that the children could see first-hand the importance of safety in and around the site and hope they will be pleased with the end result."