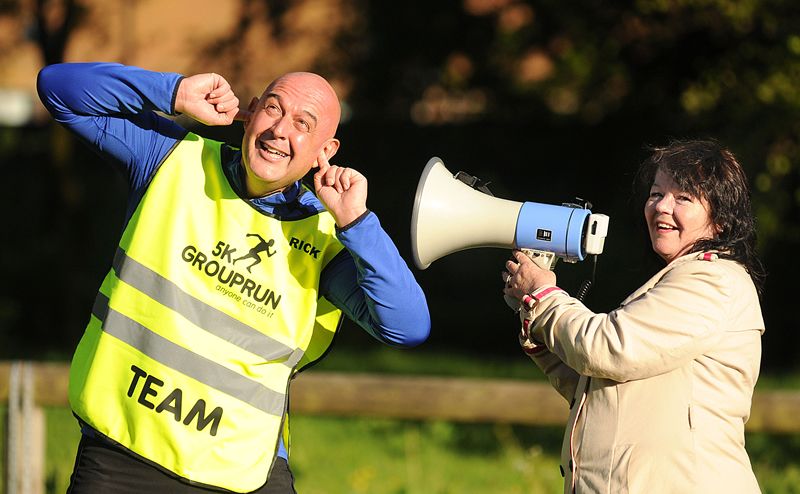 Published Friday 27 June 2014 at 16:23
A running group, which has surged in popularity with hundreds of people now regularly turning out, has been awarded a Your Call grant in recognition of its success.
Councillor Kate Hollern, leader of Blackburn with Darwen Council, was so impressed with the work of the free 5K Group Run she agreed to fund some equipment they needed.
Founder of the group Rick Wilson said he was delighted with the grant of nearly £500 to buy hi visibility team bibs for volunteers who help support other runners.
Rick, from Revidge, launched the group last summer. He weighed nearly 20 stone but wanted to train towards running the Pennine Lancashire 10k race.
The 46-year-old said he thought about joining a running club but thought it might be a bit daunting so decided to set up one himself after finding out aboutr an NHS running programme called "Couch to 5K".
In eight weeks, he lost three stones. Word spread around and the group got bigger and bigger.
Rick, who has also won a Pat on the Back award and been nominated for a Good Neighbours award for his efforts, said about the grant: "I am delighted and want to say a massive thank you to both Councillor Hollern and Councillor Sylvia Liddle for their support.
"We now have a pool of 104 volunteers, who have all completed the Couch to 5K plan themselves, and there are usually around 65 of them attending every session.
"We are currently supporting between 300 to 350 runners, meeting three times per week at the Pavilion at Witton Park. It really has captured everybody's attention which is reflected in the number of people running who would otherwise have been inactive."
Councillor Hollern said: "Rick Wilson embodies the Your Call spirit. His work has helped hundreds of people get fit and healthy and he did it all on his own. I am always happy to give support to people who have an attitude that says we can do something here to make things better. I passionately believe many problems in the community can be solved by members of the community and I believe it's the Council's role to help support them and foster that can-do attitude."
Councillor Liddle, Roe Lee ward councillor, said: "Rick is an example to us all about what can be achieved when you put your mind to it. The success of the running group is phenomenal and I hope it continues to go from strength to strength."