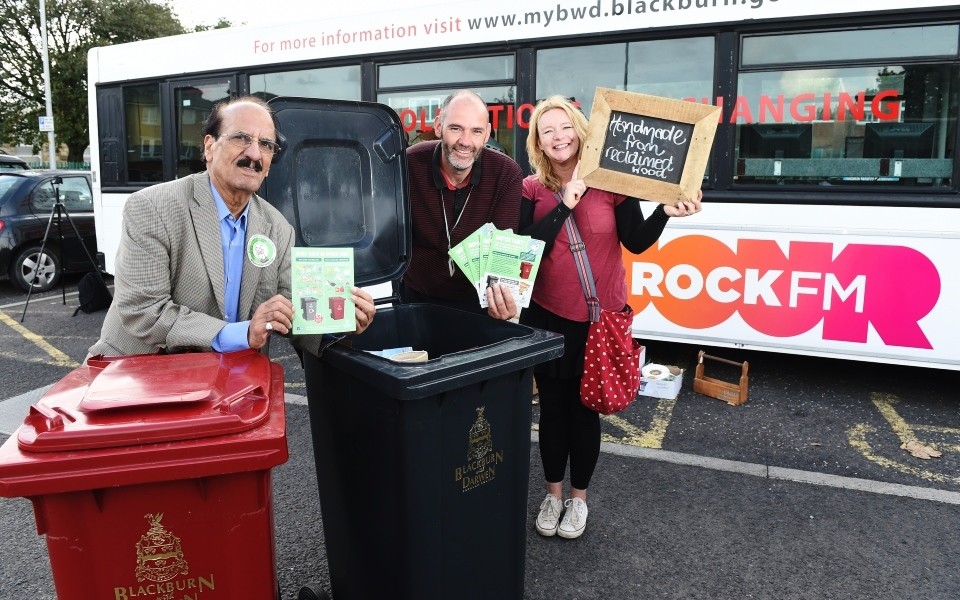 Published Wednesday 28 September 2016 at 17:12
Further roadshows are taking place this week to help make people in Blackburn with Darwen aware of the upcoming bin changes whilst promoting waste reduction and recycling.
The roadshow features a display of locally upcycled furniture, produced in Blackburn by mum-of-two Annie Hewitt.
People are invited to come along to recycling roadshows and speak to specialist advisors, learn more about recycling, get hints and tips on how to waste less and save money.
Annie, who runs Soulfurniture on the outskirts of Blackburn – specialises in unique designs made from reclaimed wood, pallets and discarded furniture. She makes everything from tables and chairs to one-off toy boxes, pallet coffee tables and even little hobbit cupboards!
The events, showcasing some of Annie's creative wares, are being held across the borough – on Friday, September 30 and Saturday, October 1, to offer people advice and information on the new service, which begins on October 3, 2016.
Annie, who has a degree in fine art from Blackburn University College and an MA in professional Contemporary Art Practice, said:
It's good to be able to show people what can be done with a bit of creativity and a little bit of TLC to bring unwanted items back to life.

It's a great way to highlight the benefits of recycling.
The new bin collection system in Blackburn and Darwen will see rubbish and recycling collected from wheelie bins on alternate weeks, with rubbish one week and recycling the next.
Letters are being sent to every household in the borough with information on how the new service will work and the council has also set up a Facebook page to keep residents informed and give useful tips on how to recycle more.
There will be various activities on the bus including:
Demos using real bins to show what you can and can't recycle
Recording of podcasts asking people what they think can/can't be recycled
Handing out of merchandise
Demonstration of the Council website/filling in online forms – mybwd.blackburn.gov.uk
Roadshow tour dates
Friday, September 30
Morning (10am to noon):  Rothesay Road, Shadsworth
Afternoon (1pm to 4.30pm): Troy Street, Whalley Range
Saturday, October 1
Morning (10am to 1pm):  Blackburn, King William Street as above
Afternoon (1.30pm to 4.30pm): Darwen, outside the Market
Sign-up to a free mybwd account at mybwd.blackburn.gov.uk to:
Report missed bins
Uncollected/lost bins
Order new bins
Arrange collections when you move house
Arrange an assisted bin collection
Find out collection days