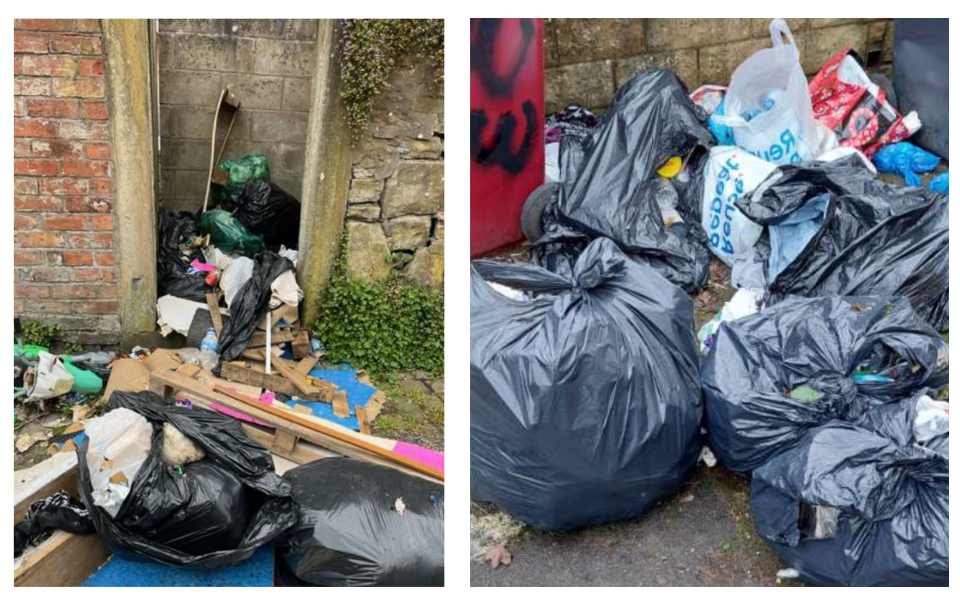 Published Friday 2 September 2022 at 17:24
36 residents have been ordered to pay a combined total of £23,832 in court fines and charges due to unacceptable waste offences in Blackburn with Darwen.
Action was taken by our Environmental Crime Team, assisted by the fly-tipping crew, who together gathered evidence and brought successful cases against residents for offences that include thoughtless fly-tipping and allowing unsightly waste to pile up in gardens and adopted areas.
In some cases, residents had failed to employ a licensed waste carrier to remove of their waste and were therefore also liable for a fine.
If you intend to employ someone to remove or dispose of your waste, then they need to be licensed to do so. Waste carriers licenses are obtained via the Environment Agency. You can check via this website if someone is authorised.
Although many waste removal companies have a waste carrier's license, this doesn't always mean they are disposing of waste responsibly or legally. In order to be absolutely certain that they are, you should obtain a waste transfer note and details of where the waste is being taken to for disposal.
We urge all residents to please ensure that any waste removal service they use is reputable, otherwise you may be left with a large fine.
You can find the full prosecution details for each individual case below.
Cllr Jim Smith, Executive Member for Environment, said:
We want to make it very clear that the Council will not tolerate any sort of waste crime in Blackburn with Darwen.

It's important to us that residents are proud of their borough and where they live, so we will not accept rubbish being allowed to build up or be discarded and blight our communities.

Piles of rubbish are not just unsightly, they cause serious issues – including bad smells and attracting vermin. There's absolutely no excuse for it.

The vast majority of residents take pride in their homes, surrounding areas and our beautiful countryside, so it's important we do everything in our power to take action against those who don't respect that.

I would like to thank our environmental crime team and fly-tipping crew for their hard work and dedication in bringing forward these prosecutions, as well as all members of the public who report waste offences to us.
Last year, the Council's environmental waste crime team oversaw 168 enforcement actions, which include 101 prosecutions, 63 fixed penalty notices and 4 simple cautions. Please help us stop waste crimes by reporting them via the Council website.
The Council is also committed to educating and informing residents on the correct ways to responsibly dispose of waste, the Environment Department has just employed a second Education Officer to assist with leading on this task.
Visit www.recyclebwd.org to find lots of helpful information, including what items go in what bin, tips and tricks when it comes to household rubbish and translated video guides. The website can also be accessed in many different languages.
As well as this, residents can make use of our two household waste recycling centres, open over a seven day period in Blackburn and Darwen.
Or, if you're struggling to remove bulky waste yourself, then book via our waste collection service – please DO NOT fly-tip or leave your items in back alleys or gardens.
Full Prosecution Details
Name of defendant: Catherine Macrolini
Address of defendant: Marlton Road, Blackburn.
Date of offence: 25 Feb 2022
Date of court case: Aug 2022
Details of charge: Contrary to section 4 of the PDPA 1949 failed to remove waste material within the rear yard of Marlton Road, Blackburn.
TOTAL FINE: £929
Name of defendant: Mark Anthony Hayes
Address of defendant: Nicholas Street, Darwen.
Date of offence: 4 Jan 2022
Date of court case: Aug 2022
Details of charge: Contrary to section 34.2 (a) of the EPA 1990 failed to take all reasonable steps to ensure waste is disposed of by an authorised person or person authorised for transport purposes.
TOTAL FINE: £374
Name of defendant: Kamran Sarwar
Address of defendant: Accrington Road, Blackburn.
Date of offence: 4 Feb 2022
Date of court case: Aug 2022
Details of charge: Contrary to section 80 of the EPA 1990 failed to remove waste material within the rear yard of Accrington Road, Blackburn.
TOTAL FINE: £569
Name of defendant: Lisa Deacon
Address of defendant: Bower Street, Blackburn.
Date of offence: 5 April 2022
Date of court case: Aug 2022
Details of charge: Contrary to section 80 of the EPA 1990 failed to remove waste material on the driveway of Bower Street, Blackburn.
TOTAL FINE: £929
Name of defendant: Grace Moore
Address of defendant: Bull Hill, Darwen.
Date of offence: 6 April 2022
Date of court case: Aug 2022
Details of charge: Contrary to section 80 of the EPA 1990 failed to remove animal excrement within the rear garden of Bull Hill, Darwen.
TOTAL FINE: £929
Name of defendant: Paul Stuart Cottam
Address of defendant: Exeter Street, Blackburn.
Date of offence: 25 April 2022
Date of court case: Aug 2022
Details of charge: Contrary to section 80 of the EPA 1990 failed to remove waste material within the rear yard of Exeter Street, Blackburn.
TOTAL FINE: £417
Name of defendant: Kirsty McCrudden
Address of defendant: Fecitt Brow, Blackburn.
Date of offence: 30 April 2022
Date of court case: Aug 2022
Details of charge: Contrary to section 80 of the EPA 1990 failed to remove waste material within the garden of Fecitt Brow, Blackburn.
TOTAL FINE: £417
Name of defendant: Patrick Stephen Talbot
Address of defendant: Grafton Street, Blackburn
Date of offence: 25 April 2022
Date of court case: Aug 2022
Details of charge: Contrary to section 80 of the EPA 1990 failed to remove waste material within the garden of Grafton Street, Blackburn.
TOTAL FINE: £417
Name of defendant: Michael Clegg
Address of defendant: Infirmary Street, Blackburn.
Date of offence: 12 April 2022
Date of court case: Aug 2022
Details of charge: Contrary to section 80 of the EPA 1990 failed to remove waste material within the rear yard of Infirmary Street, Blackburn.
TOTAL FINE: £687
Name of defendant: Mirela Lazar
Address of defendant: Langham Road, Blackburn.
Date of offence: 31 March 2022
Date of court case: Aug 2022
Details of charge: Contrary to section 80 of the EPA 1990 failed to remove waste material within the rear yard of Langham Road, Blackburn.
TOTAL FINE: £569
Name of defendant: Marius Spanu
Address of defendant: Langham Road, Blackburn.
Date of offence: 31 March 2022
Date of court case: Aug 2022
Details of charge: Contrary to section 80 of the EPA 1990 failed to remove waste material within the rear yard of Langham Road, Blackburn.
TOTAL FINE: £ 569
Name of defendant: Bridget Martina Maughan
Address of defendant: Queen Victoria Street, Blackburn.
Date of offence: 6 April 2022
Date of court case: Aug 2022
Details of charge: Contrary to section 80 of the EPA 1990 failed to remove waste material within the rear yard of 22 Queen Victoria Street, Blackburn.
TOTAL FINE: £929
Name of defendant: Arron Alston Mercer
Address of defendant: Redlam, Blackburn.
Date of offence: 29 April 2022
Date of court case: Aug 2022
Details of charge: Contrary to section 80 of the EPA 1990 failed to remove waste material within the rear yard of Redlam, Blackburn.
TOTAL FINE: £569
Name of defendant: Gareth Jenkins
Address of defendant: Walsh Street, Blackburn.
Date of offence: 16 March 2022
Date of court case: Aug 2022
Details of charge: Contrary to section 80 of the EPA 1990 failed to remove waste material within the rear yard of Walsh Street, Blackburn.
TOTAL FINE: £929
Name of defendant: Paul James Cocking
Address of defendant: Anyon Street, Darwen.
Date of offence: 18 January 2022
Date of court case: Aug 2022
Details of charge: Household waste was found to have been dropped or deposited in the back alley of Anyon Street, Darwen Contrary to section 87 of the EPA 1990.
TOTAL FINE: £929
Name of defendant: Nicki Moss
Address of defendant: Argyle Street, Darwen.
Date of offence: 16 December 2021
Date of court case: Aug 2022
Details of charge: Household waste was found to have been dropped or deposited to the side alley of Argyle Street, Darwen Contrary to section 87 of the EPA 1990.
TOTAL FINE: £929
Name of defendant: Gavin Ivan Wilson
Address of defendant: Bentham Road, Blackburn.
Date of offence: 8 Feb 2022
Date of court case: Aug 2022
Details of charge: Household waste was found to have been dropped or deposited next to the litter bin on Bentham Road, Blackburn Contrary to section 87 of the EPA 1990.
TOTAL FINE: £929
Name of defendant: Stephen McDermot
Address of defendant: Cobourg Close, Blackburn.
Date of offence: 4 Jan 2022
Date of court case: Aug 2022
Details of charge: Household waste was found to have been dropped or deposited on land at the rear of Mowbray Avenue, Blackburn Contrary to section 87 of the EPA 1990.
TOTAL FINE: £417
Name of defendant: Vlad Pop
Address of defendant: Coleridge Street, Blackburn.
Date of offence: 17 Feb 2022
Date of court case: Aug 2022
Details of charge: Household waste was found to have been dropped or deposited in the back alley of Coleridge Street, Blackburn Contrary to section 87 of the EPA 1990.
TOTAL FINE: £417
Name of defendant: Penny Waddington
Address of defendant: Darwen Street, Blackburn.
Date of offence: 9 Nov 2021
Date of court case: Aug 2022
Details of charge: Household and black bag waste was found to have been dropped or deposited on Darwen Street, Blackburn Contrary to section 87 of the EPA 1990
TOTAL FINE: £929
Name of defendant: Alona Hauberte
Address of defendant: Haslingden Road, Blackburn.
Date of offence: 8 March 2022
Date of court case: Aug 2022
Details of charge: Household waste was found to have been dropped or deposited in the back alley of Haslingden Road, Blackburn Contrary to section 87 of the EPA 1990.
TOTAL FINE: £490
Name of defendant: David William Johnson
Address of defendant: Hertford Street, Blackburn.
Date of offence: 24 Jan 2022
Date of court case: Aug 2022
Details of charge: Household waste was found to have been dropped or deposited in the back alley of Hertford Street, Blackburn Contrary to section 87 of the EPA 1990.
TOTAL FINE: £417
Name of defendant: Megan Helliwell
Address of defendant: Jepson Street, Darwen.
Date of offence: 22 Jan 2022
Date of court case: Aug 2022
Details of charge: Household waste was found to have been dropped or deposited in the back alley of Jepson Street, Darwen Contrary to section 87 of the EPA 1990.
TOTAL FINE: £929
Name of defendant: Rosemarie Maughan
Address of defendant: London Terrace, Darwen.
Date of offence: 13 December 2021
Date of court case: Aug 2022
Details of charge: Black bag waste was found to have been dropped or deposited in the rear alley of Atlas Road, Darwen Contrary to section 87 of the EPA 1990.
TOTAL FINE: £417
Name of defendant: Michael Patrick Queen Martin
Address of defendant: Mosley Street, Blackburn.
Date of offence: 1 Feb 2022
Date of court case: Aug 2022
Details of charge: Household waste was found to have been dropped or deposited on the road of Paterson Street, Blackburn Contrary to section 87 of the EPA 1990.
TOTAL FINE: £929
Name of defendant: Chloe Ellen O'Rourke
Address of defendant: Romney Walk, Blackburn.
Date of offence: 16 Feb 2022
Date of court case: Aug 2022
Details of charge: Household waste was found to have been dropped or deposited on Council land to the side of Romey Walk, Blackburn Contrary to section 87 of the EPA 1990.
TOTAL FINE: £687
Name of defendant: Martina Ginova
Address of defendant: Sandon Street, Blackburn
Date of offence: 21 Feb 2022
Date of court case: Aug 2022
Details of charge: Household waste was found to have been dropped or deposited in the back alley of Norman Street, Blackburn Contrary to section 87 of the EPA 1990.
TOTAL FINE: £357
Name of defendant: Sarah Lazell
Address of defendant: Sandringham Road, Darwen
Date of offence: 10 March 2022
Date of court case: Aug 2022
Details of charge: Household waste was found to have been dropped or deposited in the back alley of Sandringham Road, Darwen Contrary to section 87 of the EPA 1990.
TOTAL FINE: £929
Name of defendant: Desmond Moran
Address of defendant: Sandringham Road, Darwen
Date of offence: 10 March 2022
Date of court case: Aug 2022
Details of charge: Household waste was found to have been dropped or deposited in the back alley of Sandringham Road, Darwen Contrary to section 87 of the EPA 1990.
TOTAL FINE: £929
Name of defendant: Lyndsey Jones
Address of defendant: St James Street, Blackburn.
Date of offence: 20 Nov 2021
Date of court case: Aug 2022
Details of charge: Household waste was found to have been dropped or deposited in the back alley of St James Street, Blackburn Contrary to section 87 of the EPA 1990.
TOTAL FINE: £417
Name of defendant: Bogdan-Daniel Ghita
Address of defendant: Stansfeld Street, Blackburn
Date of offence: 8 Feb 2022
Date of court case: Aug 2022
Details of charge: Household waste was found to have been dropped or deposited in the rear alley of Stansfeld Street, Blackburn Contrary to section 87 of the EPA 1990.
TOTAL FINE: £929
Name of defendant: Ionela-Valentina Nitu
Address of defendant: Stansfeld Street, Blackburn
Date of offence: 8 Feb 2022
Date of court case: Aug 2022
Details of charge: Household waste was found to have been dropped or deposited in the rear alley of Stansfeld Street, Blackburn Contrary to section 87 of the EPA 1990
TOTAL FINE: £929
Name of defendant: Kimberley Smith
Address of defendant: Stephen Street, Blackburn
Date of offence: 31 March 2022
Date of court case: Aug 2022
Details of charge: Household waste was found to have been dropped or deposited in the back alley of Stephen Street, Blackburn Contrary to section 87 of the EPA 1990.
TOTAL FINE: £529
Name of defendant: Emma Posteraro
Address of defendant: Sudellside Street, Darwen.
Date of offence: 7 March 2022
Date of court case: Aug 2022
Details of charge: Household waste was found to have been dropped or deposited in the back alley of Sudellside Street, Darwen Contrary to section 87 of the EPA 1990.
TOTAL FINE: £357
Name of defendant: Shazia Cousar Ilyas
Address of defendant: Swallow Drive, Blackburn
Date of offence: 17 Feb & 15 March 2022
Date of court case: Aug 2022
Details of charge: Household waste was found to have been dropped or deposited on Council Land on Swallow Drive, Blackburn Contrary to section 87 of the EPA 1990.
TOTAL FINE: £417
Name of defendant: Petra Tokarova
Address of defendant: Whalley New Road, Blackburn.
Date of offence: 16 Dec 2021
Date of court case: Aug 2022
Details of charge: Household waste was found to have been dropped or deposited in the back alley Whalley New Road, Blackburn Contrary to section 87 of the EPA 1990.
TOTAL FINE: £357