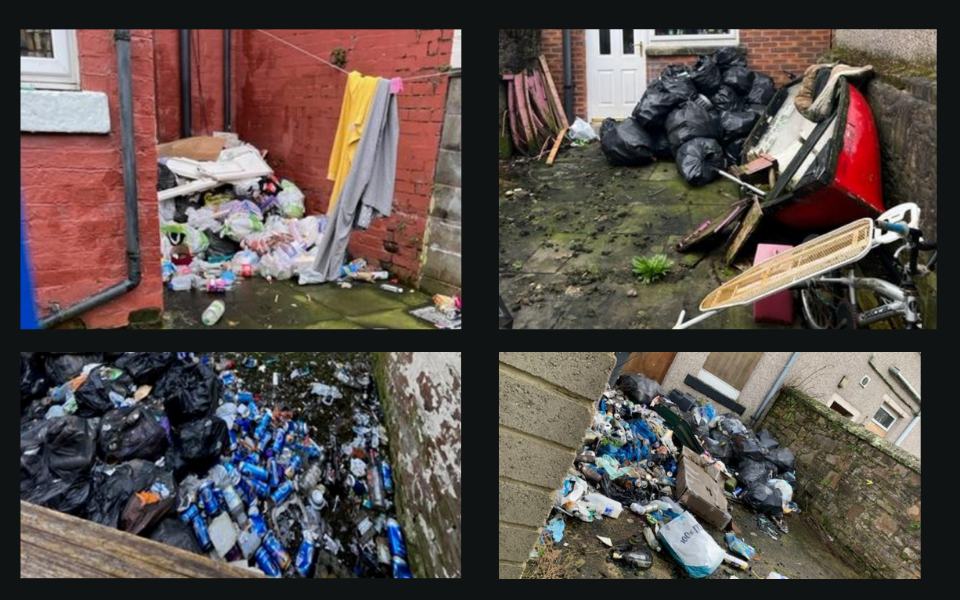 Published Tuesday 17 May 2022 at 11:19
18 residents have been ordered to pay a combined total of £11,215.74 in court fines and charges due to waste offences in Blackburn with Darwen.
Action was taken by our Environmental Crime Team in all cases due to rear gardens piling high with unsightly waste.
Section 80 of the Environmental Protection Act (1990) requires the removal of waste material within 14 days of service. All 18 residents were summonsed to appear before Blackburn Magistrates after ignoring calls to action.
You can find the full prosecution details for each individual case below.
Councillor Jim Smith, Executive Member for Blackburn with Darwen Borough Council, said:
We want our residents to be proud of our borough and where we live, so we will not tolerate rubbish being allowed to build up and blight our communities.

Piles of rubbish are not just unsightly, they cause serious issues – including bad smells and attracting vermin. There's absolutely no excuse for it.

The vast majority of residents take pride in their homes and surroundings and so it's important we do everything in our power to take action against those who don't, as it impacts on those living nearby.

I would like to thank our Environmental Waste Crime Team for their hard work and dedication in bringing forward these prosecutions, as well as all members of the public who report waste offences to us.

Last year, the Council's Environmental Waste Crime Team oversaw 125 successful prosecutions.
Please help us stop waste crimes by reporting them via the Council website: https://www.blackburn.gov.uk/fly-tipping.
The Council is also committed to educating and informing residents on the correct ways to responsibly dispose of waste, the Environment Department is in the process of employing a second Education Officer to assist with leading on this task.
Visit www.recyclebwd.org to find lots of helpful information, including what items go in what bin, tips and tricks when it comes to household rubbish and translated video guides. The website can also be accessed in many different languages.
As well as this, residents can make use of our two Household Waste Recycling Centres, open over a seven day period in Blackburn and Darwen.
Or, if you're struggling to remove bulky waste yourself, then book via our waste collection service – please DO NOT fly-tip or leave your items in back alleys or gardens.
Full Prosecution Details
Name of defendant: Gary Costello
Address of defendant: Abraham Street, Blackburn
Date of offence: 11/02/2022
Date of court case: 26/04/2022
Details of charge: Contrary to section 80 of the EPA 1990 failed to remove waste material within the rear yard of Abraham Street, Blackburn.
Appear in court: No
Fine: £440
Costs: £203
Victim Surcharge: £44
TOTAL: £687
Name of defendant: Laura Agnew
Address of defendant: Atlas Road, Darwen
Date of offence: 14/02/2022
Date of court case: 03/05/2022
Details of charge: Contrary to section 80 of the EPA 1990 failed to remove waste material within the rear yard of Atlas Road, Darwen.
Appear in court: No
Fine: £440
Costs: £203
Victim Surcharge: £44
TOTAL: £687
Name of defendant: Louise Callaghan
Address of defendant: Edmund Street, Darwen
Date of offence: 14/02/2022
Date of court case: 03/05/2022
Details of charge: Contrary to section 80 of the EPA 1990 failed to remove waste material within the rear yard of Edmund Street, Darwen.
Appear in court: No
Fine: £440
Costs: £203
Victim Surcharge: £44
TOTAL: £687
Name of defendant: Louise Taylor
Address of defendant: Levensgarth Avenue, Preston.
Date of offence: 05/01/2022
Date of court case: 03/05/2022
Details of charge: Contrary to section 80 of the EPA 1990 failed to remove waste material within the rear yard of London Terrace, Darwen.
Appear in court: No
Fine: £440
Costs: £85
Victim Surcharge: £44
TOTAL: £569
Name of defendant: Carly McCrudden
Address of defendant: Walsh Street, Blackburn.
Date of offence: 26/01/2022
Date of court case: 26/04/2022
Details of charge: Contrary to section 80 of the EPA 1990 failed to remove waste material within the rear yard of Walsh Street, Blackburn.
Appear in court: No
Fine: £440
Costs: £85
Victim Surcharge: £34
TOTAL: £559
Name of defendant: Scott Spencer
Address of defendant: Whittaker Street, Blackburn.
Date of offence: 19/01/2022
Date of court case: 03/05/2022
Details of charge: Contrary to section 80 of the EPA 1990 failed to remove waste material within the rear yard of Whittaker Street, Blackburn.
Appear in court: No
Fine: £660
Costs: £85
Victim Surcharge: £66
TOTAL: £811
Name of defendant: Sharon Macleod
Address of defendant: Walsh Street, Blackburn.
Date of offence: 24/01/2022
Date of court case: 03/05/2022
Details of charge: Contrary to section 80 of the EPA 1990 failed to remove waste material within the rear yard of Walsh Street, Blackburn.
Appear in court: No
Fine: £220
Costs: £4.24
Victim Surcharge: £34
TOTAL: £258.24
Name of defendant: David Kelly
Address of defendant: Walsh Street, Blackburn.
Date of offence: 24/01/2022
Date of court case: 26/04/2022
Details of charge: Contrary to section 80 of the EPA 1990 failed to remove waste material within the rear yard of Walsh Street, Blackburn.
Appear in court: No
Fine: £220
Costs: £101.50
Victim Surcharge: £34
TOTAL: £355.50
Name of defendant: Chloe Livesey
Address of defendant: Bonsall Street, Blackburn.
Date of offence: 10/01/2022
Date of court case: 26/04/2022
Details of charge: Contrary to section 80 of the EPA 1990 failed to remove waste material within the rear yard of Bonsall Street, Blackburn.
Appear in court: No
Fine: £440
Costs: £203
Victim Surcharge: £44
TOTAL: £687
Name of defendant: Michael McInerney
Address of defendant: Brindle Road, Preston.
Date of offence: 05/01/2022
Date of court case: 03/05/2022
Details of charge: Contrary to section 80 of the EPA 1990 failed to remove waste material within the rear yard of Brindle Street, Blackburn.
Appear in court: No
Fine: £440
Costs: £203
Victim Surcharge: £44
TOTAL: £687
Name of defendant: Leoni Willey
Address of defendant: Agnes Street, Blackburn.
Date of offence: 11/01/2022
Date of court case: 03/05/2022
Details of charge: Contrary to section 80 of the EPA 1990 failed to remove waste material within the rear yard of Agnes Street, Blackburn.
Appear in court: No
Fine: £440
Costs: £85
Victim Surcharge: £44
TOTAL: £569
Name of defendant: Shannon Read
Address of defendant: Hancock Street, Blackburn.
Date of offence: 11/01/2022
Date of court case: 03/05/2022
Details of charge: Contrary to section 80 of the EPA 1990 failed to remove waste material within the rear yard of Hancock Street, Blackburn.
Appear in court: No
Fine: £440
Costs: £85
Victim Surcharge: £44
TOTAL: £569
Name of defendant: Dean Simpson
Address of defendant: Angela Street, Blackburn.
Date of offence: 03/02/2022
Date of court case: 03/05/2022
Details of charge: Contrary to section 80 of the EPA 1990 failed to remove waste material within the rear yard of Angela Street, Blackburn.
Appear in court: No
Fine: £440
Costs: £85
Victim Surcharge: £44
TOTAL: £569
Name of defendant: Elaine Sutcliffe
Address of defendant: Francis Street, Blackburn.
Date of offence: 26/01/2022
Date of court case: 03/05/2022
Details of charge: Contrary to section 80 of the EPA 1990 failed to remove waste material within the rear yard of Francis Street, Blackburn.
Appear in court: No
Fine: £440
Costs: £203
Victim Surcharge: £44
TOTAL: £687
Name of defendant: Kyle Wilson
Address of defendant: Hertford Street, Blackburn.
Date of offence: 24/02/2022
Date of court case: 03/05/2022
Details of charge: Contrary to section 80 of the EPA 1990 failed to remove waste material within the rear yard of Hertford Street, Blackburn.
Appear in court: No
Fine: £440
Costs: £85
Victim Surcharge: £44
TOTAL: £569
Name of defendant: Rowen Hayes
Address of defendant: Hindle Street, Darwen.
Date of offence: 18/01/2022
Date of court case: 03/05/2022
Details of charge: Contrary to section 80 of the EPA 1990 failed to remove waste material within the rear yard of Hindle Street, Darwen.
Appear in court: No
Fine: £440
Costs: £85
Victim Surcharge: £44
TOTAL: £569
Name of defendant: Damian Berry
Address of defendant: Lower Hollin Bank Street, Blackburn.
Date of offence: 11/01/2022
Date of court case: 03/05/2022
Details of charge: Contrary to section 80 of the EPA 1990 failed to remove waste material within the rear yard of Lower Hollin Bank Street, Blackburn.
Appear in court: No
Fine: £440
Costs: £85
Victim Surcharge: £44
TOTAL: £569