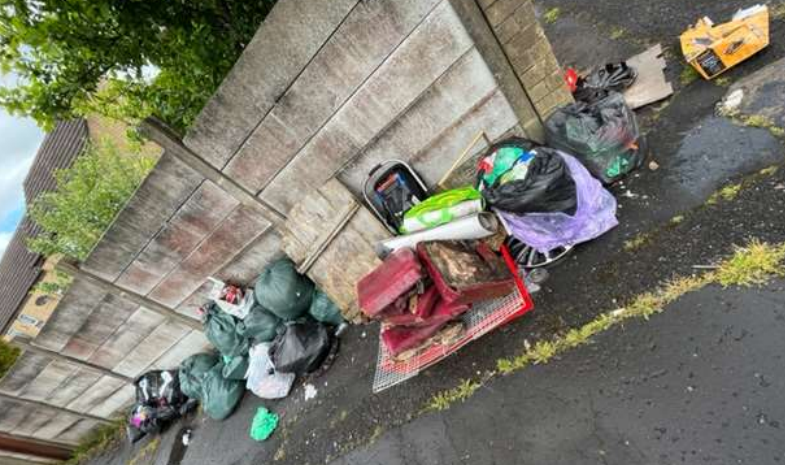 Published Wednesday 2 November 2022 at 13:40
Residents in Blackburn and Darwen have been fined for dumping their rubbish.
These unacceptable waste offences were issued to 20 residents who have been ordered to pay a combined total of almost £10,000.
People have been given fixed penalty notices for causing household waste and other items to build up in their gardens, back yards and alleyways.
Council leaders are reminding people to dispose of their rubbish in the correct way and think of the impact they have on the environment.
Jim Smith, Executive Member for Environment, said:
I am delighted that these fines have been issued to those who have broken the law by dumping their waste on the streets without any consideration. These residents have been allowing their rubbish to build up meaning it has been attracting vermin or causing infestations and it is completely unacceptable.

We aim to tackle environmental crimes in a serious manner due to the impact it has on our communities as well as having an impact on the environment when people dispose of their waste when and wherever they want. I would like to thank our environmental crime team and fly-tipping crew for their hard work and dedication in bringing forward these prosecutions, as well as all members of the public who report waste offences to us.
Last year, the Council's environmental waste crime team oversaw 58 fixed penalty notices.
Please help us stop waste crimes by reporting them via the Council website.
The Council is also committed to educating and informing residents on the correct ways to responsibly dispose of waste, the Environment Department has just employed a second Education Officer to assist with leading on this task.
Visit www.recyclebwd.org to find lots of helpful information, including what items go in what bin, tips and tricks when it comes to household rubbish and translated video guides. The website can also be accessed in many different languages.
As well as this, residents can make use of our two household waste recycling centres, open over a seven day period in Blackburn and Darwen.
Or, if you're struggling to remove bulky waste yourself, then book via our waste collection service – please DO NOT fly-tip or leave your items in back alleys or gardens.
You can find the full prosecution details for each individual case below.
Name of defendant: Arturs Putrasevics
Address of defendant: Wensley Road, Blackburn
Date of offence: 1st August 2022
Date of court case: 18th October 2022
Details of charge: Defendnt failed to comply with a notice served under section 4 of the Prevention Of Damage By Pests Act 1949.
TOTAL FINE: £457.00
Name of defendant: Inga Putrasevica
Address of defendant: Wensley Road, Blackburn
Date of offence: 1st August 2022
Date of court case: 18th October 2022
Details of charge:  Defendnt failed to comply with a notice served under section 4 of the Prevention Of Damage By Pests Act 1949.
TOTAL FINE: £457.00
Name of defendant: Amanda Jane Nolan
Address of defendant: Bolton Road, Blackburn
Date of offence: 7th July 2022
Date of court case: 18th October 2022
Details of charge: Resident failed to comply with a section 80 notice of the EPA 1990. (Accumulation of waste in the rear yard)
TOTAL FINE: £511.00
Name of defendant: Leah Volkhert
Address of defendant: Holmbrook Close, Blackburn
Date of offence: 24th May 2022
Date of court case: 18th October 2022
Details of charge: Black bag waste was found to have been dropped or deposited in a back alley, Contrary to section 87 of the EPA 1990.
TOTAL FINE: £ 457.00
Name of defendant: Stefka Rangelova
Address of defendant: Olive Lane, Darwen
Date of offence: 11th August 202
Date of court case: 18th October 2022
Details of charge: Resident failed to comply with a section 80 notice of the EPA 1990. (Accumulation of waste)
TOTAL FINE: £511.00
Name of defendant: Andrew Sebastian Wilson
Address of defendant: Hertford Street, Blackburn
Date of offence: 24th February 2022
Date of court case: 18th October 2022
Details of charge: Resident failed to comply with a section 80 notice of the EPA 1990. (Accumulation of waste in the rear yard)
TOTAL FINE: £457.00
Name of defendant: Ridvan Baqiri
Address of defendant: Olive Lane, Darwen                                                                                          Date of offence:  11th August 2022
Date of court case: 18th October 2022
Details of charge: Resident failed to comply with a section 80 notice of the EPA 1990. (Accumulation of waste)
TOTAL FINE: £511.00
Name of defendant: Josephine Keys
Address of defendant: Waterloo Close, Blackburn
Date of offence: 30th May 2022
Date of court case: 18th October 2022
Details of charge: Black bag waste was found to have been dropped or deposited in a back alley, Contrary to section 87 of the EPA 1990.
TOTAL FINE: £457.00
Name of defendant: Oliwia Sara Kin
Address of defendant: Shadsworth Road, Blackburn
Date of offence: 31st May 2022
Date of court case: 18th October 2022
Details of charge: Black bag waste was found to have been dropped or deposited in a back alley, Contrary to section 87 of the EPA 1990.
TOTAL FINE: £186.00
Name of defendant: Kirstie Dawn Allen
Address of defendant: Hollins Grove Street, Darwen
Date of offence: 25th May 2022
Date of court case: 18th October 2022
Details of charge: Black bag waste was found to have been dropped or deposited in a back alley, Contrary to section 87 of the EPA 1990.
TOTAL FINE: £457.00
Name of defendant: Amanda Smith
Address of defendant: Tythebarn Street, Darwen
Date of offence: 25th May 2022
Date of court case: 18th October 2022
Details of charge: Black bag waste was found to have been dropped or deposited in a back alley, Contrary to section 87 of the EPA 1990..
TOTAL FINE: £457.00
Name of defendant: Stephen Davies
Address of defendant: Hollins Grove Street, Darwen
Date of offence: 26th May 2022
Date of court case: 18th October 2022
Details of charge: Black bag waste was found to have been dropped or deposited in a back alley, Contrary to section 87 of the EPA 1990.
TOTAL FINE: £457.00
Name of defendant: John Edward Gorton
Address of defendant: Wolseley Street, Blackburn
Date of offence: 31st May 2022
Date of court case: 18th October 2022
Details of charge: Black bag waste was found to have been dropped or deposited in a back alley, Contrary to section 87 of the EPA 1990.
TOTAL FINE: £457.00
Name of defendant: Lois Hamidi
Address of defendant: Rawstorne Street, Blackburn
Date of offence: 18th August 2022
Date of court case: 18th October 2022
Details of charge: Resident failed to comply with a section 80 notice of the EPA 1990. (Accumulation of waste)
TOTAL FINE: £511.00
Name of defendant: Luke Peter Carter
Address of defendant: Pilkngton Court, Blackburn
Date of offence: 14th June 2022
Date of court case: 18th October 2022
Details of charge: Requiring the removal of waste and unsightly items on land within 14 days of service and prohibiting the recurrence thereof contrary to section 43 of the Anti-Social Behaviour Crime and Policing Act 2014.
TOTAL FINE: £457.00
Name of defendant: Sofia Sarah Wildy
Address of defendant: Bolton Road, Blackburn
Date of offence: 20th June 2022
Date of court case: 18th October 2022
Details of charge: Black bag waste was found to have been dropped or deposited in a back alley, Contrary to section 87 of the EPA 1990.
TOTAL FINE: £511.00
Name of defendant: Suzanne Elizabeth Dainty
Address of defendant: Dyson Street, Blackburn
Date of offence: 20th June 2022
Date of court case: 18th October 2022
Details of charge: Black bag waste was found to have been dropped or deposited in a back alley, Contrary to section 87 of the EPA 1990.
TOTAL FINE: £511.00
Name of defendant: Ioana-Oana Scurtu
Address of defendant: Palatine Rd, Blackburn
Date of offence: 15th June 2022
Date of court case: 18th October 2022
Details of charge: Black bag waste was found to have been dropped or deposited in a back alley, Contrary to section 87 of the EPA 1990.
TOTAL FINE: £329
Name of defendant: Nicolae Scurtu
Address of defendant: Palatine Rd, Blackburn
Date of offence: 15th June 2022
Date of court case: 18th October 2022
Details of charge: Black bag waste was found to have been dropped or deposited in a back alley, Contrary to section 87 of the EPA 1990.
TOTAL FINE: £329.00
Name of defendant: Isabella Martini Magliomi
Address of defendant: Saunders Road, Blackburn
Date of offence: 8th June 202
Date of court case: 18th October 2022
Details of charge: Black bag waste was found to have been dropped or deposited in a back alley, Contrary to section 87 of the EPA 1990.
TOTAL FINE: £ 457.00