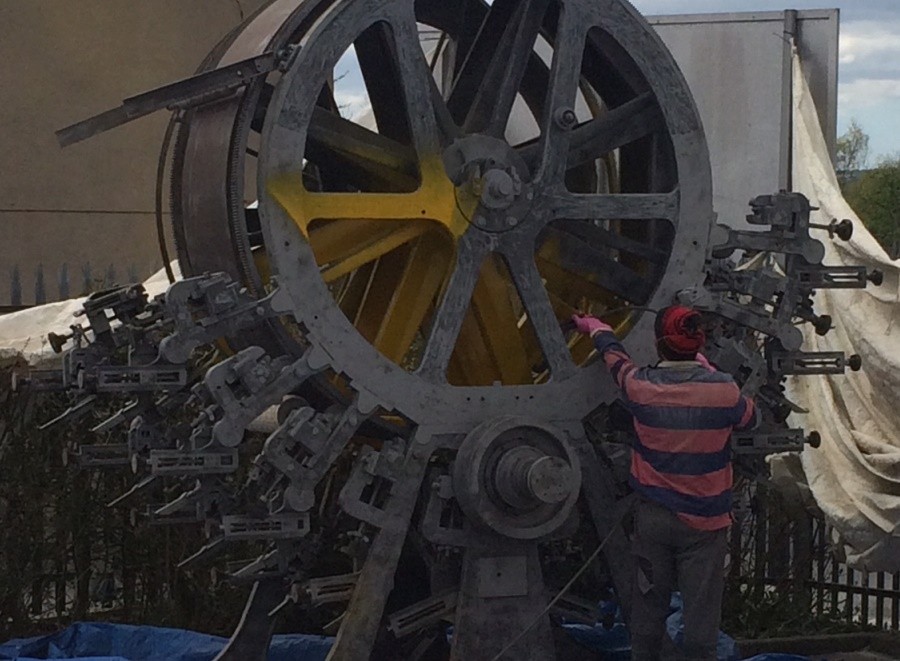 Published Friday 4 May 2018 at 15:07
There will be no missing one piece of art at this year's National Festival of Making.
This impressive five-tonne piece of machinery is being given a colourful makeover by artist Sarah Hardacre.
She discovered the disused surface print machine in the car park of Lancashire wallpaper manufacturer Surface Print.
It is being painted yellow to represent the first wallpaper made at the factory. The colour is also a reference to the feminist novel The Yellow Wallpaper written by Charlotte Perkins Gilman in 1892, around the time surface print was invented in Darwen.
The finished piece is called Grace after the wife of a pioneer of surface print, and will be on show in King William Street during the free National Festival of Making in Blackburn town centre on May 12 and 13.
Grace is part of the festival's packed programme of attractions and activities which includes workshops, street theatre, markets, music, technology, exhibitions and food.
Sarah has also been working with Surface Print to create the Museum of Wallpaper exhibition at Town Hall Street for the festival. It uses archive images, objects and performance to reveal the industrial and social history of surface printing and wallpaper manufacturing.