Published Thursday 18 September 2014 at 8:33
The number of people accessing Blackburn with Darwen Council services online has seen a dramatic increase over the past year.
One of the Council's most popular on-line services, Housing Benefit & Council Tax Support applications, has seen more than 70% of new applications submitted on-line since it was launched at the end of February this year.
A creative campaign featuring local people has now been launched to help encourage even more people to save time and money by interacting digitally with the Council as more services become available.
Temporary giant hoardings outside Blackburn with Darwen Council's Town Hall have been taken over as part of the drive. The quirky designs show real people in real settings contacting the Council using modern technology. The campaign uses Computer Generated Imagery (CGI) with the faces of local people to help bring the designs to life.
The 'models' are all local people who have volunteered to take part in the campaign. They include Bethany Andrews, 29, from Blackburn, who works in The Mall, Blackburn. A special CGI image has been created to show Bethany using an iPad to report fly tippers whilst relaxing in the bath.
Asif Hussain, 45, a Council youth worker, can be seen using an iPhone to report that his bin had not been emptied
Whilst mum and daughter Joanne, 43, and Martha Lynch, seven, from Darwen are using a computer in the library to apply for a school place online.
The campaign includes the strapline Pay, Report, Find, Say, Apply: Anywhere, Anytime to highlight what you can do online.
There are almost 80 Council services available online which more planned. People can go online to report problems, apply for services, pay bills or access library or museum information using the website from home or on the move with a variety of devises: rather than visiting or telephoning customer service centres.  Problems such as faulty street lights, missed bins collections and potholes can also be reported conveniently and efficiently.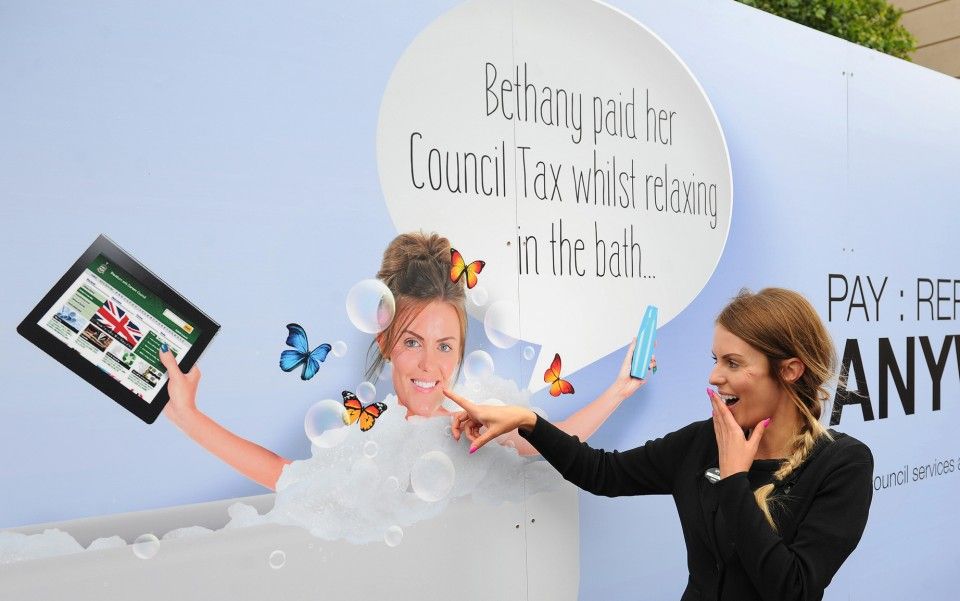 Councillor Andy Kay, Executive Member for Resources, said:
"The campaign will help us to make sure as many people realise they can deal with the Council or get information in this popular way as more services become available online.

"As a Council we are continually looking at ways to improve services so that they can be accessed easily by citizens. By doing more online, people can decide on a time that best suits their lifestyle because it gives people the choice to access Council services anytime, anywhere, saving them time and money."

"It's also important that people know if they don't have a computer, laptop, tablet or smartphone at home, they can still use our online services on the public access computers in our town halls, libraries and community centres."
To help more people get online the Council, Customer Services staff are available in both Town Hall receptions to guide people on to our MyBWD accounts and on-line forms. We aim to have free internet training sessions available at Blackburn & Darwen Town Halls in early 2015.