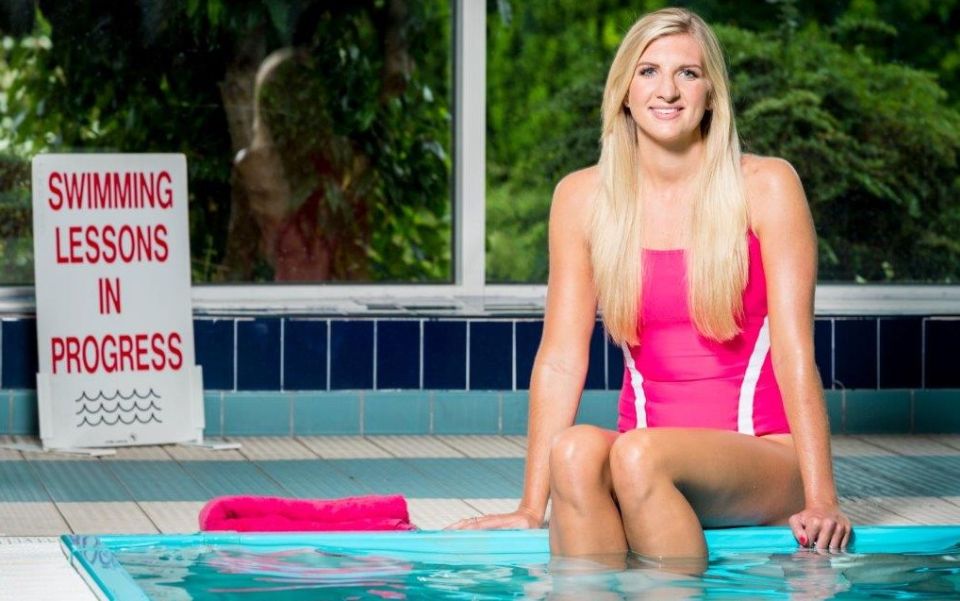 Published Thursday 12 February 2015 at 13:26
Olympic freestyle swimmer Rebecca Adlington is set to open Blackburn's new £13.5m Sports and Leisure Centre in March.
The 25-year-old Olympic gold medallist will open the new state-of-the-art sports complex on 20 March, which has been built in conjunction with Blackburn College and Blackburn with Darwen Council.
I'm delighted to be invited to open Blackburn's new sports and leisure centre. I hope the fantastic facilities available will help to encourage students and the public to get involved in sport and enjoy keeping fit for a healthier lifestyle,
Rebecca said.
Speakers at the event will include representatives from Blackburn College, Blackburn with Darwen Council leader Kate Hollern, and Rt Hon MP Jack Straw.
After the official unveiling of the plaque, guests will be invited for a tour of the new facilities, which include two sports halls, an 80-station fitness gym, aerobics and separate spinning studios, a 25 metre swimming pool, training pool and water fun zone, and a sports science performance and testing laboratory.
Around 100 students from schools in Blackburn with Darwen, Accrington and Clitheroe have also been invited, along with representatives from the sports clubs and organisations of Blackburn with Darwen's Community Sports Forum. They will take part in a question and answer session with Rebecca Adlington OBE after the official opening.
Damian Stewart, Curriculum Area Manager for Sport, said the new facility is fantastic for students and community groups, who can use it at the evenings and weekends. The pool also has flumes and a children's area.
Having Rebecca, a distinguished olympian, come and speak to our sport students and open our £13.5m Sport and Leisure centre is great as she can pass on her advice and experience to the students.

Our Sport Students will not only benefit from this great facility, but they also have access to a £10 per term travel pass, free sports kit and can also apply for a Sport Scholarship worth £2,400
Blackburn with Darwen Council leader Kate Hollern said:
The Council has invested heavily in leisure services to make sure our residents, young and old, have access to the best facilities around. Improving participation in sport and health and wellbeing is a major priority for the Council. We have joined forces with the college in a unique partnership to ensure that our investment is spent wisely for the benefit of the borough and our residents reap the health benefits.
Both Further Education and Higher Education Sport students will have access to the sports centre. Extra-curricular activities including futsal, badminton and judo will be available for all other students.
One of the sports halls has been fitted with state-of-the-art indoor cricket flooring, boasting the best facilities locally for cricket.
There are four cricket lanes, set out independently, to allow for a single batting lane and space to perform fielding or fitness activities. The flooring has been approved by the England and Wales Cricket Board (ECB) and includes flexible lighting and a performance analysis camera system.
Blackburn College has created three Centre of Excellences in football, netball and basketball, with links to local clubs so students will receive top class coaching.
In June last year, Sport England awarded the college £71,000 to employ a graduate intern every year for the next three years to help them achieve sporting excellence.
The pools and water slides will offer a varied programme of wet activities for all ages and abilities including learn to swim lessons, family fun sessions, lane swimming and party nights. The movable floor in the training pool gives variable depths up to 1.8m offering flexibility in the pool programme.
In January, Sport England revealed that swimming numbers had dropped nationally by 245,000, with the number of people participating regularly in all  sport also down by 125,000 to 15.6m.
But Blackburn with Darwen is bucking the national trend, with 10,000 more swimming visits this year (2014/15) compared to the same time last year (2013/14).
Blackburn with Darwen has also seen a significant increase in all sporting participation levels since 2006.