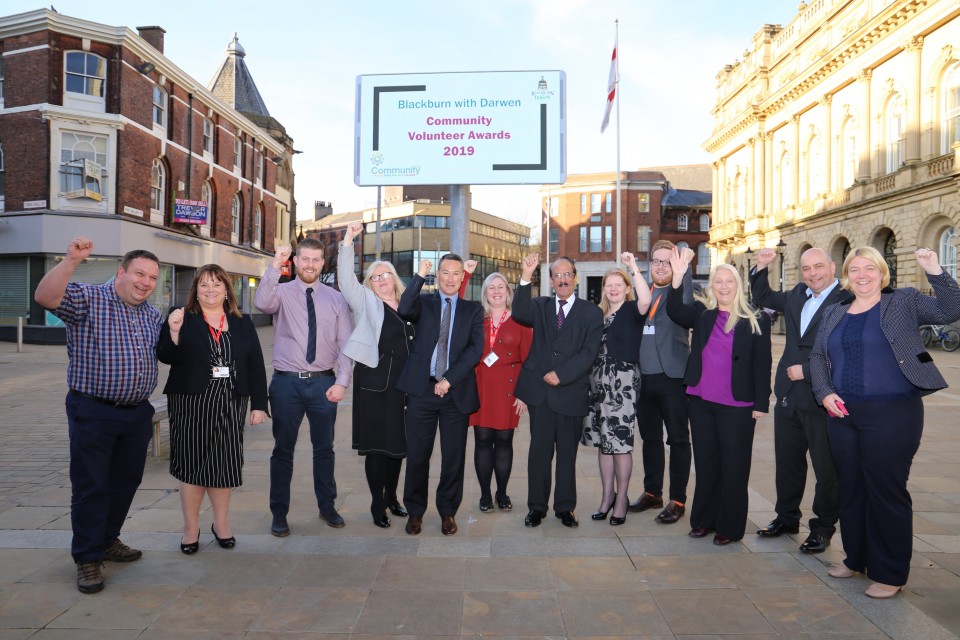 Published Tuesday 5 March 2019 at 10:57
Nominate your local heroes for the 2019 Community Volunteer Awards
It's time to show local heroes some love as Blackburn with Darwen's Community Volunteer Awards open for nominations.
Blackburn with Darwen Borough Council has teamed up with Community CVS and a range of local sponsors to launch the new awards, which aim to recognise the contributions community groups and individuals make to life in our borough.
Whether it's a sports coach who gives up their evenings and weekends, someone special who lends a hand at a local charity, or a group that makes a real difference to where you live – nominate them now for the 2019 Community Volunteer Awards.
For the first time, the Council's Good Neighbour Awards will be presented alongside the annual Community CVS Awards and there are opportunities for residents, local businesses, charities, community groups and social enterprises to be nominated for awards.
Councillor Mohammed Khan, Leader of the Council, said:
Our borough is powered by an army of volunteers who selflessly give up their own time to make where we live the very best it can be.

I've been incredibly privileged to have met many volunteers and seen first-hand the amazing work they do.

Most are very modest and don't expect an award for what they do, but it's really nice to recognise their efforts and share our appreciation for their hard work and dedication."
In total, 21 awards will be up for grabs across 12 categories including Volunteer of the Year, an Environment Award, Grassroots Award and the Community Involvement Award, which is open to the local business community.
Chief Executive of Community CVS Garth Hodgkinson added:
It's great that we are bringing these awards together to honour our borough's unsung heroes and it is fantastic to see the local authority, Community CVS, the local charities and the local business community all working together to celebrate the impact of volunteering within our community.

We have lots of people who wouldn't even class themselves as volunteers – they just see it as helping out, but they are making a big difference.

If you know someone who really deserves an award, I'd encourage you to nominate them now."
The closing date for nominations is Friday 5 April.
Nominations can be made online at www.communitycvs.org.uk/volunteer/volunteer-awards/.
You can also collect nomination forms from Community CVS at the Boulevard Centre, Railway Road, Blackburn – next to Blackburn train station – or contact Donna Talbot on (01254) 583957 or donna.talbot@communitycvs.org.uk.
The Community Volunteer Awards will be presented at a special celebration in King George's Hall in June.
Among the sponsors of the 2019 Community Volunteer Awards are Euro Garages, Blackburn Rovers Football Club, Blackburn Rovers Community Trust, Herbert Parkinson, East Lancashire Hospitals Trust, Social Inclusion Programme and Together a Healthier Future, Blackburn Youth Zone, Age UK, Shelter and Personalising Freedom.
Ilyas Munshi, Euro Garages Group Commercial Director, said:
EG Group are delighted to support the Community Volunteer Awards. For us it is an occasion which reflects our town as a place where voluntary organisations and people make the difference to the everyday lives of local residents. We look forward to being part of the celebrations."
Other Blackburn with Darwen businesses who'd like to get involved in the Community Volunteer Awards as a sponsor can contact Garth Hodgkinson, Chief Executive Officer at Community CVS at: garth.hodgkinson@communitycvs.org.uk or Ben Greenwood, Partnerships Communications Manager at Blackburn with Darwen Borough Council, on (01254) 585181 or ben.greenwood@blackburn.gov.uk.