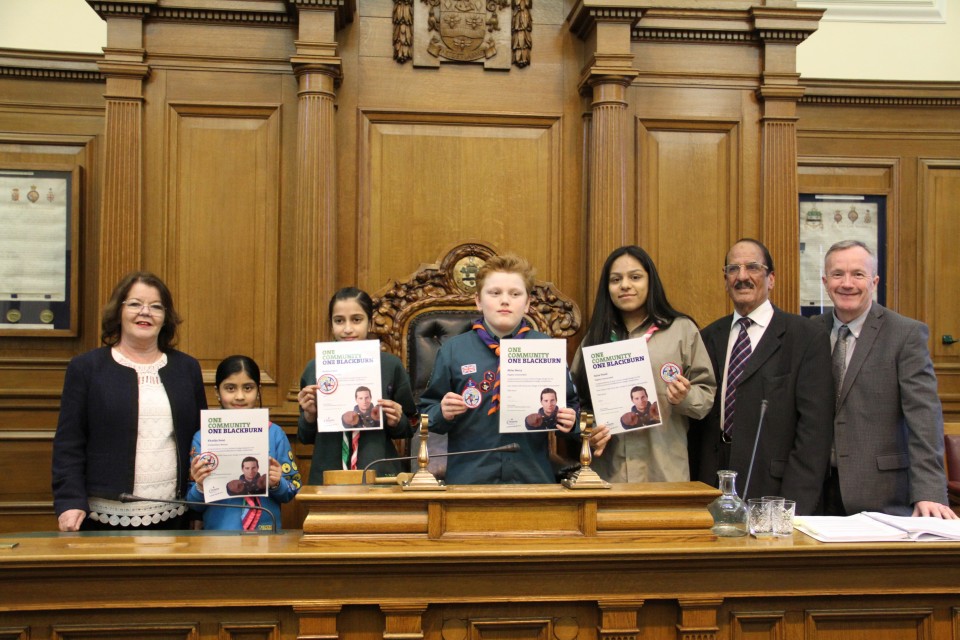 Published Monday 26 March 2018 at 14:57
A special ceremony took place in Blackburn Council Chamber to launch a new Scout badge.
Council leader Mohammed Khan congratulated Blackburn District Scouts for encouraging groups from different faiths and backgrounds to work together.
The new One Community, One Blackburn badge was chosen following a competition which saw 240 young people submit ideas.
The winner was Khadija Patel from the Olive Scout Group and runner ups were Miles Berry from Cherry Tree Woodlands Scout Group, Aaisha Patel and Saira Yusuf, who are both from 1V Scout Group.
To gain the award young people need to take part in at three activities with groups primarily serving a different faith/heritage community.
Councillor Khan said:
These young people are thinking about the future of this borough and that's exactly what we need.  The badge will help bring even more people together.

Blackburn Scouts have made great progress in ensuring scouting is truly representative of the town over recent years. It fabulous to hear there are around 500 young people taking part each week, boys and girls aged between 6 and 18 all coming from a variety of different backgrounds.
Blackburn MP Kate Hollern was the competition judge. Speaking at the event, she said:
We are proud of our diversity in Blackburn. We all have responsibility for making Blackburn a better place for everybody. This badge really is special, every word clearly says what Blackburn is about.
There are 11 Scout groups plus 3 Explorer units and 1 Network unit in Blackburn with 481 Young People and 152 Adults enjoying Scouting, with 469 on waiting lists. Adult volunteers are always needed. For more information contact Howard Alderson-Perkins,  howieperco@gmail.com