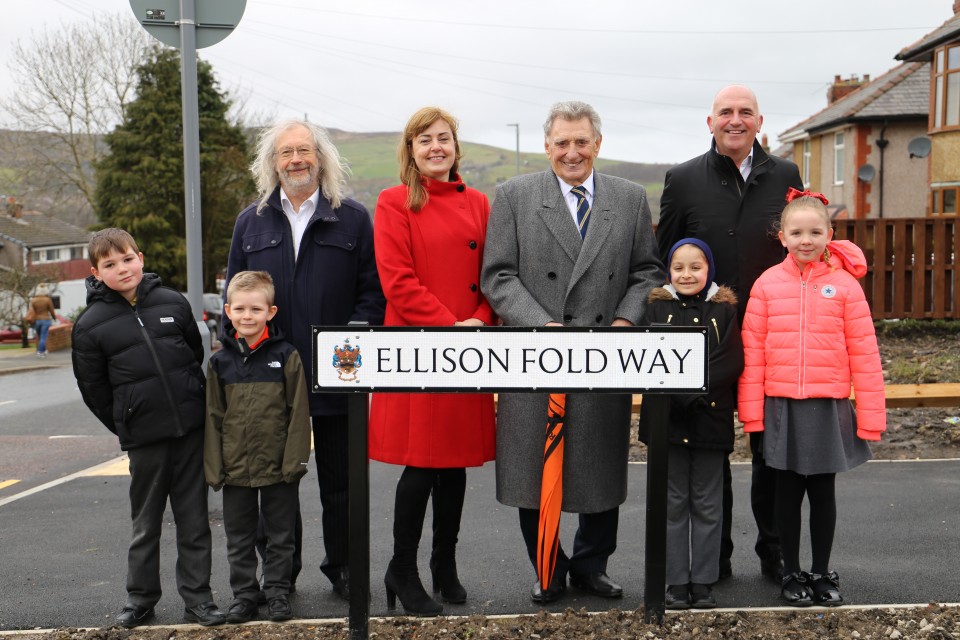 Published Tuesday 19 March 2019 at 12:28
New £3.5m East Darwen link road Ellison Fold Way has been officially opened.
It was unveiled in a special ceremony attended by special young guests from the nearby Sudell Primary School along with Councillors, contractors Eric Wright Civil Engineering and partners from the Lancashire Enterprise Partnership in the project.
The new street sign was revealed under a ceremonial curtain as the route was officially declared open.
Talented children from Sudell Primary had previously held a creative poster competition around health and safety, with the winning designs featured on hoardings around the site while construction was ongoing.
The pupils highlighted how to be safe on construction sites and what to do and what not to do.
The road will make it easier for residents and businesses to access the M65 and will also improve a number of local road junctions in the vicinity.
It leads from Marsh House Lane to Ivinson Road, and will help future high quality housing developments in Darwen and provide increased accessibility and travel options across Darwen.
The road cuts across the site known locally as Baileys Field, will also mean that residents of the new developments at Cranberry Lane and Pole Lane will have an alternative to the A666, easing traffic congestion in the area.
It is a single carriageway with a speed limit of 30 mph residential road including footways and cycling paths, and is also be weight limited to 7.5 tonnes. Trees and landscaping form an integral part of the scheme to help with noise and will be planted as temperatures start to increase.
The £3.5m million scheme, funded by Blackburn with Darwen Council and the Lancashire Enterprise Partnership as part of Central Government's Local Growth Deal, has also seen safety improvements made to several junctions in South East Darwen.
Executive Member for Regeneration at Blackburn with Darwen Council, Councillor Phil Riley, said:
The road is looking great and I think people will be able to see that it is a helpful, useful suburban road, and very much needed with the new housing developments in the area.

It is an important investment in Darwen and should provide a boost to the local economy as both businesses and their staff will be better able to access the M65 and it should help with congestion in the area.

We hope the new housing and traffic developments will be a positive for residents and will encourage people to stay in the borough who may have previously thought about leaving."
Eric Wright Group Chairman, Mr Eric Wright, attended the opening with members of the Eric Wright Civil Engineering team. He said:
We are delighted to be here to witness the new road being open to traffic for the first time and hope it will continue to serve the region for generations to come.

It is further evidence of investment into the local infrastructure by Blackburn with Darwen Council, which will bring benefits for both the local community and the wider region.  Our civil engineering team has been working hard to deliver this on time and to budget since being appointed to deliver the project in 2018."
Graham Cowley, specialist advisor for the Lancashire Enterprise Partnership, said:
The priority of the LEP is to stimulate economic growth and it is great to work with all of our partners to open up opportunities for more development and this new road is a great example of this."
Jake Berry, Minister for the Northern Powerhouse and Local Growth, and MP for Rossendale and Darwen, said:
"Ellison Fold Way will not only improve access for local residents to major motorways and ease congestion, it will allow the development of land which is needed for new, high-quality homes.

"This £2.5m investment is a great example of how the Government's Growth Deal fund helps to unlock economic potential and stimulates growth across the Northern Powerhouse, improving the quality of people's lives."