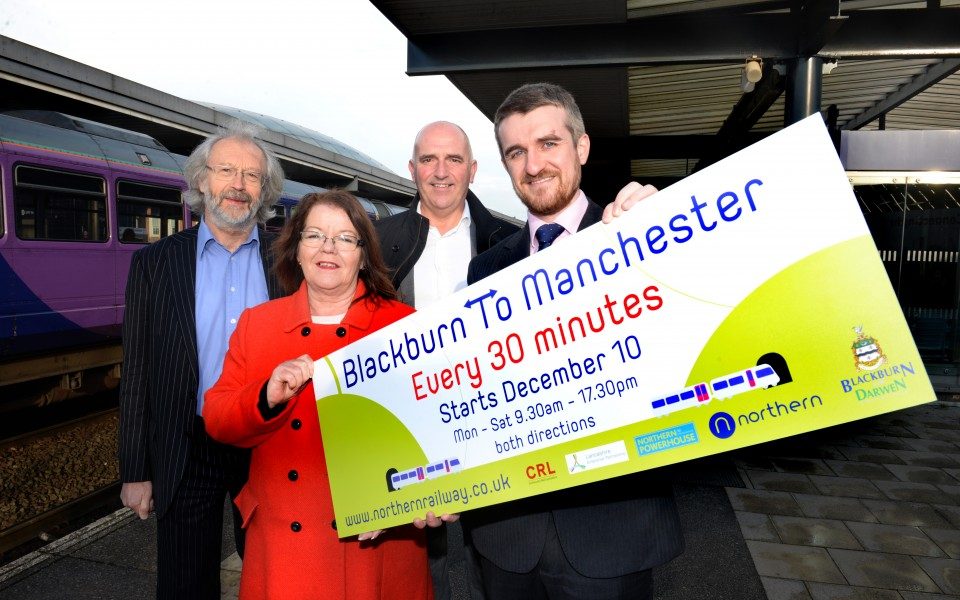 Published Monday 20 November 2017 at 15:52
Commuters along the Blackburn to Manchester train route will now have more options on when to travel as a new half hourly service launches.
Starting on December 10 the new service operated by Northern, will call at Blackburn, Darwen, Bromley Cross, Hall I' th' Wood, Bolton, Salford Crescent and Salford Central, before arriving in Manchester.
The additional service will run at 33 past the hour from Blackburn and 28 past the hour from Manchester Victoria, Monday to Saturday, between 09:30am – 17:30pm.
This extra train will mean there are two fast services every hour between Manchester and Blackburn – taking 55 minutes and Darwen to Manchester taking just 48 minutes – plus an additional third slower (1 hour 15 minutes) train per hour via Todmorden.
A key factor in enabling the extra service to operate was the installation of additional train tracks at Darwen that provided a longer passing point for extra trains to run.
The project was delivered collaboratively by Blackburn with Darwen Council, Lancashire Enterprise Partnership (LEP), Network Rail and Northern and was completed in August 2015.
The LEP contributed £12.4 million to fund the scheme from the Government's Local Growth Fund with £1.2 million from Blackburn with Darwen Council.
In addition, it was supported by Community Rail Lancashire and by Lancashire County Council which contributed funding of £200,000.
It is hoped the new service will allow commuters along the route to abandon travelling by car and take advantage of more frequent and flexible connections.
This service enhancement will go hand-in-hand with Northern's further modernisation and investment across their rail network, including new and fully refurbished trains with WiFi, better stations and more ways to buy tickets.
Northern's oldest trains (Pacers) will also be removed from the network. All of this will be delivered by 2020.
Executive member for Regeneration at Blackburn with Darwen Council, Councillor Phil Riley, said:
"This is fantastic news for Blackburn and Darwen and one that the Council has worked very hard to achieve. It's not only good news for existing residents but it means the offer in Blackburn with Darwen, which includes many new high quality housing developments and regenerated and thriving town centres is even more desirable for people who might want to move to the area but continue to work outside of the borough. It also means businesses are more likely to relocate to Blackburn with Darwen and boost employment opportunities for local people."
Matthew Worman, Regional Stakeholder Manager for Northern, said:
"This timetable enhancement is a key part of our modernisation programme and it marks an important step forward for our customers. Increasing the frequency of services on this route, to be introduced on 10 December, will offer new commuting possibilities, and will also boost travel options for leisure travellers. In the coming months and years our customers will see further improvements as we continue work to modernise our stations and facilities – from next year, we will begin the introduction of 243 new, purpose built carriages across the network. These trains will enable us to run a further 2,000 services every week across the North, building on the 2,500 we already operate each day. This is just the beginning of modernisation for our customers and there are many more exciting improvements to come on our journey to 2020."
Graham Cowley, Chair of the LEP's Growth Deal Management Board, said:
"Improved connectivity and better transport infrastructure is one of the LEP's key strategic priorities, so it's great to see how funding from the £320m Growth Deal is enabling Northern Rail and its partners to put on more peak time train services from the major economic hub of Blackburn into Manchester. Increasing the number of connections between East Lancashire and the Manchester city-region significantly strengthens our position in the heart of the Northern Powerhouse."
Richard Watts, Chair, Community Rail Lancashire Ltd, said:
"Community Rail Lancashire Ltd (CRL) has been delighted to be involved in the development of this project.  The improvement of the service on the Clitheroe Line has been a long standing aspiration of CRL and the Clitheroe Line Community Rail Partnership.  This has been a partnership project with the aim of improving not just the service between Blackburn and Manchester but also the passenger facilities along the line at the same time, especially to the stations north of Blackburn but also at Darwen. The task now is to make passengers aware of the improved service and to keep on top of the station improvements.  CRL will play its part in supporting Blackburn with Darwen, Northern and Lancashire County Council in promoting the line; the station volunteers will help maintain the stations and young people will be made aware of the advantages of rail travel through CRLs on-going programme of 'Educating the Passengers of the Future".