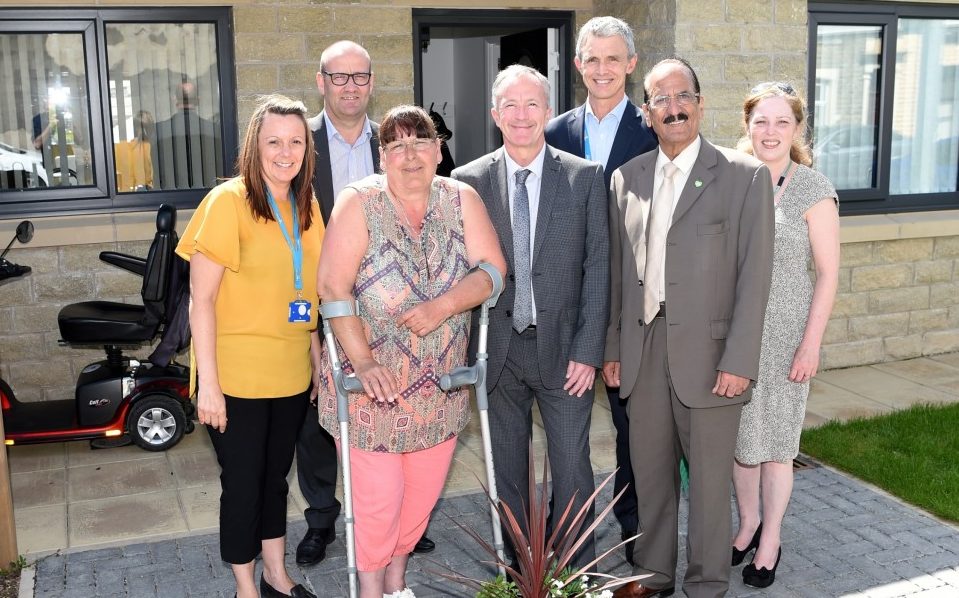 Published Friday 18 May 2018 at 10:01
New bungalows in Shorey Bank, Darwen are helping to meet local housing needs. That was the message from residents who welcomed visitors to their new homes from Blackburn with Darwen Borough Council, Together Housing and regeneration specialist ENGIE, the three partners behind the development.
The 34 two-bedroom bungalows on Frederick Street have been built for older people in the area who need single-level homes designed for wheelchair accessibility. The wider doorways, easy access wet rooms and manageable gardens make the bungalows ideal for people with mobility problems.
I loved the bungalow as soon as I saw it,
said new resident Denise Garvin.
With my worsening health problems, I needed to move to somewhere more suitable without stairs. It's spacious and I'm able to have my grandkids over which I couldn't do where I lived before. I love sitting out in the large garden watching them playing on the trampoline. I'm delighted with my new home.
Welcoming the new residents, Councillor Mohammed Khan, Leader of Blackburn with Darwen Borough Council, said:
It's been lovely to meet some of the residents of the new bungalows and we hope they'll be very happy in their new homes. The 34 bungalows, along with the neighbouring Riverside Heights housing with care scheme which is due to open in summer, have been purpose-built to provide high quality housing for older people. This development features some fantastic facilities and provides older people with a wider range of housing options for the future.
Accompanying Councillor Khan on the visit, Kevin Ruth, Deputy Chief Executive of Together Housing, commented:
I attended the ground-breaking ceremony when work first started so it's great to see the finished homes and the first residents moving in. There is a shortage of this type of housing that meets local needs and can transform people's quality of life. With house prices growing in the area, Together Housing is delighted to work with its partners to make accessible housing available for affordable rent in Darwen.
Also meeting the new residents, Jeff Hook, Construction Director for ENGIE, added:
This is a good example of partnership working, which puts local aspirations and the needs of the local community at the fore of the project. We thoroughly researched the Darwen population and listened carefully to residents, who were clear in their desire to secure greater housing options for older people. It's fantastic to now meet those residents that are benefitting from the new homes and watch this new community come together.
Opening this summer, the adjacent housing with care scheme, Riverside Heights, has 85 stylish self-contained apartments available for rent. It includes a residents' lounge, restaurant and hair and beauty salon. Residents of the bungalows will be able to use the facilities of Riverside Heights, as will the local community.