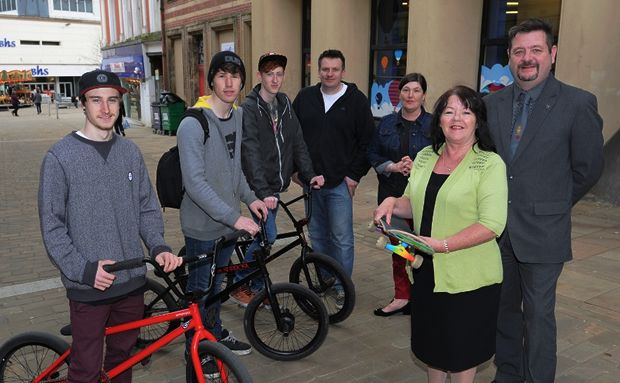 Published Friday 11 April 2014 at 16:43
The name for the new BMX and skatepark in Blackburn with Darwen has been revealed – and it has been chosen by young people.
Junction4 as it will be known will open later this year at the former Blackburn Rovers Sports Arena off Bolton Road, next door to Darwen Vale High School.
It will be a multi- purpose facility which can be used by BMX bikes, skateboards, roller blades and scooters.
A consultation on the name for the much anticipated facility was held with more than 500 potential users of the facility.
Suggestions came in via social media and through local bmx riders and skateboarders via Paul Bury at the Cellblock.
The parenting group who brought the petition for a skate park facility to the Council were also involved in the discussions.
Finally, Junction4 was selected as the most popular.
The tender process for construction of the new BMX / skate park at Blackburn Rovers Sports Arena is currently underway.
A number of companies specialising in the construction of such facilities have submitted completed tenders to the department for evaluation.
Award of the tender will take place late-April, with construction of the park on schedule to be completed in summer 2014.
At present, people have to travel to Preston and Manchester for indoor skate facilities and to Clitheroe and Blackpool for good quality outdoor skateparks.
There is a clear demand for a facility in the borough and the location is ideal – being on the main bus route between Darwen and Blackburn, on a cycle route from the local train stations and for those coming from further afield, being just off junction 4 of the M65.
Councillor Kate Hollern, Leader of Blackburn with Darwen Council, said: "What a brilliant name for the new facility. It is great that young people are being involved in naming the skatepark and also the design as they are the ones who will be using it. It will open later this year and is sure to be a big hit with young people from the borough and further afield."
Trevor Maxfield, lead member for Leisure, Culture and Young People, said: "It was great to meet some of the young people who will benefit from using the skatepark. They are very excited about the new facility and have been heavily involved in shaping what it will look like – as well as its name."
Parent Liz Winkley-Riding, who petitioned for a skatepark because her son and his friends were having to travel around the North West to other parks, said: "I am thankful the Council embraced the suggestion for a skatepark. Blackburn with Darwen has a wide age range of young people who need the facility to improve their skills and express themselves through riding BMX, Skateboarding and Scooters. The borough has already seen success in the professional BMX field with five local lads, sponsored by Cell block and International companies, who travel the world riding. The completion of the Skate Park can only help increase the quality of riders that the borough will produce in the future putting BWD firmly on the map within the Rider community."