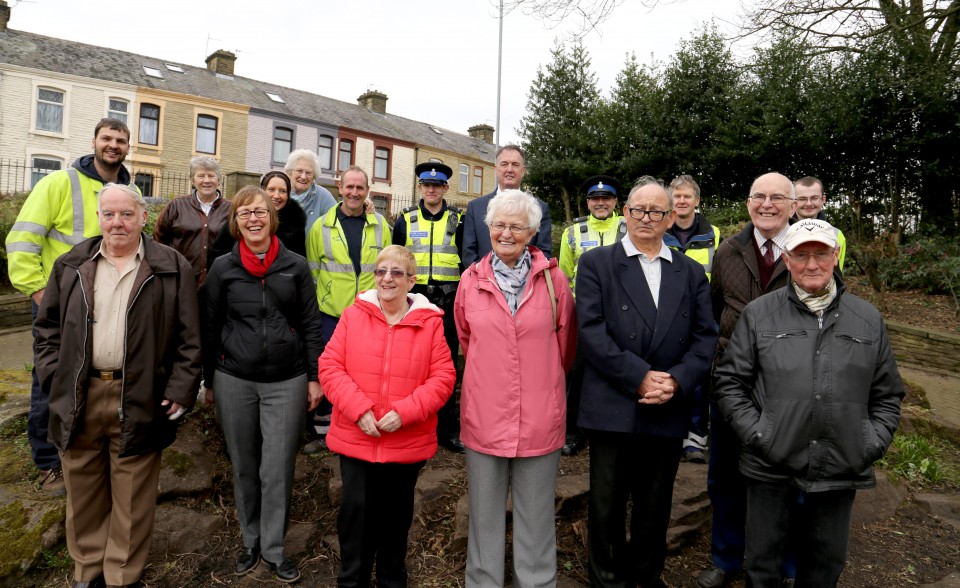 Published Friday 31 March 2017 at 10:28
Volunteers, Police Community Support Officers and Council officers teamed up to tidy and clear a memorial garden blighted by anti-social behaviour.
Little Harwood War Memorial and gardens had become overgrown and residents reported seeing anti-social and undesirable behaviour by people in the gardens.
The concerned residents started a petition and applied for a grant from the office of the Lancashire Police and Crime Commissioner Clive Grunshaw. They were awarded £2,000 and workers from Blackburn with Darwen Council got to work.
They cleaned up the site and cutting back overgrown bushes and trees so the area was fully visible.
The tidied up memorial was given a re-opening ceremony with residents, volunteers, PCSOs and local Councillors celebrating the garden's new look. Joanne Macholc, curator at St Stephen's Church in Little Harwood, said a prayer to 'open' the gardens.
Resident Hazel Hamer, who led the petition to clean up the memorial, said:
Some of the behaviour I saw here was not good, especially as this is the site of a war memorial commemorating local people who were killed in war, and it meant many people stayed away.

A lot of the trees and bushes were also overgrown so we thought if they were all cut back it would be a more open garden and people could enjoy it more."
Local Councillor Pat McFall said:
This looks a lot better and it should help with any behaviour issues that residents were having. The action taken is a great example of community spirit and shows what can be done through community action."
Visiting the gardens for the re-opening, Lancashire Police and Crime Commissioner Clive Grunshaw said:
Tragically, the Memorial Gardens had become overgrown and a magnet for anti-social behaviour, drinking and drug use. It was fantastic to see the impact that the Community Action Fund (CAF) has had helping to restore a sense of pride in the community.

This is what my Community Action Fund is all about, empowering local communities to find new ways to reduce crime and ASB in their areas. As we continue to commemorate the centenary of the Great War this work will ensure that the condition of the Memorial is befitting of what it represents."