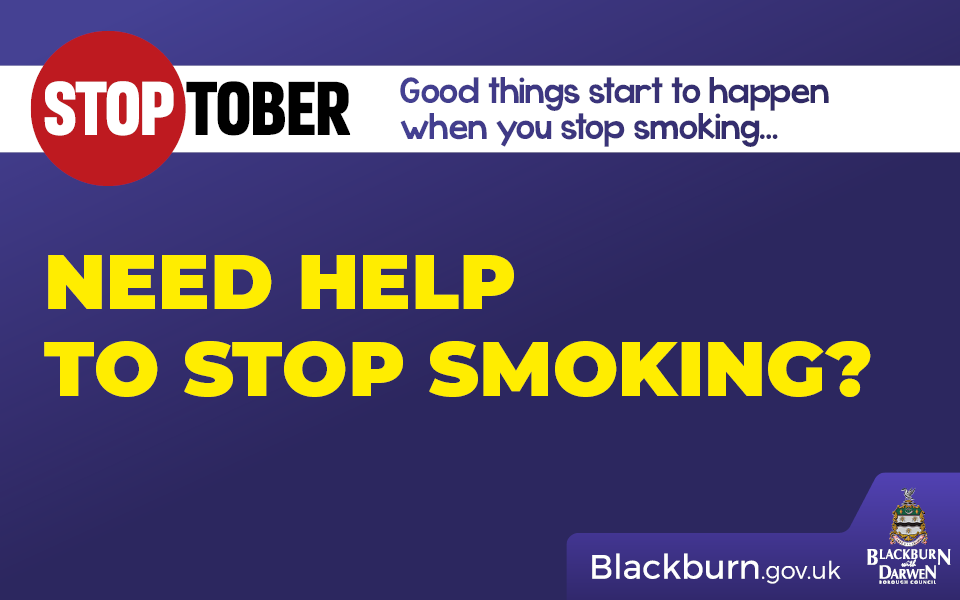 Published Friday 29 September 2023 at 13:59
'When you stop smoking, good things start to happen' – That's the message of this year's Stoptober campaign.
Now is the time to give stopping smoking a go, with the Stoptober campaign starting to remind smokers of the many benefits of giving up.
Blackburn with Darwen Council is backing the annual stop smoking campaign, Stoptober, which starts on Sunday, October 1.
Throughout October there will be awareness raising sessions held in partnership with Active Lancashire supporting the Cancer Research UK Roadshow, holding events in our family hubs and offering foraging walks to encourage smokers to access the outdoors and create positive energy.
By joining Stoptober, you'll also have the support of the thousands of others who are making a quit attempt during October.
There are a number of awareness raising events being held in Blackburn with Darwen, in partnership with Active Lancashire, during October including:
5th October – Livesey Family Hub – Training Room
5th Oct from 9.30am join CRUK Blackburn Market
9th October- Hospice event @ Cafe Retreat, Park Lee Rd Bb2 3NY 11am – 2pm
10th Oct – Foraging Walk at Hospice Gardens 1pm – 2pm
12th October – Darwen Family Hub – family Room
19th October – Shadsworth Family Hub –  Clinic 4
26th October – Little Harwood Family Hub – Small Meeting Room
If you're thinking about stopping, or reducing smoking, in BwD you can access the Stop Smoking Service by visiting your nearest participating pharmacy and speaking to a specialist advisor about Nicotine Replacement Therapy (NRT).
This service helps smokers in BwD to quit every year – and last year's figures show that 56% of people are still non-smokers after using the Stop Smoking Service.
You can also access personalised support, motivation and encouragement from Wellbeing Service Health Trainers by calling (01254) 682037, email: wellbeing@blackburn.gov.uk  or visit our website for a list of pharmacies providing the Stop Smoking Service: https://refreshbwd.com/wp-content/uploads/2022/07/Stop-Smoking-Service-posters-2022.pdf
Councillor Damian Talbot, Executive Member for Public Health, Prevention and Wellbeing, said:
We want people to know there is help and support available locally through pharmacies that will give people a good chance of breaking away from their addictions and starting to feel the health and financial benefits of becoming smokefree.

Through the pharmacy services we have in the borough, people who want to give up have access to high quality support to help them to stop smoking. Last year, 56% of people who set a quit date successfully quit smoking.

Giving up smoking is the single most immediate and important action anyone can take to improve their health and wellbeing, help to improve life expectancy and reduce hospital admissions so I'm really pleased to see these rates."