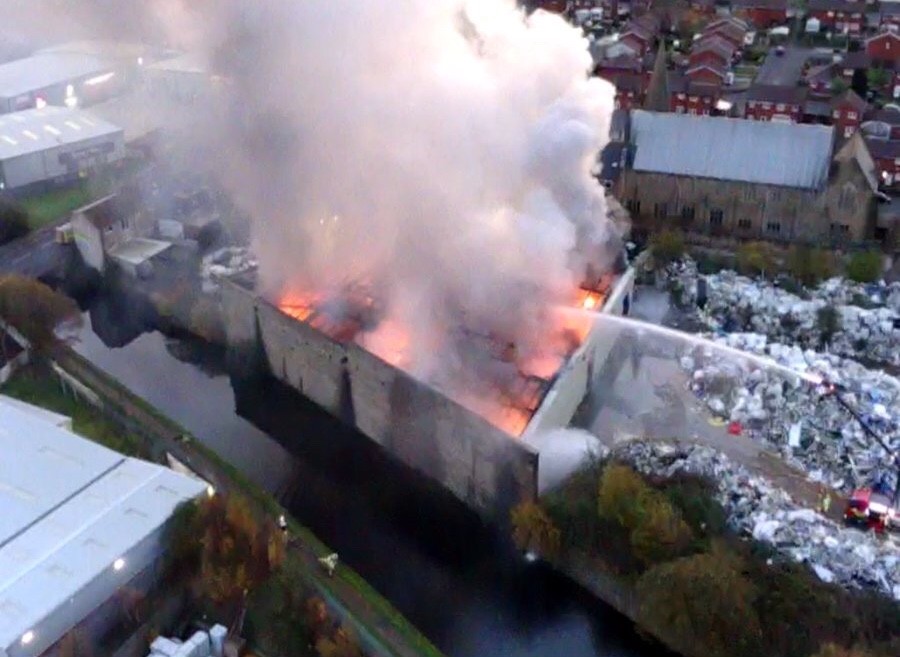 Published Monday 13 November 2017 at 10:10
Firefighters are continuing to tackle a major fire at a former waste plastics site in Blackburn, which is now under control.
The fire at the former V10 Polymers building in Paterson Street, Blackburn, started at around 5am this morning, Monday, November 13th, in a building containing around 12,000 tonnes of waste.
Some residents in the area have self-evacuated as a precaution. Grimshaw park A6077, Highfield Road and Mosley Street are closed.
Those in the area are advised to keep windows and doors closed as a precaution. Anybody who has any health concerns or respiratory issues should contact 111.
Around 50 firefighters are still at the scene tackling the fire – Lancashire Fire and Rescue have confirmed the fire is now under control. It's the fourth at the site in the last few months.
A fire first broke out at the site on 21 August, followed by a major blaze at the same location on 28 September and a third on 8 October.
The cause of the blaze is yet to be confirmed. CCTV from the site is being reviewed. Crews are expected to be at the site for most of the day.
If anybody has got any other concerns people are advised to go to Ivy Street Community Centre.
Police are appealing for anyone with information regarding suspicious activity in the area to contact them by calling 101, quote reference LC-20171113-0147.