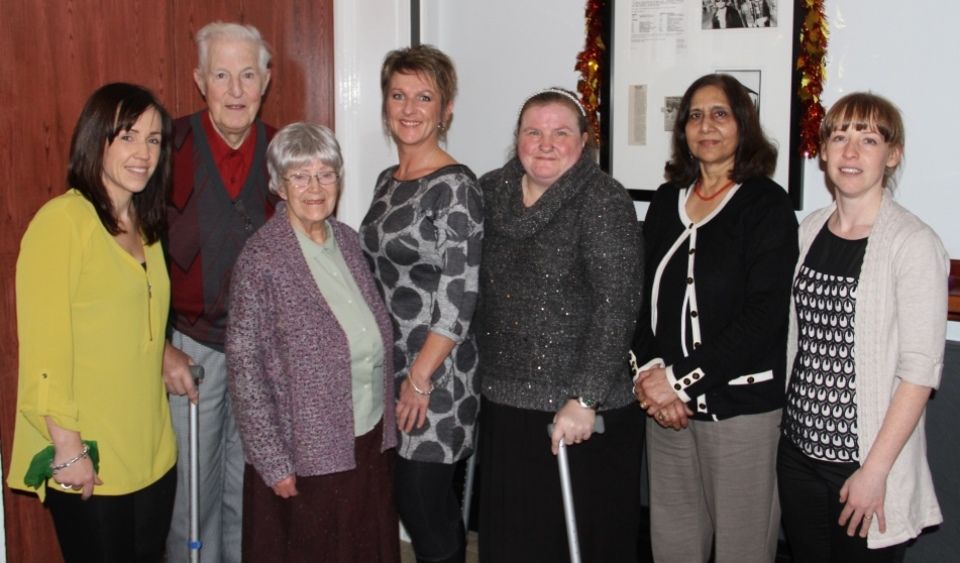 Published Wednesday 17 December 2014 at 15:17
Around 100 people who've had help to improve their health by the Council's Wellbeing Service gathered for a special Christmas lunch recently.
The event at King George's Hall on Thursday, December 11, brought together  all those people who have accessed the Council's exercise referral programme –  just one of a wide range of services available via the Wellbeing Service to support the health and wellbeing of Blackburn with Darwen residents.
Exercise referral is available for people who have any health or medical problems and would benefit from improving their lifestyle via structured exercise sessions  and healthy eating advice.
Two people from Blackburn who've accessed falls prevention classes via the Wellbeing Service are James Warner, 83, and Hilda Salter, 87, both from Blackburn.
James started attending the classes after having five falls inside his home and on his driveway and being unable to get up.
He was assessed at home and referred into the classes at the United Reform Church at Four Lane Ends, Blackburn and St Gabriel's Church, Blackburn which he started attending around 12 months ago.
He said: "I've been going regularly ever since and I've found it very helpful there's no doubt about it. It all revolves around chair based sessions and you stand and sit and do various different exercises. It's really helped to get my muscles going again. I would recommend the service to anyone who has had any problems with falls. I didn't know such a service existed and it's been worth its weight in gold for me."
Hilda accessed the same class via the Wellbeing Service around a year and a half ago via GP referral after experiencing some stiffness in her joints. She's under no illusions as to how vital it is for keeping her independence.
She said: "There's no doubt about it, this class is keeping me in my own house. I was struggling with the stairs so without the help I've had, I think I'd have to go into a retirement home."
Also present at the lunch were two people who've accessed  Aqua Stride classes.
The pool based classes at Waves in Blackburn and Darwen Leisure Centre support people to do functional exercises with the aim of improving mobility, balance and posture. They help to increase confidence in the water and are especially useful for those with muscular problems, arthritis and joint pain due to the extra protection exercising in water provides.
One lady that has accessed the service is Mira Kundo, 72, from Blackburn who was referred into the Wellbeing Service by her GP after a knee operation. She said:
"I'm really pleased with the results. Before I was struggling to climb the stairs after attending the classes alongside going to the gym it's easier and better. I would recommend the service to anyone in my position."
Katheryn Ashburn, 50, from Great Harwood also attends the aqua stride classes at Darwen Leisure Centre after suffering from bad arthritis in her knee. Due to her age doctors wouldn't operate and so she was referred to the Wellbeing Service to get help to start exercising.
She said: "The whole experience has been wonderful. The classes have helped me so much. It's easier to get around now and I'm really thankful for what the team have done for me. I like the social side too – I've met some lovely people and couldn't be happier I came."
A s well as help with exercise, the Wellbeing Service also provides advice, guidance or practical support for things like stopping smoking, drinking less. But it's not just about healthy lifestyle services; the service includes support for issues such as housing, employment and money because these problems can affect emotional and physical health just as much.
Whatever the health or wellbeing-based concern, the Wellbeing Service will be there to put local residents in touch with the best people to meet their needs.
Residents can contact staff direct at: (01254) 682037, www.refreshbwd.com/change or wellbeing@blackburn.gov.uk and GPs can also refer people in to the service.
To access the help available, people just need to be over 16 and live, work or have a GP in Blackburn with Darwen.