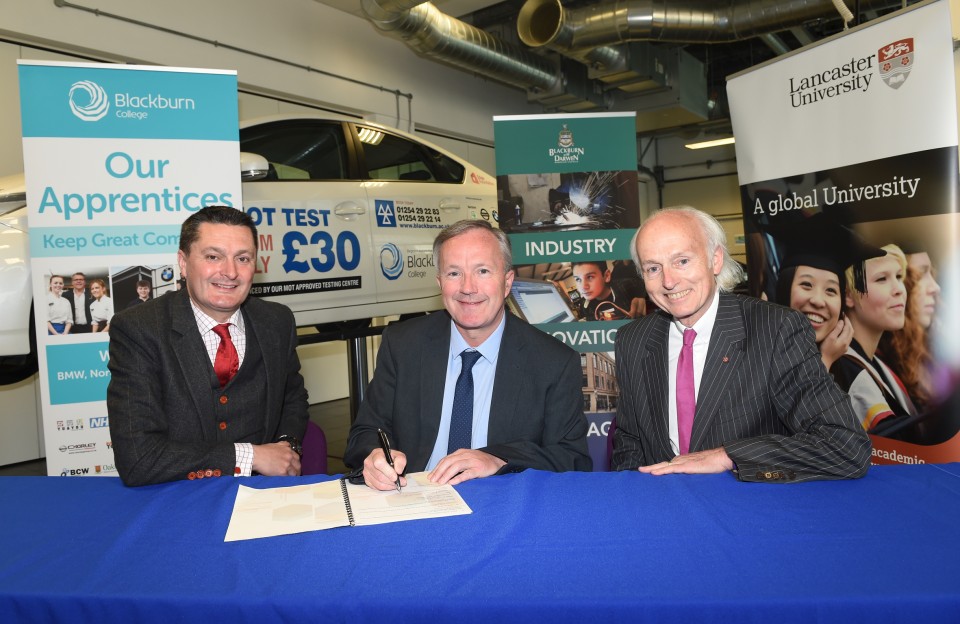 Published Friday 12 May 2017 at 9:00
An innovative Council and education alliance promises to set the national standard for joint working to drive economic growth and promote opportunities for residents and businesses.
The special agreement between Blackburn with Darwen Council, Blackburn College and Lancaster University will promote collaboration and is set to achieve a key element of the Government's developing Industrial Strategy: 'Creating the right institutions to bring together sectors and places'.
Harry Catherall, chief executive of Blackburn with Darwen Council, said:
This alliance will mean we can enhance our ongoing and future project work. It's about working even closer together to deliver innovative ways of making a real difference to people in Blackburn and Darwen,.

In Blackburn and Darwen we know one of the main strengths we have is strong partnership working and this is another positive step forward to make sure people get the prosperity they deserve."
The initial work plan includes a wide range of projects with improving skills, attainments and routes to quality jobs being a high priority. New investment coming out of successful funding bids promises to create further capacity.
Dr Thomas Moore, the principal and chief executive of Blackburn College, said:
This unrivalled and sector leading partnership goes to the heart of what Blackburn College seeks to achieve. Meeting the needs of employers; driving social improvement and providing world-class inclusive education and training for our community, equipping them with those skills and attributes so valued by employers in a very competitive global market place. This is about creating an Agenda for Change and transforming Blackburn's place in the UK and the world.
Health and social care will be a key focus, with work taking place to further strengthen community and social activities and the opportunities provided by digital developments.
Andrew Atherton, pro vice chancellor at the University of Lancaster, added: "Lancaster University is proud to be based in the North West of England, and we work hard to contribute to improving our local communities.  Through this partnership, we are looking to apply leading edge research and insight to build a healthier and stronger Blackburn with Darwen."