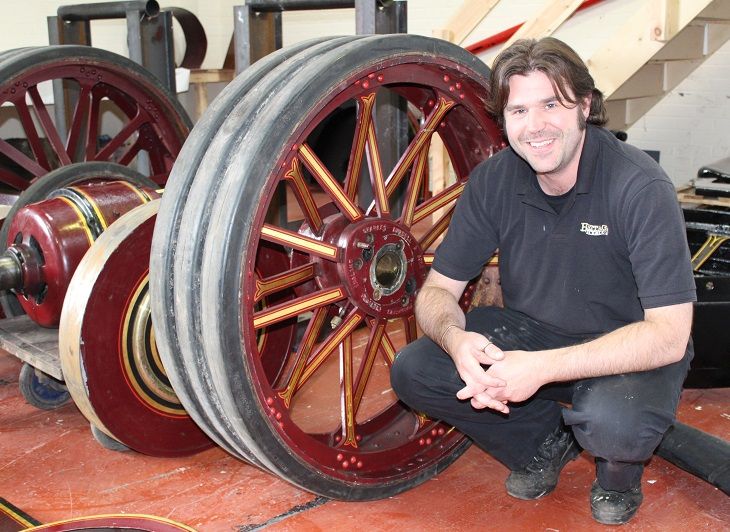 Published October 14, 2015 at 15:45
Visitors will be able to browse an impressive display of eight vintage steam vehicles on King William Street as part of the Blackburn BID's Steam Sunday event on October 18.
The event, organised by a team of local craftsmen from specialist business Heritage Painting welcomes a convoy of eight vintage engines, which will be travelling from Darwen to Blackburn arriving outside the Town Hall at around noon.
In addition there will be a range of street food traders including traditional Indian snacks by Pavs Dhaba, a hog roast, a fairground organ and clog dancing with Alex Fisher and children from Year six at St Thomas's school, Blackburn.
The event has been made possible with funding from the Blackburn Business Improvement District (BID). Manger of the BID, Harriet Roberts, said: "Heritage Painting's steam engines proved a massive hit at last year's Blackburn Heritage Festival and we are hoping this spectacle will help bring visitors into the town centre. It's fabulous to have such an interesting heritage company move into the borough and we want to support their business."
Specialists in hand painting locomotives, Heritage Painting, relocated to a unit on Watery Lane Industrial Estate in Darwen last year after the Blackburn Heritage Festival inspired the founder of the company to expand the business.
Councillor Phil Riley, Blackburn with Darwen Council's Executive Member for Regeneration, said:
This looks set to be a fantastic event and is a great way for people to take in the borough's great heritage and history of steam. It will be a wonderful family day out.
Ian Hewitt, founder of the firm which has worked on the world-record breaking steam train, the Flying Scotsman and the Mallard, Britain's fastest steam train, said:
We couldn't be at this year's heritage festival so Steam Sunday seemed a very good alternative for us. The event will put our business and new workspace on the map and it will also help to make people aware that our craft isn't dying and these traditional skills still exist."
Steam Sunday takes place on Sunday, October 18 between 12pm to 4pm on King William Street.
For more information about Steam Sunday go to www.blackburnbid.co.uk