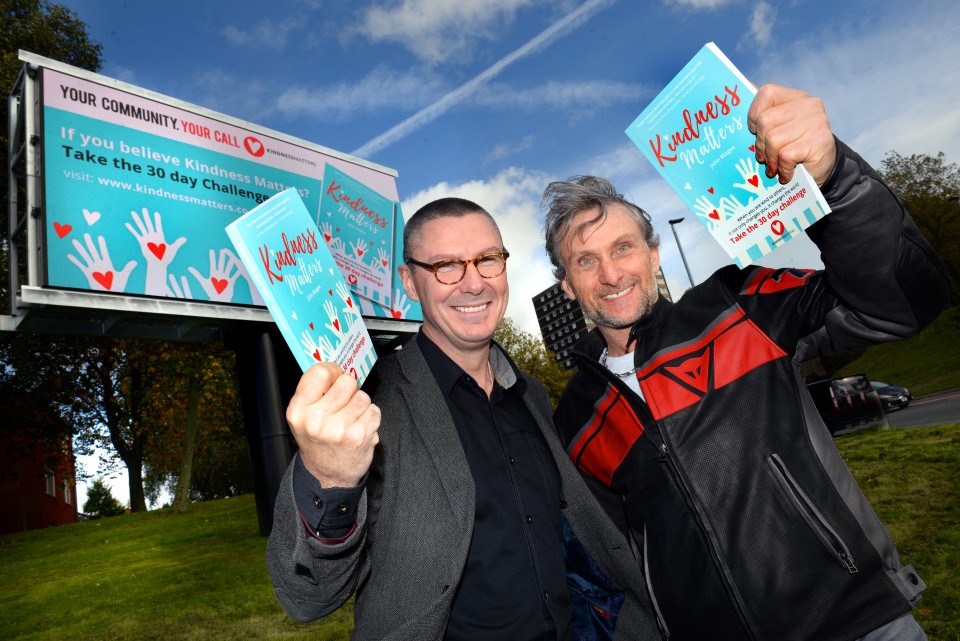 Published Thursday 12 October 2017 at 15:34
The new giant digital advertising screen in Blackburn was taken over today – Thursday, October 12 – to mark the borough becoming an official 'Kindness Community'.
World champion motorbike racer and I'm A Celebrity winner 'King of the Jungle' Carl Fogarty has agreed to be fly the flag of kindness in his home town. He joined in the launch on Barbara Castle Way in Blackburn.
John Magee from Blackburn is behind the campaign which is about encouraging everyone to take the Kindness Challenge, including a commitment to performing random acts of kindness (RAOK) for 30 days throughout the borough.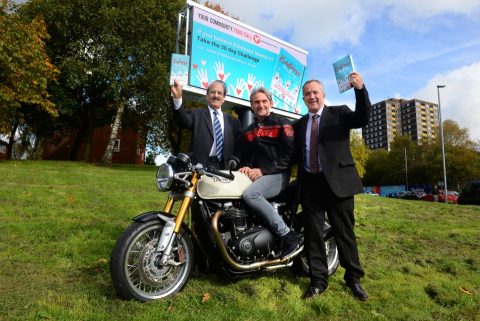 The leader of Blackburn with Darwen Council Mohammed Khan has endorsed the initiative along with the Council Chief Executive Harry Catherall.
Councillor Khan said:
We will all benefit from seeing more acts of kindness in our communities. We are already known for our warmth and generosity in this part of the world.

Also its fits with the Council's Your Call ethos which is about encouraging and celebrating people giving something back to their community. We are hoping even more people will come forward to play a part in making Blackburn and Darwen great places."
The Council has committed supporting John's efforts along with a wide range of other businesses and organisations including Training 2000, Euro Garages, The Chamber of Commerce, Northcote, WEC and Blackburn Youth Zone.
John, who has recently published a book called Kindness Matters, has over 100,000 followers on social media and is aiming to have over a Million Kindness Ambassadors committing daily to be the kindness they want to see in the world.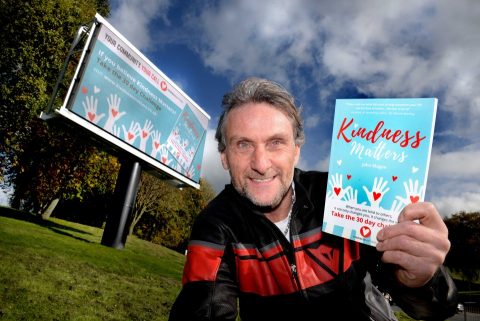 Each Kindness Community is encouraged to nominate a Celebrity Kindness Ambassador for their area. Carl Fogarty said:
 There's no denying we live in troubled times but whatever your politics, race or religion, there is nothing stopping us all from showing kindness to each other," he said.

John's movement is a return to good old fashioned community values when everyone looked out for each other.

I took the Kindness Challenge and realised how good it feels to put a smile on the face of strangers, family and friends through random acts of kindness."
John Magee said:
It's fantastic that Foggy recognises the importance of being kind to each other. We are now encouraging other boroughs to follow Blackburn with Darwen's lead in becoming a Kindness Community."