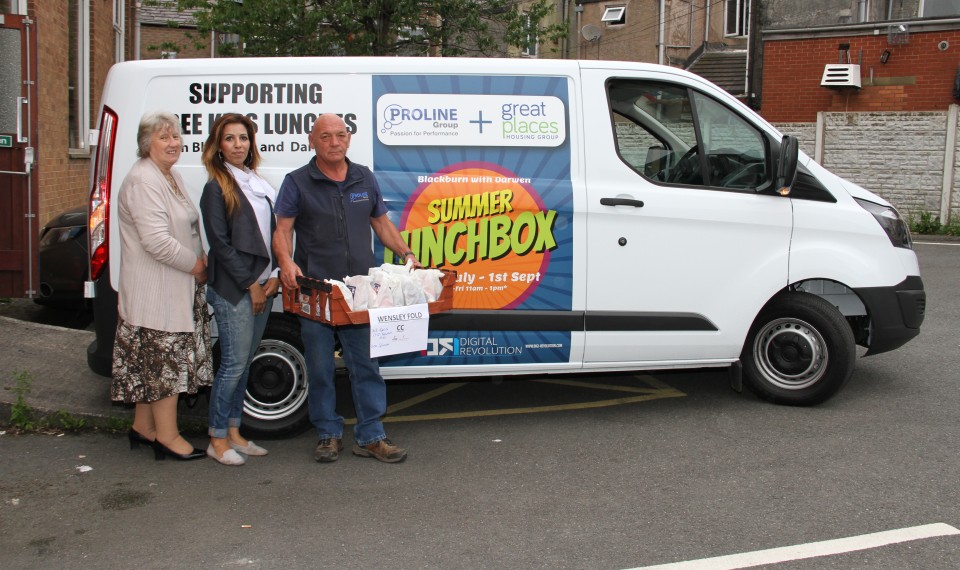 Published July 25, 2017 at 11:17
An innovative scheme called the Blackburn and Darwen Summer Lunchbox Project, run by charity Kingdom Outreach and supported by Blackburn with Darwen Council has been launched to help struggling families by providing free packed lunches to children.
The initiative aims to tackle 'holiday hunger' and plug the gap for families during summer holidays who normally receive free school lunches during term time. It sees up to 50 volunteers making around 5,000 sandwiches per week to cater for the 1,080 children whose families have signed up for the six week long holiday period.
Kingdom Outreach, a Blackburn based Christian charity that works with communities to tackle poverty is behind the project.
It is being supported by the Council, which is distributing the lunches through children's centres and providing free activity sessions to accompany the lunch box collections, from story time to road safety awareness. It is also offering free food hygiene courses to volunteers.
In addition, local businesses are backing it through their corporate responsibility schemes including Cherry Tree Bakery in Burnley, which is providing muffins for the lunchboxes, Great Places Housing Group that has helped manage the volunteers and also donated funding as well as Blackburn with Darwen Healthy Living.
Pro-Line from Manchester, is distributing the lunch boxes over the six week period. Bookers and Aldi have also provided support.  Other businesses that have pledged help include Sams, Urban Outreach, 2BR Radio, Rummage Rescuers, and Radio Lancashire.
Kat Zaman of Kingdom Outreach said the idea had come about through the charity's belief that 'no man, woman or child should be going hungry or feeling unloved.' She and the other trustees had taken the idea from a 'simple thought to turn it into a project reaching out to families, children, businesses and the community by bringing people together'.
The single mum from Blackburn said she had herself experienced financial difficulties in the past and had been forced to rely on food banks.
The mum of three said:
"I'm so passionate about this project because I've been there."

"It's so easy to judge people but everyone has a story, this is why it is so important that there is accessible help out there to empower people to get their lives back on track. – I am a testimony of triumph – going from the bottom and climbing up and am now looking forward to helping and supporting others."
A recent parliamentary report said there were around three million children in the UK that were at risk of 'holiday hunger'.
It said that the loss of free school meals adds between £30 and £40 per week to parents' outgoings for one child.
Councillor Maureen Bateson, Executive member for Children's Services at Blackburn with Darwen Council, said:
"This is a fantastic project and really shows how the community can rally round and help those who need it. Holiday hunger is a problem for families right across the country so I'd like to congratulate Kingdom Outreach for coming up with this fantastic scheme and I'm delighted we were able to be a part of it."
Volunteer to prepare lunches by registering https://www.surveymonkey.co.uk/r/DDWP9H3 Or donate to the Justgiving page visit https://www.justgiving.com/crowdfunding/blackburnsummerlunchbox