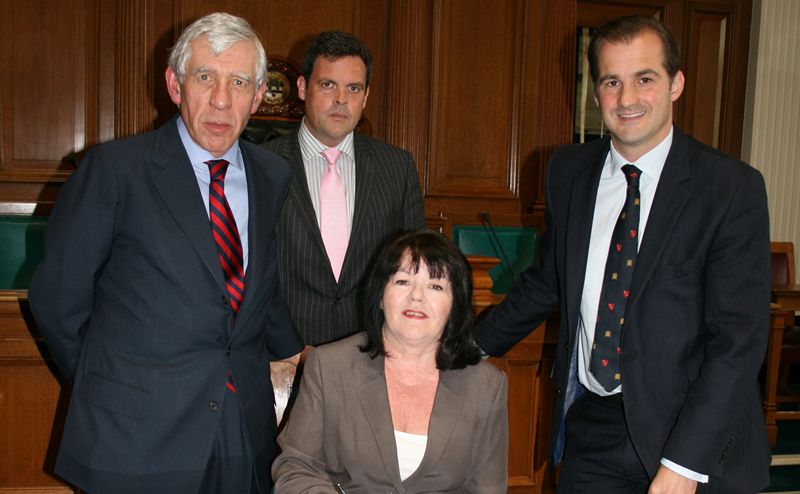 Published Friday 20 June 2014 at 14:15
Improved rail services between Blackburn and Manchester moved a step closer today as the Council leader and local MPs lent their support to an agreement between Network Rail and Blackburn with Darwen Council to construct a new section of track which will allow more trains to use the route.
If approved, the £13.35m project, funded by Blackburn with Darwen Borough Council and delivered by Network Rail, will see the construction of two miles of new railway at Darwen. The new section of track will allow an additional off peak service to run each hour between Blackburn and Manchester. Design works are well under way and subject to funding confirmation construction work could start in Summer 2015 with the first additional services running on the line in December 2016.
Leader of Blackburn with Darwen Council Councillor Kate Hollern, the Right Hon Jack Straw MP for Blackburn, Darwen & Rossendale MP Jake Berry and Ribble Valley MP Nigel Evans signed an agreement during a special ceremony at Blackburn Town Hall today.
Ian Joslin, area director for Network Rail said: "The railway continues to go from strength to strength with record levels of passenger numbers and record levels of investment. Across the north we are already delivering £1bn worth of improvements to deliver a better service and support the economy. We look forward to working with Blackburn with Darwen Council to deliver better links to Manchester and the rest of the rail network"
Council leader Kate Hollern said: "This agreement is the culmination of years of planning and negotiations between the Council, Network Rail and partners and I'm delighted we have now reached this position. This is an important step towards dramatically improving connectivity between Pennine Lancashire and Greater Manchester opening up opportunities for investment in the area as we become more accessible for people working in Manchester."
Right Hon Jack Straw MP said: "It's a brilliant day for East Lancashire rail users and gives me great satisfaction because it's the culmination of eight years campaigning to get this investment. East Lancashire's future critically depends on better connectivity with Manchester."
You can listen to the Podcast from the signing  below or by using the following link here: https://soundcloud.com/theshuttle/improved-blackburn-manchester-rail-services-on-track
https://soundcloud.com/theshuttle/improved-blackburn-manchester-rail-services-on-track