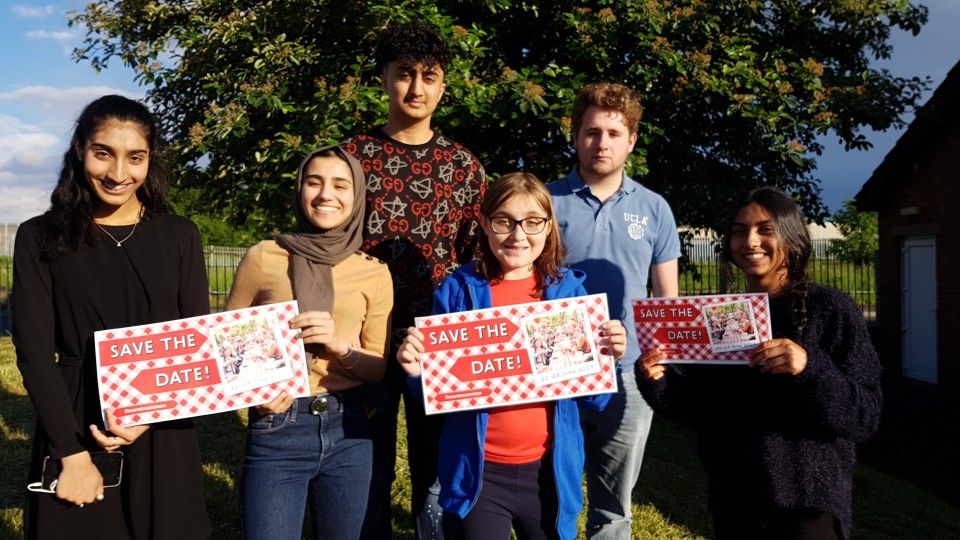 Published Tuesday 18 June 2019 at 13:21
A Great Get Together event organised by a team of young people from across the borough will bring families together through a love of music and food.
The Youth Forum have been busy working up plans for their silent disco – Eat, Rave, Repeat – to be held in Blackburn's Witton Park on Saturday 22 June.
The idea came about at a youth integration residential, led by Blackburn with Darwen's Young People's Services earlier this year. The teenagers were set a challenge to come up with ideas for an event that could be held during the Great Get Together weekend.
The Great Get Together, held in June each year, aims to encourage people from different backgrounds to come together socially and celebrate what they have in common. It was inspired by the memory of murdered MP Jo Cox who worked hard for community cohesion and integration in her West Yorkshire constituency. The Great Get Together is now in its third year.
Funded by the borough's social integration programme Our Community, Our Future, the silent disco is suitable for families with children aged eight and above.
15 year old Umaimah was one of the young people who came up with the idea for a silent disco. Umaimah said:
We know that young people like us love music and food. We thought that was a good combination to bring people together.

Through the headphones, young people will be able to listen to different genres of music – rap, indie, rock, grime, bhangra or pop – while spending time together.
There'll also be food on offer, giving families a chance to sample sweet treats from different cultures – English, Polish, South Asian and Italian. And to add to the fun, young people will be able to challenge themselves on an inflatable obstacle course.
14 year old Kelcey has been involved in the planning of the silent disco. She said:
A lot of people in Blackburn with Darwen don't come together because of where they live – it's important to bring them together so that they can learn more about each other.
The Youth MP for Blackburn with Darwen has been involved with planning the event. 15 year old Uday said:
Blackburn with Darwen is a diverse place. It's important to bring people together and I think food and music will do that, and help them to understand each other's cultures.
The event is part of the Restricted Rocks tribute bands festival, staged in Witton Park on Saturday 22 June. Families with Restricted Rocks tickets are invited to go along to the Eat, Rave, Repeat marquee to join in with the silent disco.
The Youth Forum has also provided a number of Restricted Rocks tickets to young people and their families who would perhaps otherwise not have the opportunity to attend such an event.
Councillor Maureen Bateson, Executive Member for Children, Young People & Education, said:
I think it's wonderful that young people have had an opportunity to come up with an idea and plan and event for other people their age group, in the spirit of the Great Get Together. It's about exploring what we have in common and a shared love of music and food is certainly a great idea. It sounds such a fun event and I know the young people have worked very hard together in their own time to make it happen. Well done to them all.
To find out more about Eat, Rave, Repeat, the silent disco for young people and their families in Blackburn's Witton Park on Saturday 22 June, contact Young People's Services on (01254) 298622 or yps@blackburn.gov.uk.
Tickets for the Restricted Rocks tribute festival – priced just £3.50 per person – are still available through www.skiddle.com.
The Our Community, Our Future programme is also supporting a number of other Great Get Together events happening across the borough between 21 and 23 June:
Wednesday 19 June

10:30 – 13:30

Event for DARE refugee & asylum seeker support with the local community, Darwen United Reformed Church
Contact DARE – Daleen Ten Cate
Saturday 22 June

14:00 – 18:00

Family fun day and barbecue,

Whitehall Park, Darwen

Contact Whitehall Park Supporters – Rita Billington
Saturday 22 & Sunday 23 June

12:00 – 21:30

Family fun festival with music, performances and a fun fair,

Romney Walk, Blackburn

Contact Romney Voices via Facebook
Sunday 23 June

13:00 – 15:00

Picnic in the park with entertainment and activities,

Witton Park, Blackburn

Contact Blackburn West Health Group
Sunday 23 June

12:00 – 15:00

Get together for people from different cultures, sharing food, music and fun

Little Harwood Community Centre, Blackburn

Contact Little Harwood Community Centre