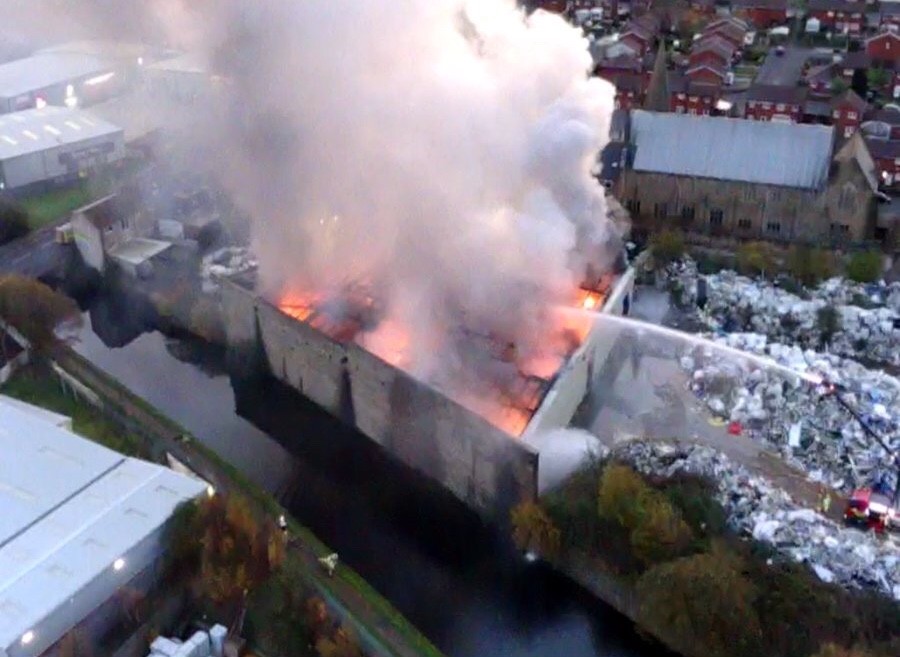 Published Monday 13 November 2017 at 16:54
Residents are being allowed back into their homes following another large fire at a former waste recycling site in Blackburn.
Firefighting has been ongoing since 5am this morning at the V10 Polymers site in Paterson Street, which is now under control. Fire crews remain on site damping-down the remains of the fire in smouldering piles of waste.
Residents in the area are being advised to continue to keep their doors and windows closed.
Ivy Street Community Centre is also open until 5pm if anybody needs any help or information.
Since the first fire here in August, there has been an ongoing multi-agency effort co-ordinated by Blackburn with Darwen Council and involving Lancashire Fire and Rescue, Police, the Environment Agency and Public Health England to help minimise the fire risk at the privately-owned site.
This included creating fire-breaks to enable any further fires to be tackled more efficiently. The remaining steel frame in one part of the mill was demolished to make the building safe and prevent any asbestos spreading into the area.
It's envisaged this fire will be fully extinguished over the next 24 hours. Had the fire-breaks not been in place a fire of this scale would have been burning for much longer
The Council has this morning commissioned a contractor to assist our damping-down with the use of a mechanical digger to break up the smouldering residues of fire.
There has been extensive community support and specialist clean-up operations have been commissioned by the Council. Air quality checks have also taken place to provide public reassurance.​
The Council also installed CCTV at the site which is currently being reviewed and has been shared with the Police.
Police and Fire investigations in relation to the fires at this site are ongoing and the Police are appealing for any witnesses to contact them direct on 101.
If anybody has an health concerns in relation to this fire please ring 111.