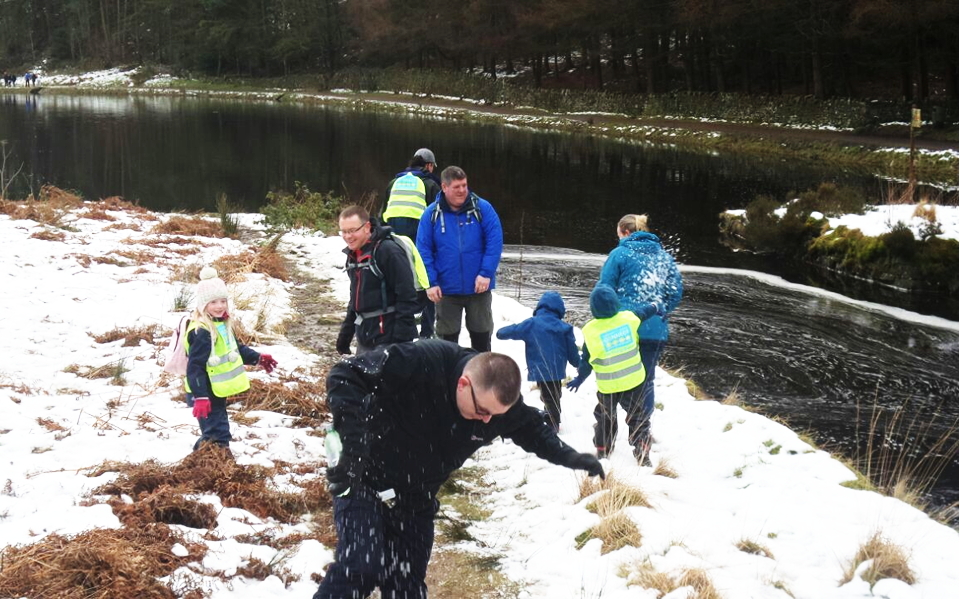 Published Wednesday 28 January 2015 at 13:17
Family fun group make the most of the wintery weather.
A group set up to promote family-fun activities in the borough have been making the most of the wintery weather – by taking part in a snowball battle!
The Young Weavers group, which is encouraging local family activities from walks, cycle rides to arts & crafts, went to wintery war during a walk at Entwistle Reservoir Hill.
The walk, which resulted in a fun snowball fight, boasted a fantastic turn out, with 20 children and 22 adults taking part.
Organisers said the adults in the group were picked off one by one by the victorious children, who were crowned snowball champions.
The children were kitted-out in their new high-visibility Young Weavers vests, which were funded via the Council's Connect Project, a sustainable transport scheme, to help keep the children safe when taking part in the outdoor activities.
The Young Weavers group was setup by Kevin and Vicky Riddehough from Blackburn. The main emphasis of the group is 'Family Fun' – improving the health and wellbeing of everyone in the borough and getting out and about together on a regular basis.
Cllr Maureen Bateson, Executive Member for Regeneration, said:
"As a Council we are keen to support groups like the Young Weavers whose ethos is based on promoting family-based activities. The group is making a real difference in the borough and are regularly attracting dozens of families along to organised events.
"Groups like the Young Weavers offer a good opportunity to help people experience new activities, meet new people and have dedicated family fun time.
"It's paramount that during these tough financial times that we continue to face that we help people to help themselves – by funding the group's high-visibility bibs we want to help support such groups whilst keeping our young people and families safe and making sure they are easily identifiable and visible when taking part in outdoor activities."
Group leader Kevin Riddehough said
"Everybody who came all commented on how much the children enjoyed themselves, with a quick game of hide-and-seek in the woods, the walk was fantastic.
"I'd like to thank the Council's Connect project for funding the high visibility bibs, the children love wearing them as it gives them a sense of identity and belonging to our group. The Council has been extremely supportive in helping us to get our group off the ground and we'd like to thank them for that and their continued support.
"Everybody is welcome to join our group – we love seeing new faces so don't be afraid to get in touch and find out what is going on over the next coming months."
For more information on the Young Weavers and sustainable ways to travel, please visit:
Connect – www.bwdconnect.org.uk
The Young Weavers – www.facebook.com/theyoungweavers