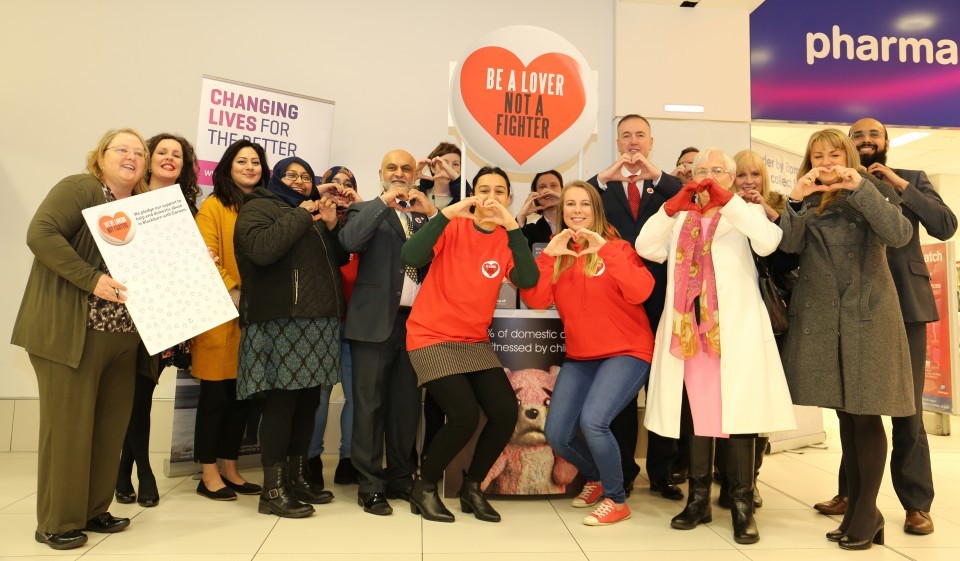 Published Thursday 11 February 2016 at 12:35
Representatives from Blackburn with Darwen Council and the Police turned out to support a new anti-domestic abuse campaign taking place across parts of the North West.
The 'Be a Lover not a Fighter' campaign is running across areas in Lancashire, including Blackburn with Darwen, as well as Cheshire and Merseyside.
A face to face engagement event in the Mall Blackburn on Thursday, February 11 was part of a number of public engagement events taking place as part of the campaign.
Statistics revealed around the launch of the campaign show that 90 per cent of domestic abuse in the UK is witnessed by children.
The short and long-term impacts on children are huge, on behaviour and educational achievement as well as physical and mental health, including increasing the risk of suicide and self-harm.
As part of the campaign people are urged to wear 'Be a Lover not a Fighter' badges, talk about the issues and be aware what to do should someone they know be victims of domestic abuse.
1 in 3 women and 1 in 6 men have suffered domestic abuse with two women killed every week and two men killed every month in the UK by their partners. About half of violent relationships involve violence by both partners.
Local celebrity, Superbike World Champion Carl 'Foggy' Fogarty, is backing the campaign locally and asking the public to stand up and help put an end to domestic abuse.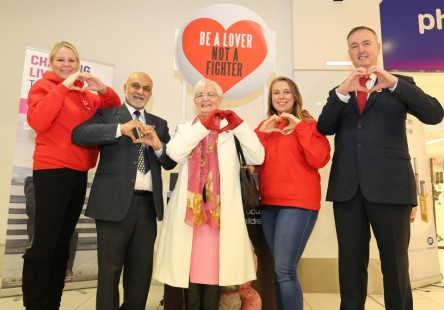 Councillor Yusuf Jan Virmani, Executive Member for Housing, Localities and Prevention, said:
"This campaign focusses on the effects on children and young people which can be catastrophic and last a lifetime. I urge as many people as possible to engage in this campaign and show how seriously we take domestic abuse and our commitment to dealing with it."
Councillor Pat McFall, Chair of the Domestic Abuse Strategic Board, said:
"Abuse comes in all forms. It's not just physical violence it can be emotional too involving threatening or controlling behaviour. We want people to bring the issue out into the open so we can work together to tackle domestic abuse for good."
Councillor Mustafa Desai, Executive Member for Health and Adult Social Care, said:
"The campaign is all about getting people to talk about domestic abuse, and aims to start conversations about how it affects people and their families."
For more information, where the engagement events are being held or to find out how you can pledge your support go to www.lovernotfighter.org.uk.